Fulfilling the need for speed and ruggedness
The Nautiz X6 provides a rugged, stable computer for high-performance race cars
Find a device that can cost-effectively gather data in a demanding racecar environment and be easily moved between vehicles.
Instant, reliable and precise performance data, plus extreme cost savings from eliminating dedicated racing-rugged computers in individual vehicles.
A technology-savvy driver is using the Handheld Nautiz X6 rugged computer to improve race car performance.
We never get tired of relaying stories of all the innovative (and sometimes crazy) ways people have applied Handheld technology in their own environments. From exploring caves to saving lives, from raising pigs to finding gold, our users have found nearly limitless ways to get the functionality they need wherever they need it.
And that includes the inside of race cars, where a handheld technology-savvy driver is using the Handheld Nautiz X6 rugged Android computer to improve performance.
It's hard to imagine a more demanding environment for data collection and management. Stripped-down metal beasts hurtling around tracks in close formation, where a hundredth of a second might be the difference between the winner and everyone else, and where cockpits are sweltering confines that vibrate constantly and violently. The cars look smooth from the stands, but any in-car camera reveals the truth.
Tough requirements for a tough environment
So it's not surprising that one of our Handheld partners is using one of our devices to help him in his off-work passion. Peter Palotas is the Managing Director of AllTerra Hungary, a company that provides sales and support for geospatial products, drones, and LiDAR scanner systems. He's also a licensed autocross and rallycross driver.
"Autosport is not only Formula 1," Peter reminds us. "There are many variations in the sport, with racing on gravel, in mud, across deserts, or even on a mix of tarmac and gravel. These kinds of races are very demanding on both the cars and the drivers. So it's obvious the race computers need to be both rugged and durable."
It's that challenging combination – fine-tuning the vehicle based on precise data, and gathering the data in a hellish setting – that sent Peter looking for a better solution. Oh, and he needed versatile mobility, too. Together, those are three tough requirements.
Rugged, reliable handhelds for work…and play
"We were looking for a solution we can rely on in the car," he says. And so he turned to his own product experience for the answer. "Our company's clients need rugged, reliable mobile computers – they spend more time in the field than in the office. That's why we work with Handheld as our strategic partner for field controllers and data collectors. We know the quality, reliability and easy operation these units offer. We also knew we could use them for very different applications than just land surveying."
Like, for example… in a race car. Peter's search didn't take too long: He had the solution literally right in front of him.
"We found the best product is the Nautiz X6 rugged Android handheld," he says. "It's the perfect rugged unit for us, with long battery life, good camera images and GPS performance."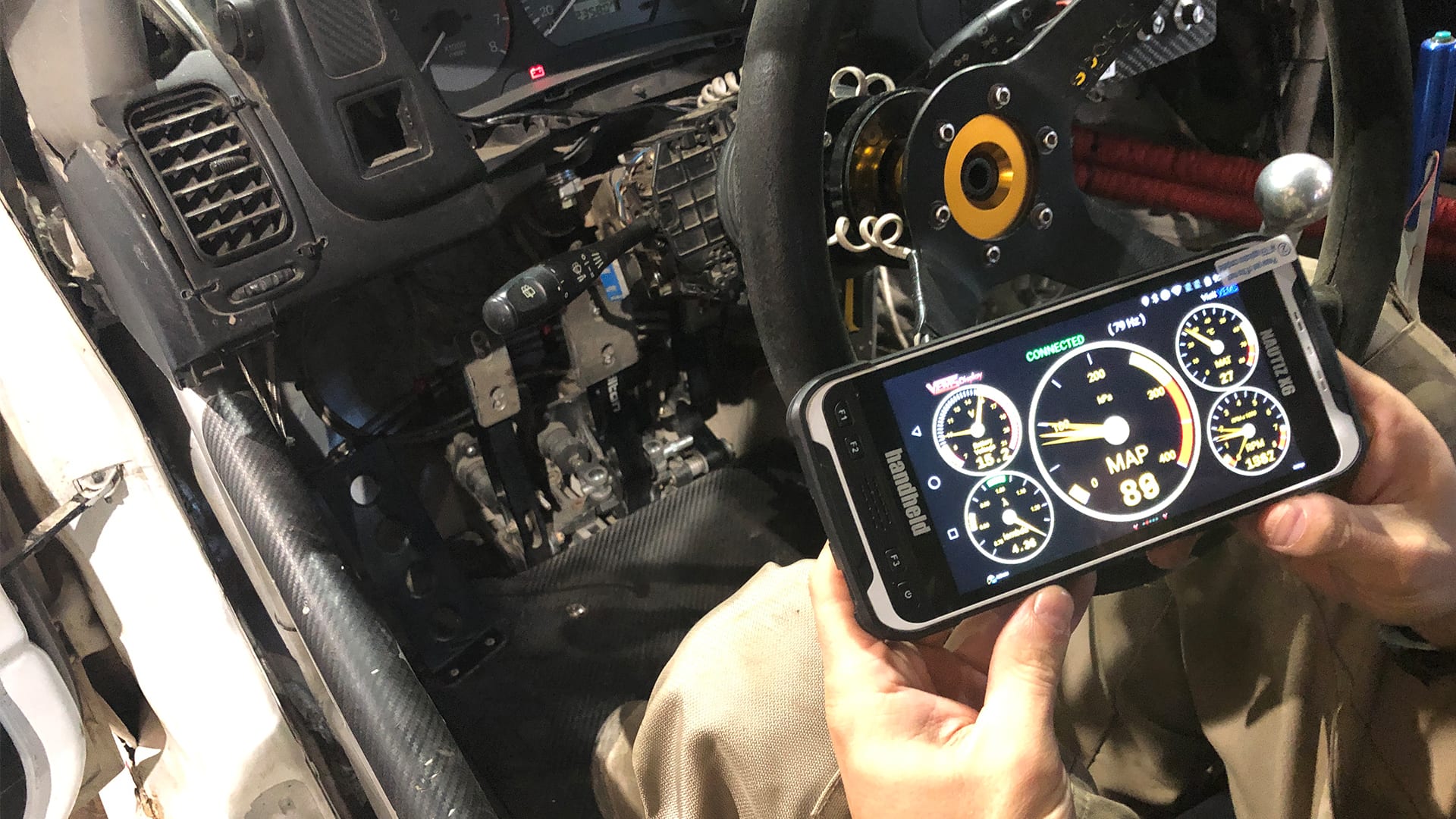 A data collector with GPS, accelerometer, camera AND extreme ruggedness
Peter pairs the Nautiz X6 Android handheld with a specific race software called TrackAddict. The software uses the handheld's internal sensor data (GPS, accelerometer) and the camera for the precise lap-time calculation." So, precision data-generation? Check.
How about ruggedness? The Nautiz X6 data collector proved its worth immediately, Peter says. "I had previously used my iPhone with the same software, but after half an hour the iPhone died because of the vibration." The Nautiz X6 is tested to military ruggedness standards and can handle vibrations, drops, dust, water, as well as operating in extreme temperatures. Check for that one too.
And the need for versatile mobility? "The most important thing is to be able to move it from one car to another, very quickly," he explains. That's because race computers are normally hard-wired into specific cars, logging all the necessary information during the event.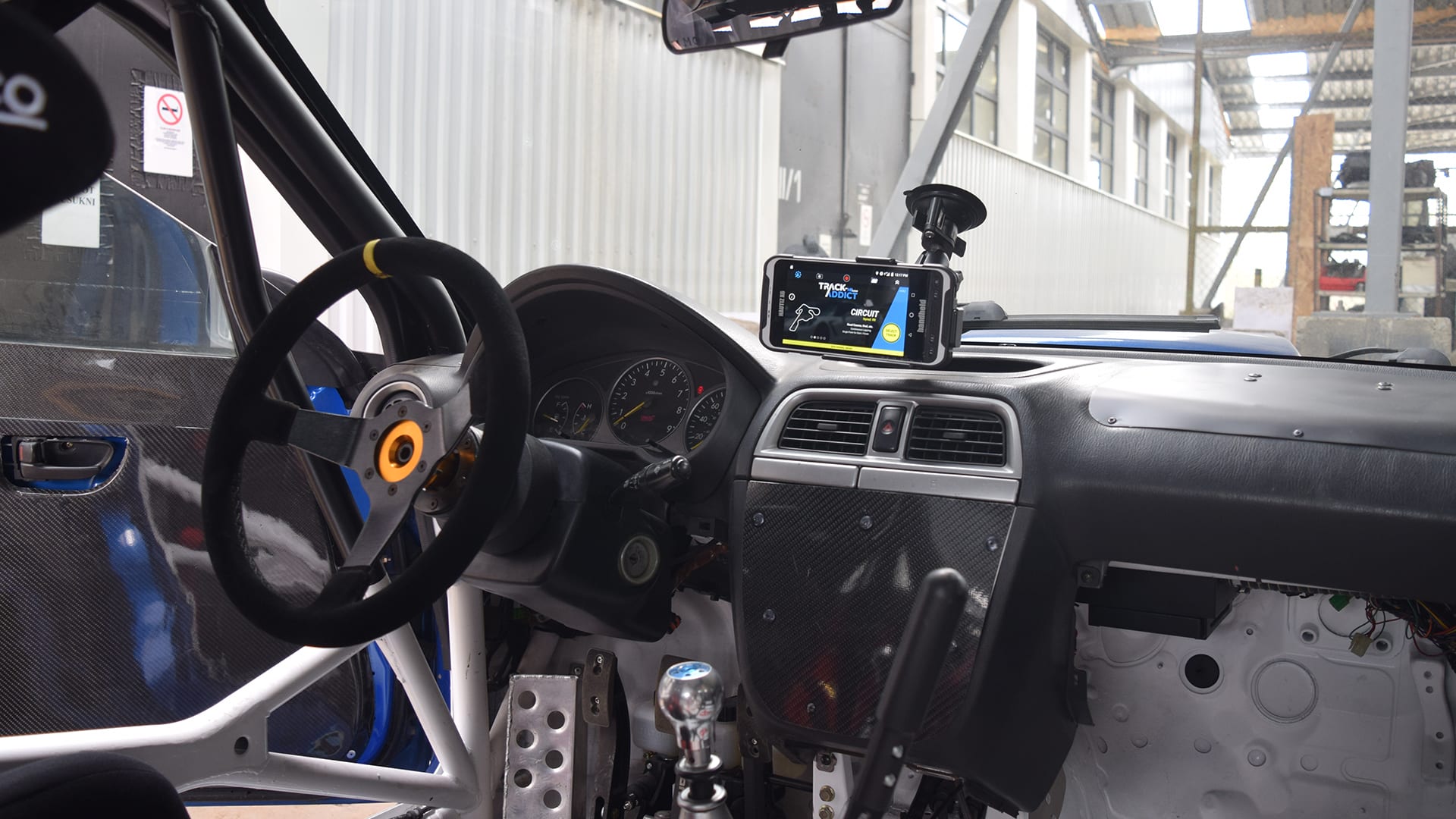 Light weight and easy mobility simplifies car-swapping
But races are won just as much from training and testing than they are in the actual event. When a team is working with multiple cars between races to determine the best setup, they only need details like maximum speed, lap times, best lap time and predictive information. Specifically, the lap times are crucial, so they can see changes lap by lap.
"We especially like the Handheld solution because we have different types of cars," he says. "So instead of investing in a wired race-control system in each car, we can use the Nautiz X6 easily in any car, swapping extremely quickly. It's an efficient and economical way to compare the times of different cars on the same track." There's the third check.
The accompanying photos show how the Nautiz X6 is mounted and used in the cars. The (top) photo shows the inside of a Mitsubishi Lancer Evo IV with 480 horsepower. The device communicates with the ECU (Engine Control Unit) via BT, and shows the engine and system parameters (oil pressure, MAP sensor, temperature, throttle level, etc.).
The other two photos show the X6 being used as a race computer as well, but in a training setting. In this context, Peter runs the TrackAddict software on the Nautiz X6, using its inbuilt GPS and camera to measure speed, top speed, lap times and total laps, as well as performing track mapping.
Combining his work and his play has worked out wonderfully for Peter and his team. He knew the track record (pun intended) of Handheld's devices, and so he wasn't worried about the Nautiz X6 withstanding the harsh environment. And other aspects of its performance have impressed him as well.
Nautiz X6: Long battery life, excellent cellular connectivity
"The battery life is more than enough for a full day of track testing, and the data transfer via BT is easy," he begins with. "But if I had to choose one thing as the best feature, it's that the Nautiz X6 can broadcast the TrackAddict data to the service team in the depot in real time with GSM connection, so they can see the information instantly – that's fantastic!"