ALGIZ 10X improves order fulfillment
At 150,000-square-meter warehouse
Improve warehouse management with a computer and dock that can survive all-day vehicle vibration in a 150,000-square-meter warehouse.
Equip workers and forklifts with the ALGIZ 10X ultra-rugged tablet and lockable vehicle dock.
Smart, streamlined order picking and more efficient truck loading times without damage or interruption.
The ALGIZ 10X ultra-rugged tablet PC improves order picking and shipping for large retail chain.
Fast, accurate order fulfillment
Today's shoppers can place orders in seconds with the tap of a button — and they expect order fulfillment and shipment processes to be equally streamlined. Because fast, accurate order fulfillment is so critical, Swedish chain store Jula is using Algiz 10X ultra-rugged tablets to assist order pickers and shipping employees in its massive warehouse facility.
Jula provides a range of competitively priced products for all kinds of professional and do-it-yourself projects. Its warehouse in Skara, Sweden, is the largest building in northern Europe at 150,000 square meters, the size of 30 soccer fields. Jula ships goods from this warehouse to all of its 90 retail stores across Sweden, Norway and Poland.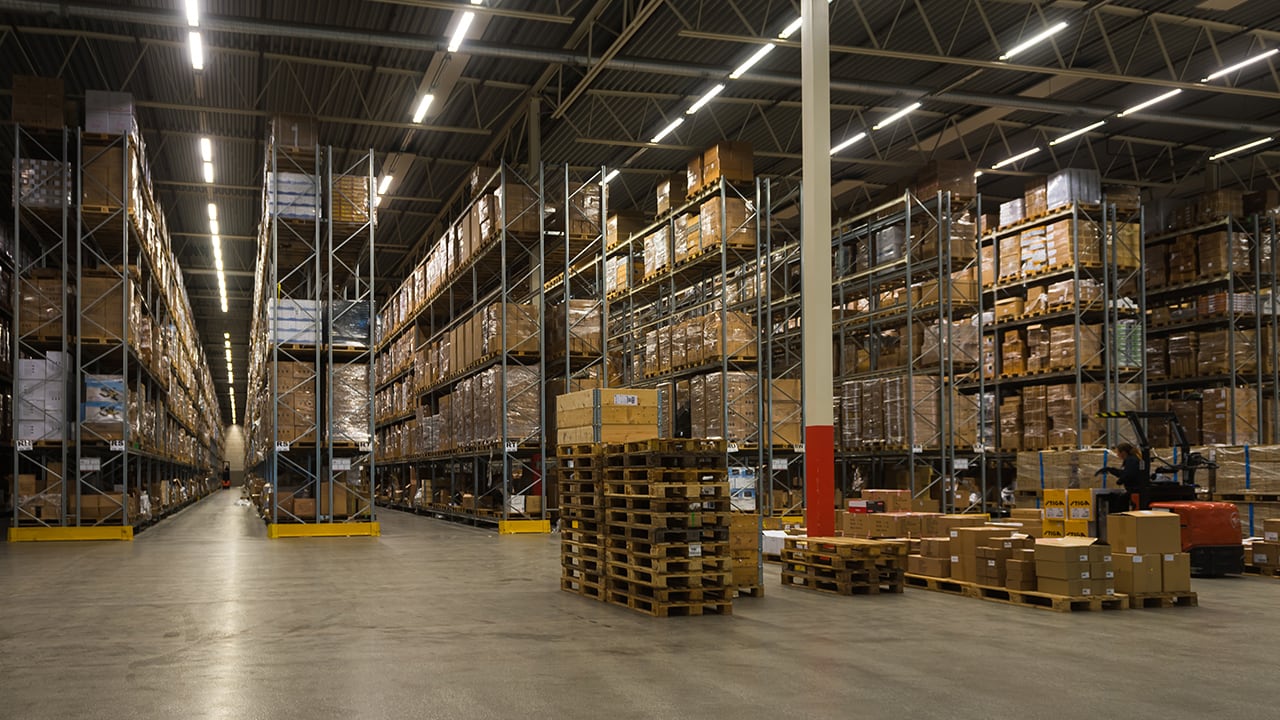 ALGIZ 10X speeds up the process
Algiz 10X rugged tablets are installed in sturdy vehicle docks on warehouse forklifts used by order-picking employees. Jula uses a pick-by-voice system that keeps workers' hands completely free to operate machinery and handle goods — but voice-based picking technology has limitations, such as being too prescriptive. By displaying an easy-to-read picking list on the rugged tablet, forklift operators are able to override the system's given sequence to speed up picking and load items more efficiently.
"Our system is really good and intuitive, but our forklift drivers also have to use their brains and look out for certain items that can make the loading tricky. Picking large items first is key to getting the work done in the best way," says Per Lund, Jula's warehouse manager.
Workers also use Algiz 10X tablets along with external scanners to scan each pallet's label as it is loaded onto a delivery truck. Scanning sends inventory details wirelessly to the back office and saves a record of every loaded item and which pallet it's on.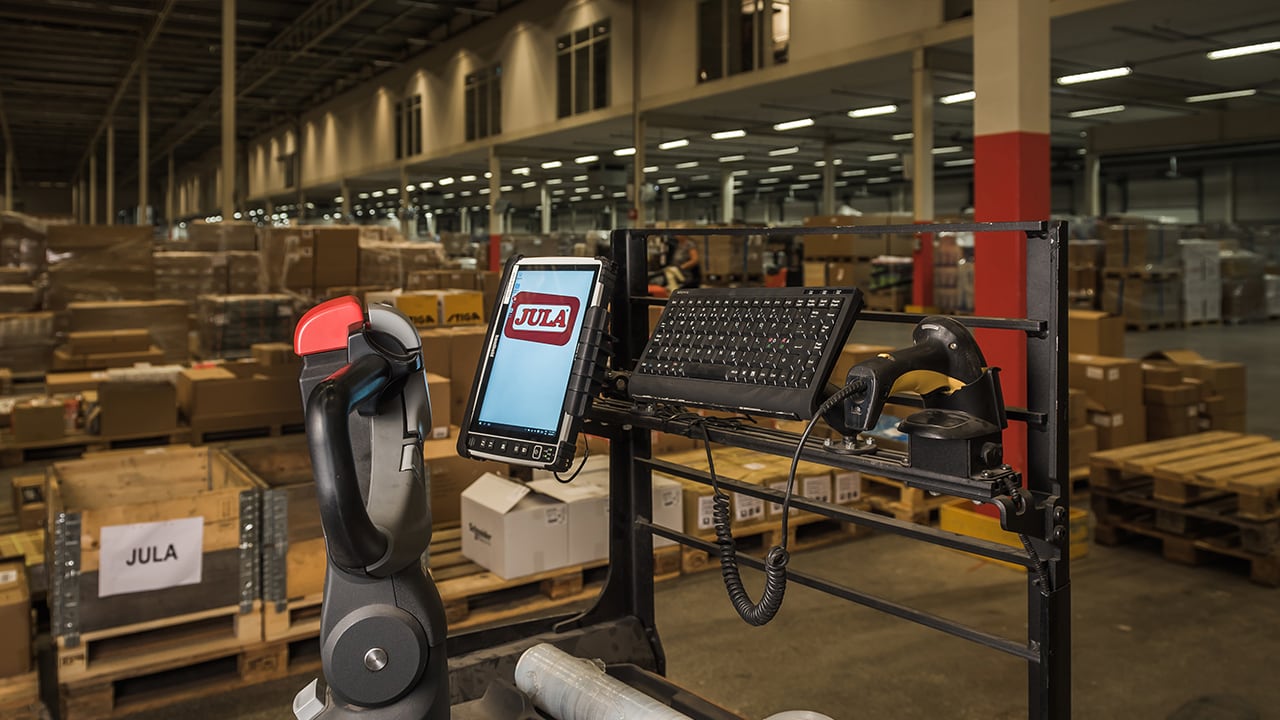 Protection against harsh handling
"When we've worked as hard as we have to make our warehouse as perfect as possible when it comes to reliability and infrastructure, delivery security is of utmost importance," says Urban Andersson, infrastructure IT system manager. "The present system is modern and fast, and the Algiz tablets are stable and reliable."
The Algiz 10X is an IP65-rated tablet computer that also meets stringent MIL-STD-810G military standards for protection against harsh handling and industrial environments. It features a 10.1-inch full HD projected capacitive touchscreen and a powerful processor that can run robust warehousing software and perform complicated tasks quickly.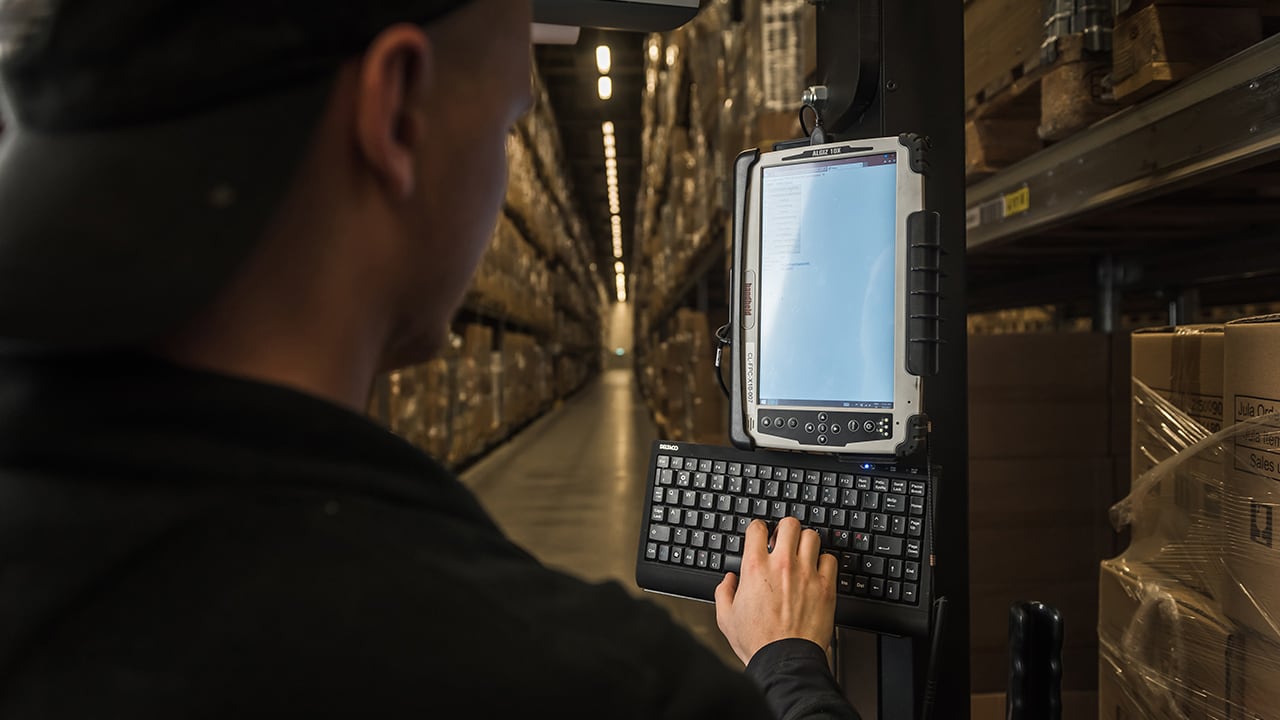 A strong, reliable dock is also critical for warehouse logistics solutions, and the Algiz 10X lockable vehicle dock in use at Jula is extremely sturdy. This versatile dock has several connection options, including two USB ports, two RS232 ports and an Ethernet port, along with GPS/WWAN pass-through.
Jula's forklifts run for many miles every day, sending constant vibrations through the Algiz 10X and its dock. Fortunately, this sturdy warehousing tablet setup is built for the task.