Rugged computers for road and railway
The railway industry has evolved through technology, as much or more than many sectors. Gone are the days when paper, pen, clocks and walkie-talkies were the mainstays of communication and management. Today, digital tools like rugged mobile tablet computers from Handheld have enabled operators, engineers, maintenance crews and others to perform sophisticated and complex tasks in demanding environments – leading to improved operational efficiency for everyone involved. Rail systems throughout the world are using rugged handhelds to maximize communication, minimize system downtime, keep workers safe and make overall operations more streamlined and successful.
Railway services pretty much define the term "challenging work environment." Transportation systems go everywhere – all kinds of terrain, sometimes miles from anywhere, operating in every environment, climate and season. This is no place for smartphones or consumer-grade PDAs or tablets; the only tool that makes sense is one that can handle the rigors of work in the field.
Ruggedized handhelds are built to take the punishment of the variable conditions where rail and railway infrastructure exists. They meet military standards for withstanding drops, vibration, and exposure to dust and water. They can operate in temperature extremes, stand up to rain, snow, wind and sun, and work all day.
State-of-the-art rugged handhelds are like digital multitools: they're set up to take on a wide range of jobs, with purpose-built capabilities that make them versatile and valuable. They include features such as resistive-touch screens that are sunlight-readable; high-quality reader/scanners and cameras; and stylus options to let technicians work precisely even while wearing gloves. Workers can perform all their tasks in one spot with one device.
This do-it-all design speeds up processes and increases accuracy. For example, a field inspector can verify the identity of a piece of equipment by scanning an RFID tag, enter data related to the equipment, attach photos documenting its condition, attest that it meets maintenance requirements or initiate a repair work order if it doesn't, and file an inspection report.
It's the same if you're tracking inventory or transfers; if a vehicle comes into a railyard and the contents are transferred to a rail car, a worker can use a rugged handheld to instantly and precisely document the details. Any process that was previously done with a clipboard and pen, or transcribed from field notes, becomes inherently more accurate and efficient when done digitally – and that saves both time and money.
Rugged tablet computers are improving both safety and efficiency for a large rail operator in Denmark. Its maintenance crews use Handheld Group's rugged Algiz 7 tablet PC with RFID technology and Siemens software to minimize unnecessary downtime, keep workers safe and maintain open lines of communication with railway operators.
Read the full customer solution: Rugged tablets optimize maintenance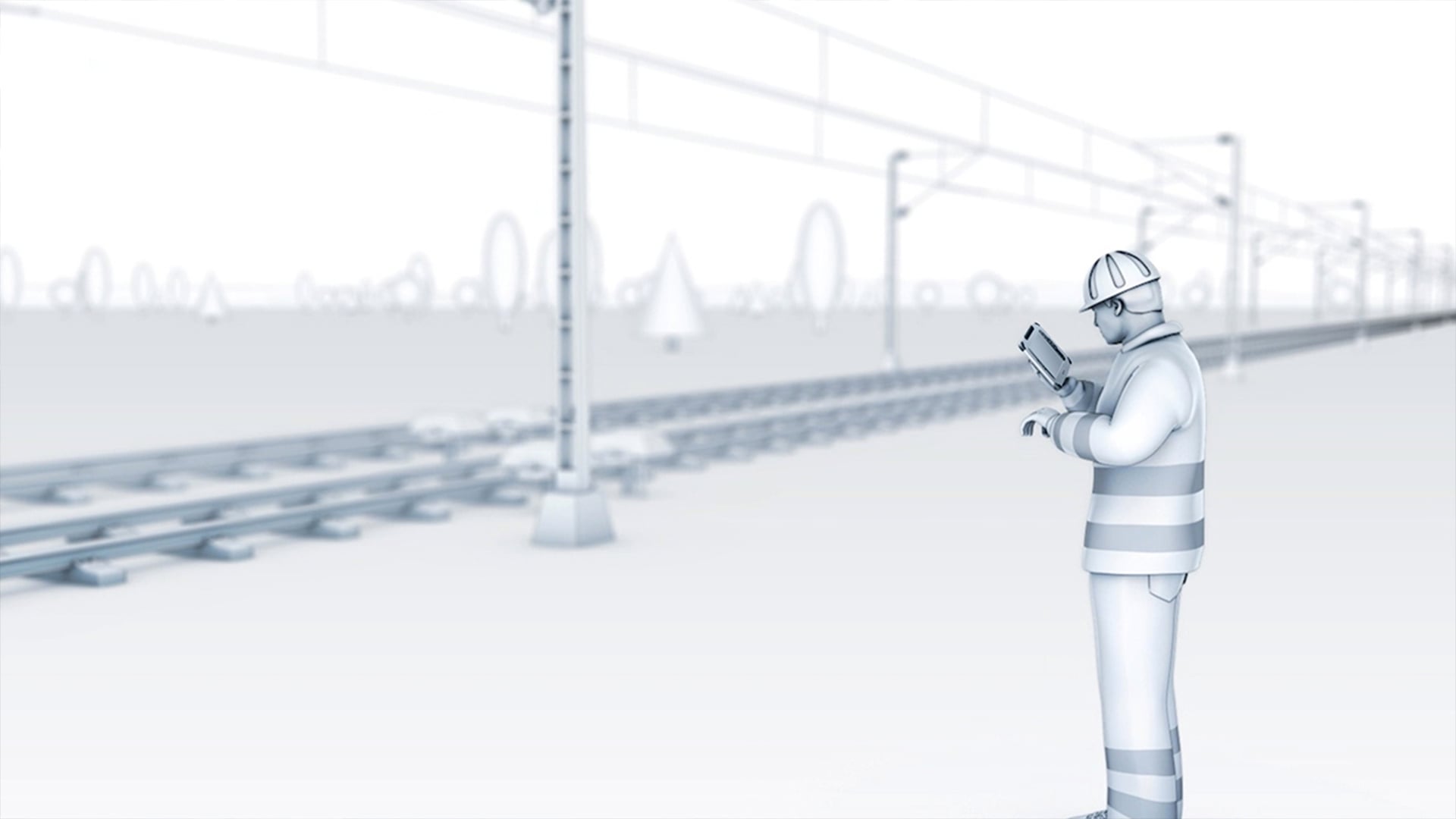 Of course, no tool is effective if you can't take it where the work needs to be done. Today's rugged computers are capable of staying with a worker through every phase of the job. First of all, they're lightweight, compact and easy to hold – in the sweet spot between laptops and smartphones. Railway technicians typically work on multiple tasks every day, and their handheld can go wherever they need it to – connected to a network in the office, stable and secure in a vehicle mount, or carried right to the work site. Whether they're inspecting, scheduling or tracking, they can do it on foot, in a forklift, or wherever they happen to be.
And hot-swappable batteries have the longest shifts covered; the first battery will probably last all day, but if not the worker can keep a backup in a stationary or vehicle charger, ready for use with no workflow interruption.
One of the biggest advantages of digital tools is their ability to communicate instantly in a variety of ways. With built-in WiFi, high-speed data connections and multiple wireless network capability, a worker can find a signal almost anywhere – technology allows them to go mobile but stay connected.
And this communication capability not only helps keep operations running smoothly in real time; it also keeps workers safer. Take railway maintenance as an example. If technicians have to work on a section of rail, they can use their rugged computer to notify operations of the exact moment they arrive on the site and need to take that section offline. They can use GPS to verify location, and a scanner to specify track section, part numbers and more.
During their work time on-site, system elements such as rail locks can be automatically controlled for the situation, and the worker can access centralized information such as procedures, manuals or even diagrams. After the work is done, an instant update allows the system to go back to normal status, and the worker can send a job report. And this can be done for pre-scheduled or emergency projects.