Feeding Management with NAUTIZ PDAs
Dairy farms improve accuracy with digital feed system
Optimize feeding practices at dairy farms, where over 50% of costs go to feeding.
Use V-Dairy Feeder built on Nautiz PDAs to improve feed accuracy.
Immediate savings of 10,000-20,000 euros per year, plus improved record keeping and off-site control.
Rugged Nautiz PDAs give farmers complete control over complex dairy feeding systems.
Feeding livestock makes up over 50% of the direct costs of running a dairy farm. By increasing feed accuracy and efficiency with a digital solution built on Handheld Nautiz PDAs, farmers around the world are boosting their profits — and gaining a long list of other benefits.
The V-DAIRY Feeder system from BvL, a Handheld partner based in Emsbüren, Germany, gives farmers full control of their feeding practices from any location. It allows users to create precise feeding programs and keep detailed, automated records, saving time, reducing waste and keeping data safe.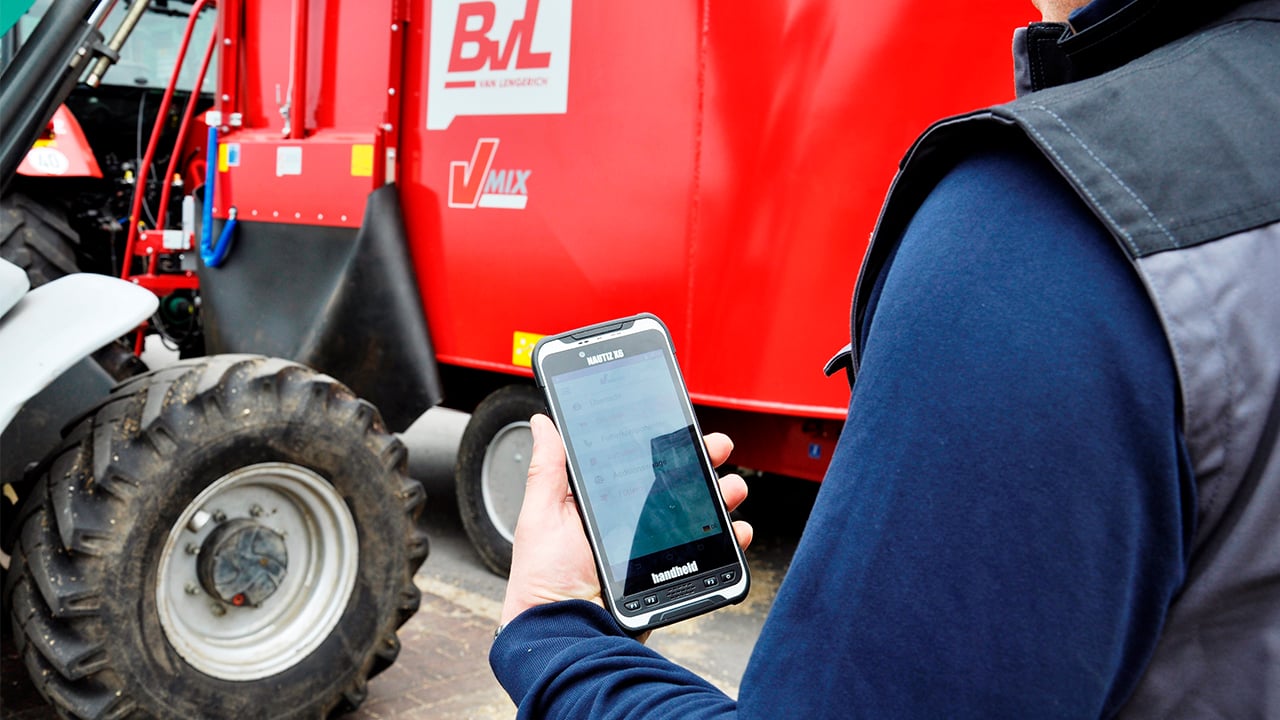 A complete dairy feeding system
Both herd health and farm success require farmers to be vigilant about feeding accuracy. Milking cows have different nutritional requirements from non-lactating cows and calves, and rations vary during different periods of pregnancy and lactation. With so many variables, it's all too easy to get bogged down in inefficient planning and record keeping methods.
One BvL customer, John Jamieson, runs a pedigree dairy herd with 270 milking cows in Annan, Scotland. He used to rely on manually producing feed charts with the information supplied by his nutritionist, which his employees had to then interpret and adjust to make a mix.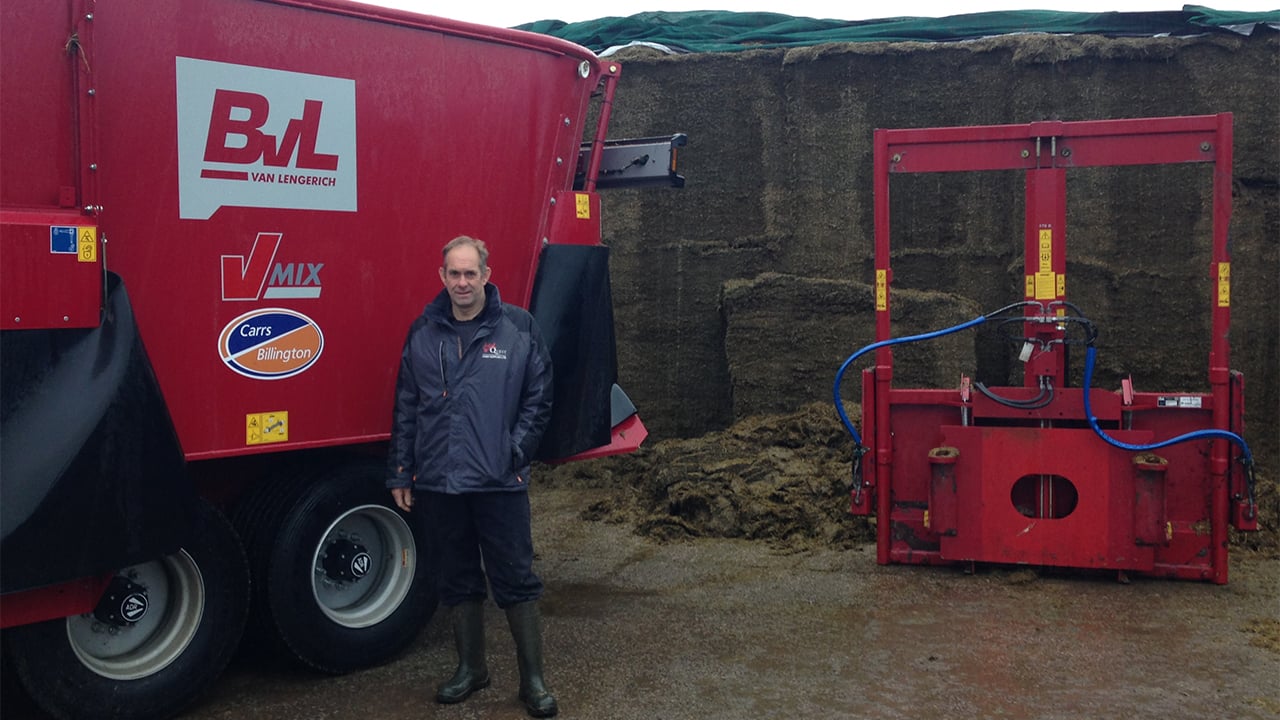 "This was very time consuming," Jamieson says. "Charts would often have to be completely rewritten if the number of cows in a group changed, or if the ration was altered."
With the fully digital, cloud-based V-DAIRY Feeder system, farmers can create feeding charts for as many groups of animals as they need, and tweak ingredient ratios based on any variable they desire. 
A customizable digital solution
It starts with web-based software: Within the V-DAIRY Feeder portal, farm managers choose their animal groups, ingredients and amounts. Feeding staff at the farm pull up the charts they need on the Nautiz X6 ultra-rugged PDA, and use that information to load the mixer wagon — a machine that weighs, mixes, and distributes food for livestock. A small transceiver box connected to the mixer wagon's weighing computer sends weights back to the Nautiz X6, where all feed data is recorded and backed up in the portal.
The Nautiz X6 field controller seamlessly and reliably communicates with the DairyFeeder transceiver via BT and syncs chart data over cellular or WiFi. This compact handheld PDA features both a sunlight-readable resistive touchscreen and a numerical keypad, making menu navigation and data entry simple and fast. And it's IP67-rated and meets U.S. military test standards for ruggedness, so it's the perfect companion for farm work — no amount of outdoor weather, rough handling or mess can interrupt feeding tasks or destroy data logs.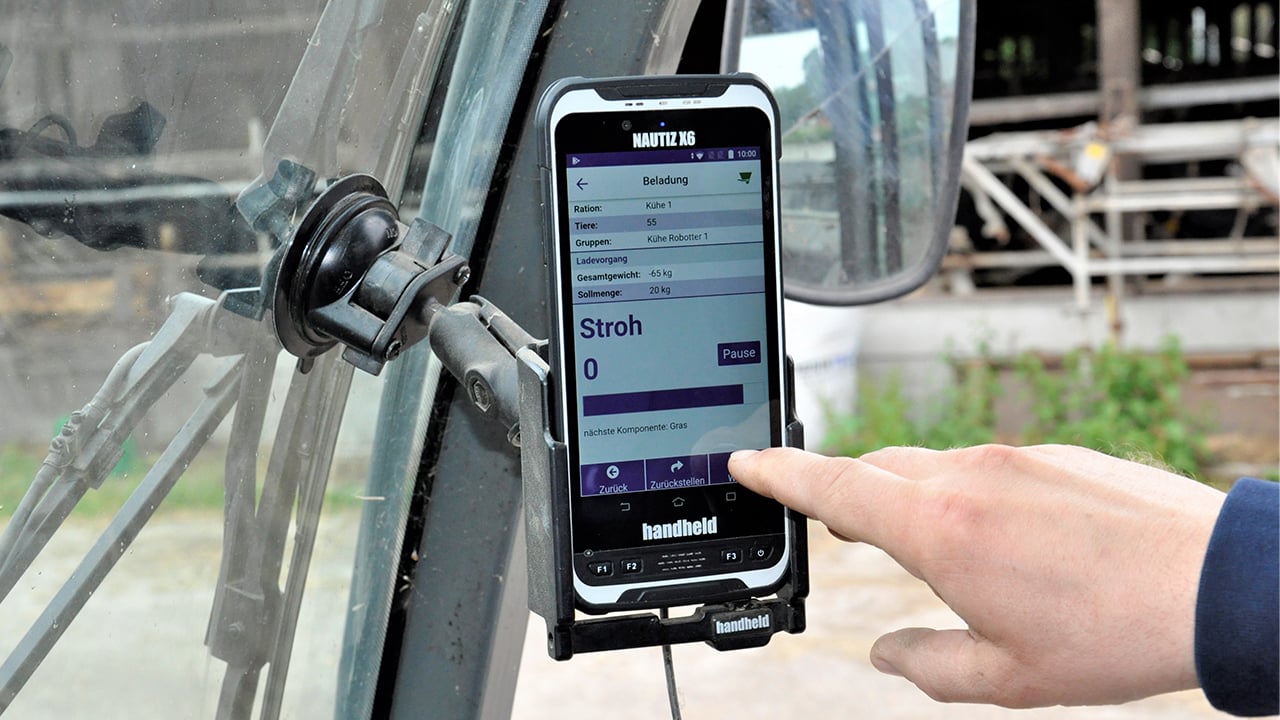 "The feed management system is very much 'plug-and-play' — you don't have to be a computer specialist to control it," says Caroline Goehring, product manager at BvL. "All you need is a web account login, just like what's required for an email account. There's no need to install any software."
Because logging into the V-DAIRY Feeder portal from a web browser is so simple, farmers can easily manage feeds while they're away. They can create spreadsheets, update groupings and customize values, and changes are instantly cloud-synced with the farm's Nautiz X6 field controllers. Managers can also remotely check data from individual feeds, or review reports including feed sheets, rations, accuracy detail, loaded ingredients and feed conversions, which can be downloaded or shared in several formats.
Better feed accuracy – huge savings
There are plenty of factors that can determine whether a feeding system is draining profits from a dairy farm or contributing to its success. But the most important factor of all is accuracy:
"Improving feed accuracy can save farmers an astonishing amount of money," Goehring says. "For a 400-cow dairy farm that spends 3.55 euros per day to feed each animal, a 2% increase in accuracy will save more than 10,000 euros per year and a 4% increase in accuracy will save over 20,000 euros per year."
Precision farming requires planning, organization, and careful monitoring — and those who get it right reap the benefits of saved time and increased profits. V-DAIRY Feeder built on the Nautiz X6 is a fully reliable digital toolkit that helps farmers get it right.