Boosting lambing efficiency with NAUTIZ X6
New Zealand shepherds use rugged phablets to record sheep genetic data
Record hundreds of new births and track genetic data for thousands of animals at a New Zealand sheep breeding operation.
Introduce Nautiz X6 phablets as ultra-rugged lambing PDAs, with easy data entry, fast processing and secure data storage.
Significant gains in speed, efficiency and data security, along with ease of use.
Reliable ultra-rugged phablets help livestock managers record parentage and monitor physical qualities of new lambs.
The world's largest supplier of sheep genetics, Wairere Rams, is using Nautiz X6 rugged handhelds to increase productivity and improve data security during their spring lambing season. Wairere's shepherds are using the devices to record and track data on thousands of ewes and lambs on their property in the verdant Wairarapa region of New Zealand's North Island.
New lambs must be tagged nearly as soon as they are born, making operational efficiency essential: "It's amazing how much of an impact milk and sunshine have on the lambs," says Livestock Manager Kate Robinson. "At over a day old they become very fast and are hard to catch."
Traveling across the farm's pastures is no easy job, as the rough, weather-stirred terrain is only two percent flat. The company's website calls the locale "wet cold," "windchill-prone" and "a serious testing ground" for the constitution of the sheep and the people who manage them.
The shepherds ride on horseback in order to traverse the land more easily, and to quietly approach the new mothers and babies without disturbing them. This method allows the riders to more quickly and accurately record births — of which they'll tally around 7,000 per year.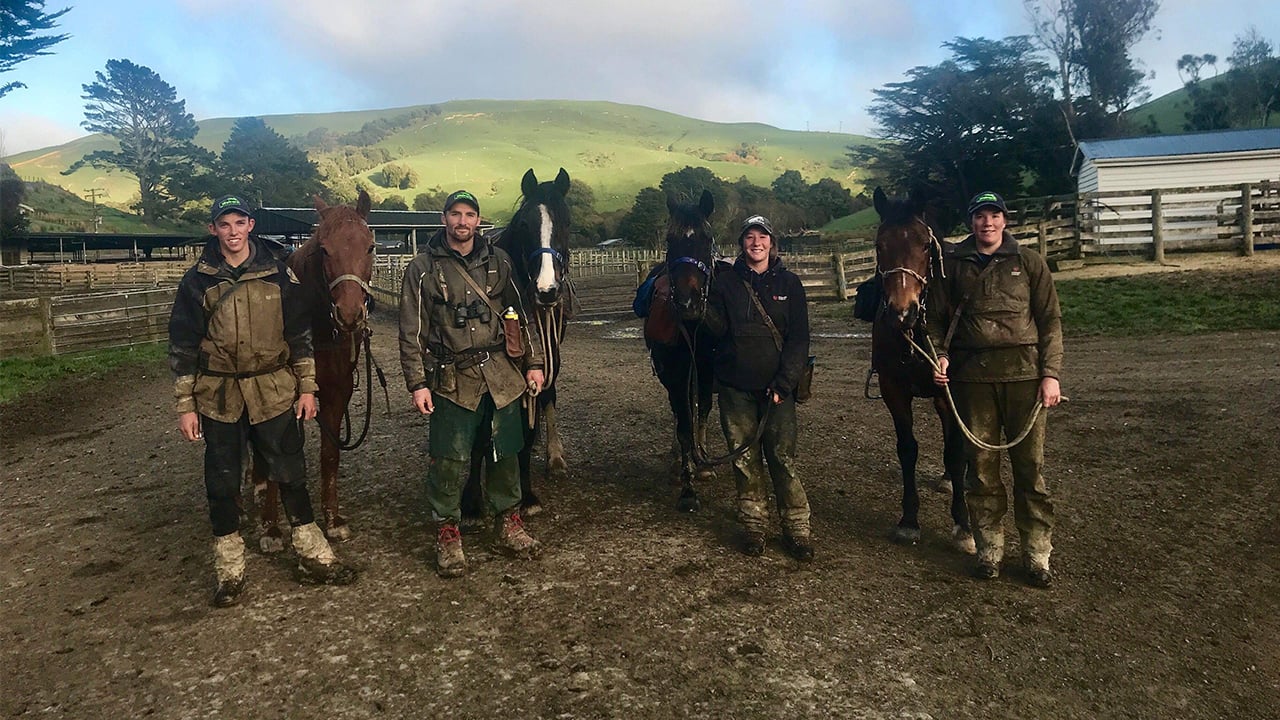 "

The worst climate I have ever worked in

"
An environment capable of producing hardy sheep with strong genetic qualities for breeding also creates a serious testing ground for mobile technology.
"Our devices need to be quite sturdy," Robinson says. "We are using them out in the mud and rain, and being bumped around the paddock all day getting on and off the horses."
Wairere's search for hardwearing data collection tools landed on the ultra-rugged, ultra-portable Nautiz X6 computer from Handheld Group. The farm deployed these new lambing PDAs with the help of Pocket Solutions, a New Zealand-based provider of mobile technology systems that increase business efficiency and productivity.
A rugged technology answer
Nautiz X6 Android handhelds allow the livestock managers to record and modify data quickly in a compatible lambing app, in any weather condition, and store data safely in the cloud. Users frequently operate the compact phablet — a hybrid of "phone" and "tablet" — in bright sunlight and heavy rain, thanks to a 6-inch touchscreen that's made of chemically strengthened glass and equipped with sunlight readability, rain mode and glove mode technology.
Robinson says the devices "hold heaps of data" — with 4 GB of RAM and 32 GB of local storage — and support fast and secure backup. They have the processing speed to facilitate fast data transfer, and connectivity features including WWAN and WiFi to enable secure cloud syncing.
Each Nautiz X6 device is built from the inside out to meet the needs of field workers in tough environments. These lambing PDAs are IP67 rated and meet U.S. military test standards for ruggedness — such as withstanding repeated drops, dust and water exposure, and operating at high and low altitudes or extreme high and low temperatures.
True rugged construction — not just a rugged case on a fragile consumer device — is absolutely critical for Wairere, where reliable data collection surrounding birth and parentage is central to business.
"Our operation is concerned with genetic gain in sheep populations, and accurately recording the pedigree of each individual is the first and most important step in that process," says Simon Buckley, Business Manager for Wairere.
Recording the lambing beat
Buckley's team follows a set process for entering each animal into the sheep management system: Rams are identified at the time of mating, ewes at the beginning of lambing, and lambs at birth. "Once the lambs are tagged and their parentage is recorded, all subsequent performance records for those lambs can be attributed to them and retained," Buckley says.
To record information about new lambs and their mothers, Wairere shepherds use animal tagging and a lambing app on the Nautiz X6. Each ewe wears a large ear tag with visual identification (VID) information. When the shepherds find a new lamb, they place an ear tag, then record information such as the sex of the lamb, the paddock it was born in and any relevant commentary related to the lamb's features or the ewe's mothering capability.
"We then spray the lambs' tails with blue tail paint so we can easily identify from a distance that those lambs have been tagged," Robinson says. "On a big day of our lambing beat, we will tag 100-120 lambs."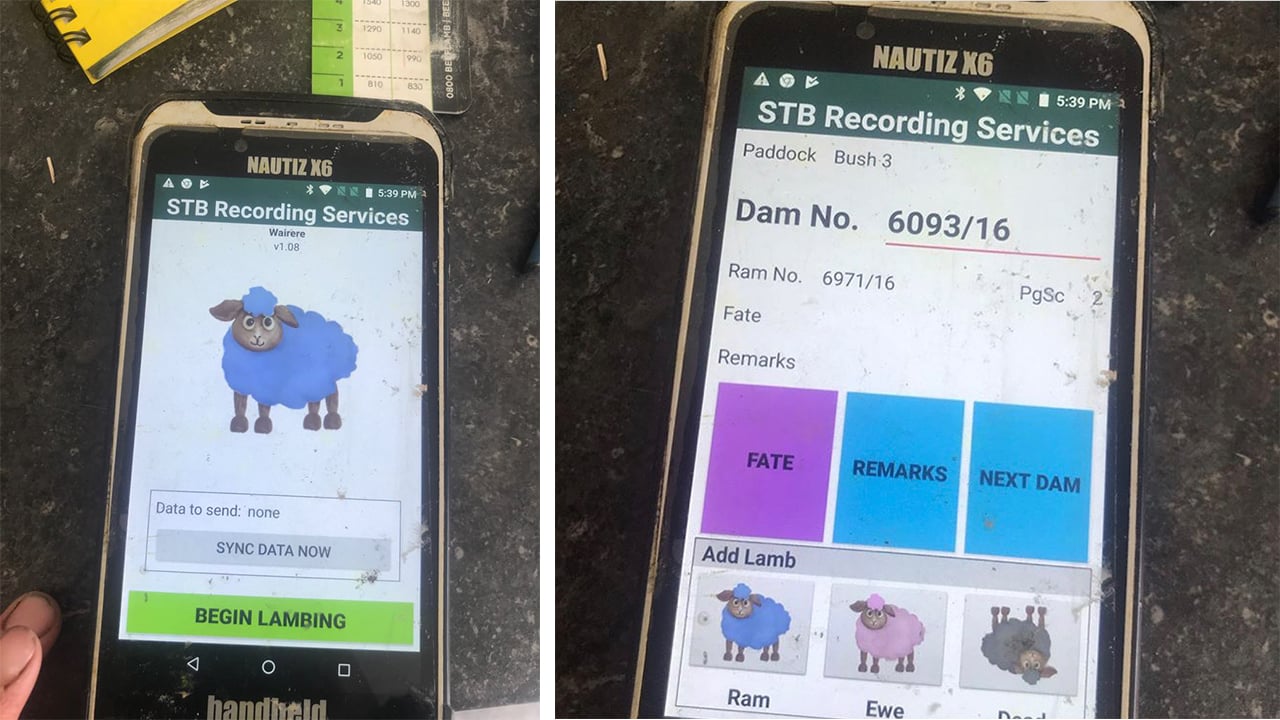 The most important information the shepherds record is related to physical qualities of the lambs, such as weight, markings or disease; and behavioral qualities of the ewes, such as poor mothering instinct, poor nursing capability or still birth.
"Each lamb's VID tag number recorded in the lambing app stays with the animal throughout its life," Robinson says. "This establishes a reliable system for adding information to our database later, such as weaning weight, eye muscle scans, fleece weight, growth and other details."
Lambs over a certain weight are kept in the flock at weaning, amounting to roughly 2,500 ram lambs and 2,500 ewe lambs. Over the course of a year, about 1,000 of the best rams will be identified for a November sale. Ewes that have raised strong and healthy lambs remain in the recorded flock for the next mating season.
All this data management is made significantly simpler by the Nautiz X6 lambing PDA.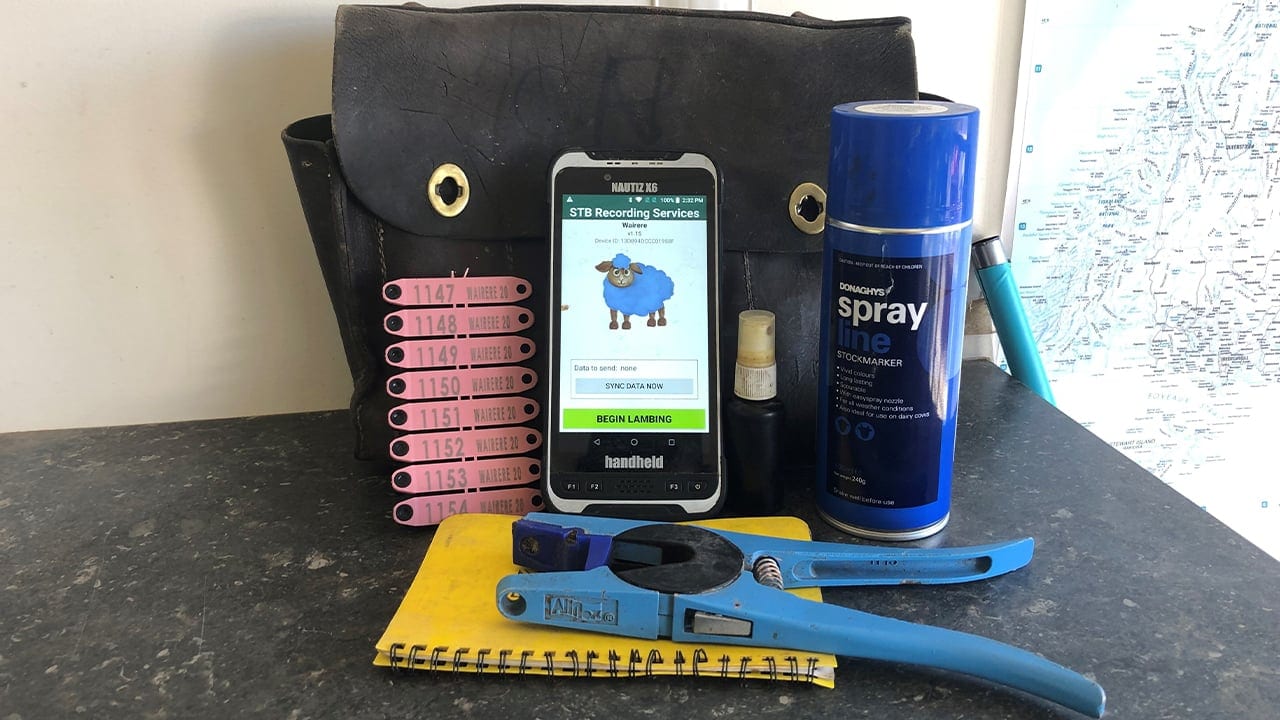 "We record around 5,000 ewes at the point of birth," Buckley says. "These devices, along with the software that Pocket Solutions developed, are fantastic technological advancements for us."
Buckley and Robinson each say the Nautiz X6 makes it easy to fix data entry mistakes, is intuitive to use and enhances the lambing shepherds' speed and accuracy.
"We are constantly looking to technology to improve efficiencies within our business," Buckley says. "We are very thankful to Pocket Solutions for supplying the hardware and developing the applications that make these devices so useful to us. We love the devices and look forward to using them next lambing season."