A smart future with AMCS vehicle route planning
Nautiz X2 and Nautiz X6 rugged handhelds help solve a logistical challenge
ALBA, one of Germany's largest waste management companies needs to communicate effectively with 2000 drivers servicing 200,000 customer locations.
A route-planning system from AMCS and the Nautiz X2 or Nautiz X6 can relay and translate complex route-planning information from dispatchers to drivers.
Dispatchers are supported in sending daily, high quality, specific information to each driver and directing them to complete specific tasks more efficiently and with a lower carbon footprint.
ALBA is using an innovative route-planning system for waste management on Nautiz ultra-rugged handhelds.
ALBA, one of Germany's largest waste management companies, is using an innovative route-planning system from AMCS on Handheld's Nautiz X2 and Nautiz X6 ultra-rugged handheld computers. With changing routes in many cities and a variety of materials to be picked up and delivered by over 2,000 vehicles, the ALBA needed a system to get its drivers to the right places at the right time. AMCS's route-planning software and the Nautiz rugged handhelds have proven up to the task. Routes, jobs and resources are available to dispatchers and drivers, with a shared transparency that both appreciate.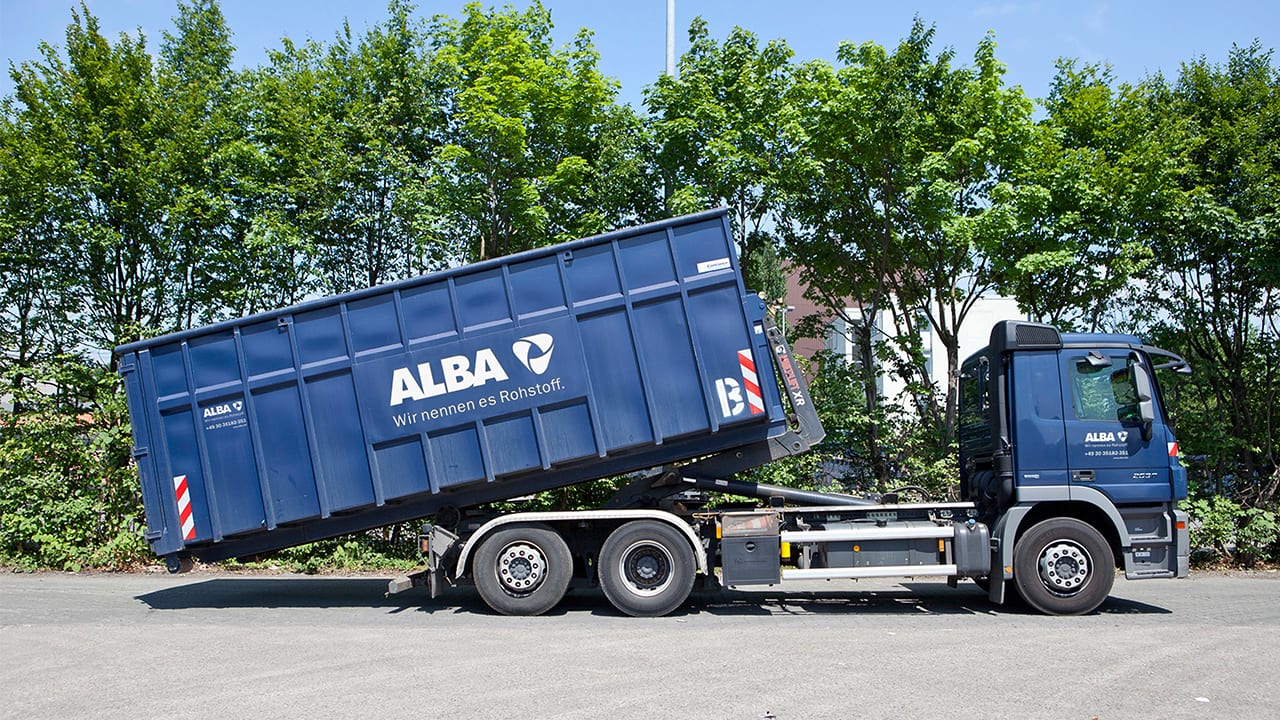 Personalized route information
At the start of a workday, each driver downloads personalized route information directly to their Nautiz rugged handheld, which is mounted on their vehicle's dashboard. Dispatchers have created the specific routes, and ALBA says that AMCS's route-planning system makes the dispatcher's job simpler. At the end of the workday, dispatchers review any changes and special requirements, and respond to these in their next-day planning.
Meanwhile, in their daily travels, in addition to seeing the day's activities in the form of a list of routes and all-important information on individual orders on their Nautiz rugged handheld, the driver can use the navigation system to find any point on the route. Christian Bobrowski, operational manager in the logistics competence center at ALBA says, "Communication between dispatchers and drivers is more direct and much quicker. The information transmitted has a significantly higher quality."
Also, optimum route planning means the number of drivers available can be deployed effectively and efficiently—no more guesswork or short-staffing. The benefits also include greater convenience and support for drivers, with less stress and a reduced risk of accidents with the help of these aids.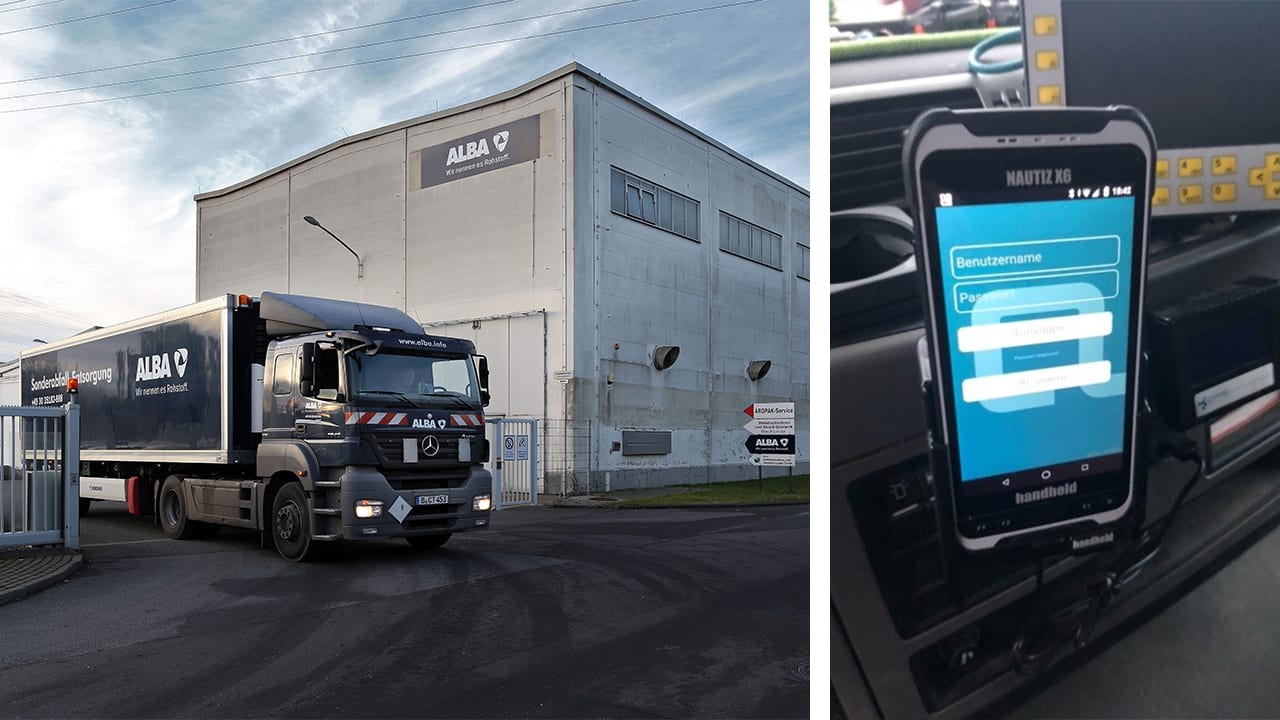 Nautiz rugged handhelds built for tough environments
The choice of hardware was no coincidence. A rugged device is important in the tough waste management business. They can withstand harsh environments and can resist all weather conditions, moisture, and dirt. The Handheld Nautiz X2 and Nautiz X6 rugged Android handhelds are easy for the drivers to use and provide superb integration with the AMCS Routing software. The durability and reliability of the devices guarantee business continuity, few phone replacements and repairs, and reduced costs. Additionally, satisfied drivers can provide more reliable service resulting in higher customer satisfaction.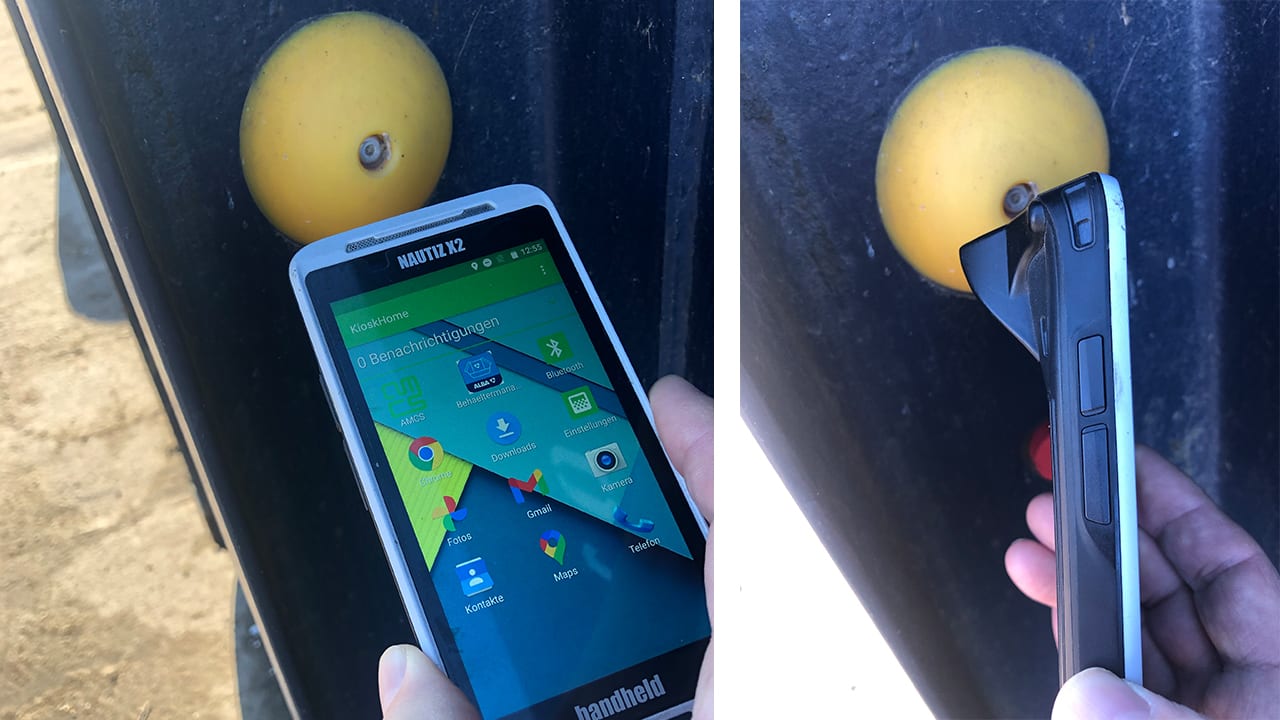 Improved dispatcher communication
Communication between dispatchers and drivers is faster, more streamlined, and direct, and there are also environmental benefits. Intelligent route planning means the client can minimize routes within cityscapes, while optimizing the services offered. The result is significantly fewer vehicles on the road in crowded cities. This reduces the company's carbon footprint and even helps ease the crowding on city roadways and freeways.
Mapping complex tasks and routes
"The algorithm developed by AMCS means we are able to map highly complex tasks and circumstances within the planning process," says Christian Bobrowski. AMCS software met the complex logistics of moving over 2,000 vehicles to and from 200,000 customers; Handheld's Nautiz X2 and Nautiz X6 rugged handhelds enable the sharing of that information between dispatchers and drivers.