If you have completed downloading and installing a Windows update, your tablet might boot into the EFI shell instead of Windows. This issue can occur as well randomly on occasion but the most common cause is the installation of the Microsoft Windows 1709 Fall Creator Update and the boot order has been changed.
Below is a screenshot of the tablet starting into the EFI shell when powering on the unit: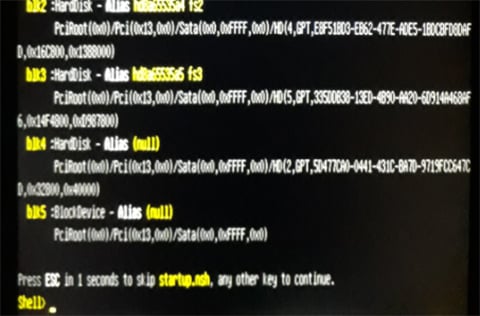 Solution
To solve this, follow the steps below:
Make sure that the latest BIOS version is running on your unit. Download BIOS for Algiz 10X V3 here, or download BIOS for Algiz 8X here.
Plug an AC adapter and USB keyboard into your tablet. Start the device and hit the Del button (Delete) as soon as you see the Handheld logo.
Use the arrows keys to move to the Boot tab.
Navigate to Setup Prompt Timeout and set it's value to 6.
Navigate to Boot Option #1 and set it to Windows Boot Manager…

Save and Exit the BIOS by pressing F4 on the keyboard or navigate to Save & Exit and select Save Changes and Exit from the menu.
The tablet will restart and boot into the Windows Operating System.