Rugged computers for government
"Government work" covers an astonishingly broad range of jobs ands tasks. But whether your work is in the military, transportation, construction, road maintenance, public works, waste management, GIS, public safety, public transportation or any of countless other specialty fields, odds are that rugged, mobile, handheld digital technology can make your job easier, help you get your tasks done faster and more efficiently, and ensure your data is more reliable and useful.
The common denominator: Handheld rugged computers – highly capable, portable devices that can be configured to your needs, provide instant communication in a variety of ways, will last all day in the field, and can get the work done in virtually any conditions you find yourself in.
Today's handhelds are built to operate for long hours in the world's most challenging settings – toughness to match the military personnel who use them. From data collection to navigation, training to advanced communication, these rugged marvels have the latest data security features built in, to keep both people and information safe.
It's no accident that Handheld uses military standards (MIL-STD-810G) to test the performance of our computers. With solid-state drives and housings that are sealed against water and dust, these rugged devices keep soldiers, sailors, aviators and marines more connected and productive – no matter where in the world they're stationed.
Mount a rugged handheld within a military vehicle, and remove it when you need to hit the ground. It uses GPS and GIS to provide navigation, and scanning capabilities including RFID and NFC let you track people, vehicles and equipment with precision. Mission planning and on-the-go strategizing are easier, thanks to secure, real-time communication that includes video conferencing as well as instant sharing of visuals and field-captured data. And that data can come by way of hand entry, photos, chip scans or barcode readings.
Add rugged handhelds to your training resources – you can use them to teach skills via video tutorials, training modules, photos and high-quality simulations, even in bright outdoor settings thanks to the sunlight-readable screens.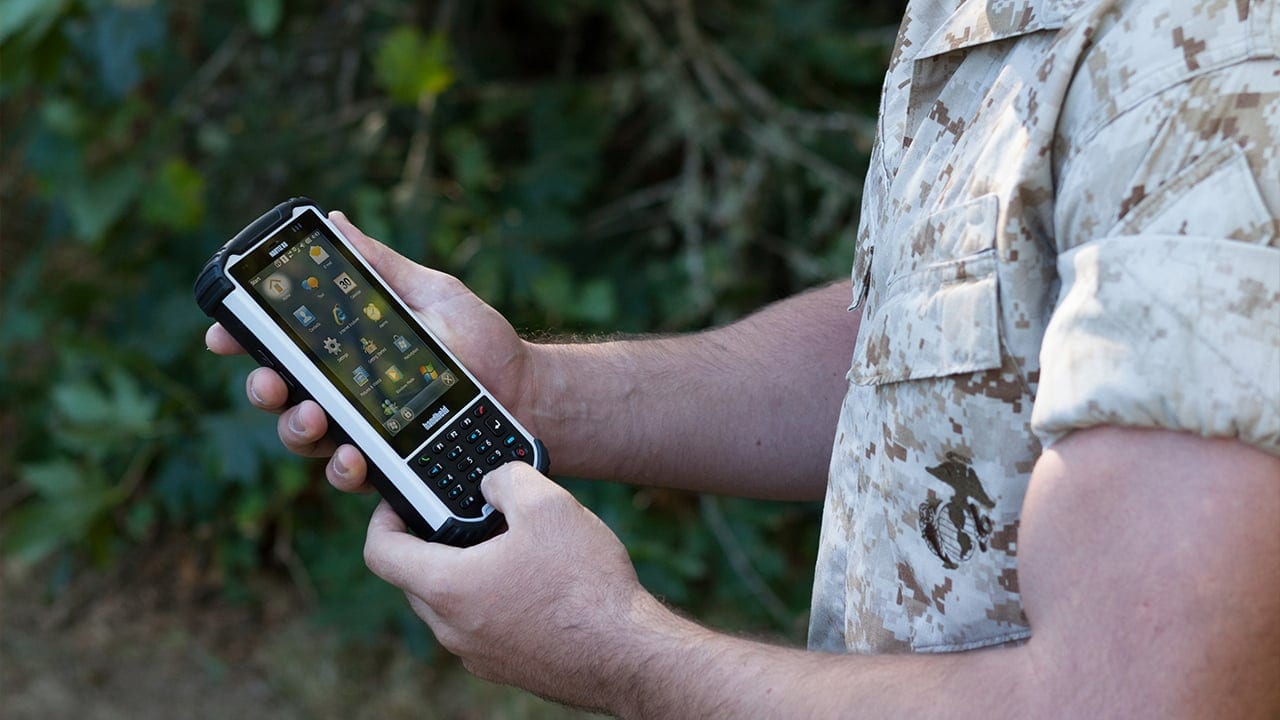 DOT, transportation and road maintenance
Whether you're building or fixing, anything that improves safety and efficiency is an essential tool. Rugged handheld computers deliver a unique set of capabilities that make everything from high-level management to parts inventorying simpler, faster and more reliable.
Of course, that tool needs to be as field-ready as the hands using it. Today's handhelds include technology that lets you use them effectively in bright, mid-day sunshine or heavy rain; they work through drops, dust conditions and extreme hot or cold temperatures. You can mount them in a lurching crane cab or carry them in a pocket.
You think a Swiss Army knife is versatile? Using a Handheld computer's touchscreen tablet, workers can perform intricate calculations; access, view, edit and share blueprints or topo maps; communicate with crews, managers, and stakeholders across town or across the country; and track crews, materials and equipment. Customizable construction software and task-management apps can be tailored to your situation, and you can even choose from multiple operating systems.
And rugged portable devices add safety to counter the hazards of construction and maintenance sites. You can pre-load response protocols, first-aid instructions and emergency medical info for personnel into a construction management application, so they're instantly accessible for faster and more effective responses to injuries or other emergencies.
On a local-government level, mobile computing technology is a great way to ensure strong ROI for smaller budgets – because Handheld devices can do so many different things.
For example, public works departments can streamline and improve tasks such as work orders, scheduling, inventory management, safety checks, inventory tracking, fieldwork, vehicle monitoring and project reports. Data collection and transmission is accurate and immediate. And because much of their work is done outside in all kinds of weather, they can rely on rugged performance in any environment.
Waste management shares the same need for technology that will operate in challenging conditions – weather, temperatures, vibrations and pounding, dirt and grime… and ruggedized tablets and PDAs can handle it. From a functional point of view, they can employ navigation and route optimization to make sure the vehicles are deployed and routed efficiently, and scanning and photography capabilities to document their tasks. Real-time data and communication help deliver better customer service.
And anyone who needs GIS information is never without mobile computing. Equally effective in sunny or harsh outdoor environments, rugged handhelds accomplish data collection, paperless mapping and a multitude of other tasks, with efficiency and ease.
Rugged computer and mobile applications have essentially revolutionized fieldwork for public safety, including law enforcement and emergency response. The ability to deliver high-level data and communication functions in time-critical situations and difficult environments has streamlined and improved these job categories. The combination of versatile connectivity, purpose-designed software and stout design and makes rugged tablets and PDAs the ideal mobile tool for police and fire departments, emergency and rescue services, and all areas of public safety.
Portable handhelds can be securely mounted and used on the go in police cars, ambulances and other public safety vehicles. At the scene of an incident, responders can quickly and easily undock them and carry them wherever they're needed. Their ultra-sturdy construction lets them be used in heat and cold, in the sun or rain, and through drops and vibrations. Even forensic analysis is more efficient with modern mobile computing. The ability to collect evidence in harsh environments provides greater precision and reliability for data gathered.
Responders can use a Handheld device to navigate to a scene, then collect and instantly transmit detailed status reports to a medical facility or central law enforcement station. This gives dispatchers, supervisors and medical facilities access to vital information in real time, including patient conditions and on-site treatment, or crime-scene details and necessary next steps. Rugged mobile technology adds accuracy, efficiency, durability and portability to what are already difficult tasks.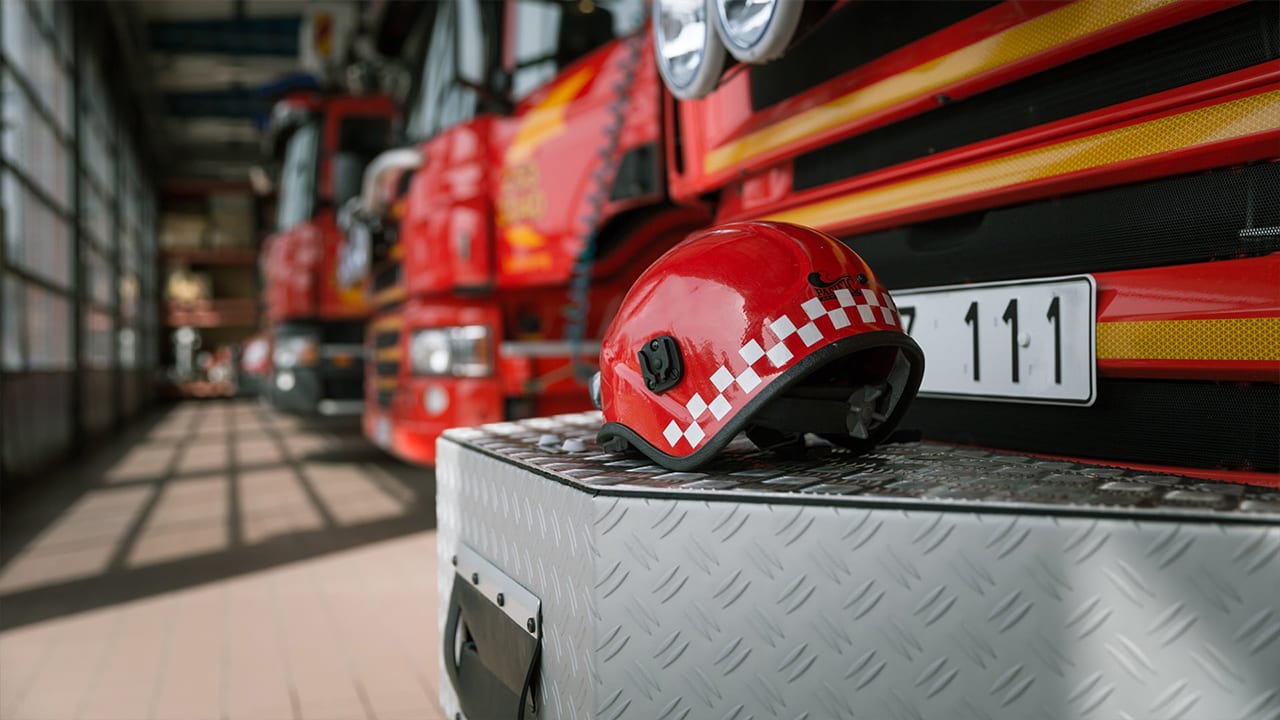 Mobile technology can have a positive impact on logistics, scheduling, data and communication in the public transportation world – for better route optimization, GPS navigation, computer-aided dispatch and fleet management.
For example, a bus driver can rely on a rugged tablet to show the route, with step-by-step instructions to each scheduled stop. And if road construction or an accident obstructs the route, a dispatcher can send real-time route changes to the device to keep things running smoothly. And the handheld is built to withstand both road vibrations and constant use. They even work from a lockable docking station that charges the tablet while the bus operates.
And today's mobile technology can handle mobile and electronic ticketing. Mobile ticketing (mTicketing) lets customers purchase and validate tickets using cellphones; transit workers can refill cards and sell tickets on the vehicle or at stations and stops. eTicketing allows inspectors to use their handheld to read magnetic-stripe or smart cards, and also to check tickets for those on board.
Mobile computers can efficiently track resources such as individual vehicle locations, maintenance schedules and service appointments, as well as inventories of everything from spare parts to tire chains. And in multi-car trains, they can be used to calculate braking distances and weight, as well as the most efficient configurations.