The fast track to efficiency
Rugged handhelds improves ticket inspections
Improve ticket-inspection efficiency and increase revenue Helsinki regional transport authority (HSL).
Upgrade HSL to the Nautiz eTicket Pro system from Handheld to provide improved ticket scanning, more robust data collection and enhanced fine-monitoring capabilities.
HSL has increased its number of inspections by more than 20 percent, reduced ticketless travelers by 11 percent and increased revenue from fees by 800,000 euros.
Nautiz eTicket Pro handhelds have helped Helsinki regional transport authority (HSL) improve ticket inspection and fare collection.
Most humans, and most computers, aren't equipped to thrive in Arctic climates — but it turns out there are some notable exceptions. When renowned researchers Alan Le Tressoler and Julien Cabon planned the French scientific North Pole 2012 Expedition, they rigorously prepared themselves to withstand the Arctic's harsh climate and rough landscape. But they needed equipment that would be up to the task, as well. Using Handheld's Algiz XRW ultra-rugged notebook, these researchers successfully gathered new information crucial to scientists' understanding of the Arctic Ocean and planet Earth.
Rules are only as good as their enforcement. But as any effective authority figure knows, enforcers are also only as good as their enforcement systems. For a large city transportation department, a well-designed ticket-inspection system is key to effectively enforcing ticketing and fines.
Ticket inspectors for Helsinki regional transport authority (HSL), check fares and tickets for onboard metropolitan commuters on city buses, trams, commuter trains, subways and also the ferry on the Suomenlinna ferry system. But because HSL lacks the staff and resources to verify every single ticket, non-paying travelers have cost the department an estimated 10 million or more euros per year in recent years.
As its previous mobile computer system reached end-of-life, HSL decided it needed a better solution for checking transit tickets. It hoped this improvement would help recoup costs and sustain a safe, smooth-running city transit operation — and help it has. By equipping transit inspectors with an updated e-ticketing system and brand-new rugged computers from Handheld Group, the department has increased the number of inspections it can perform, has improved operating efficiency and is able to provide better service to travelers.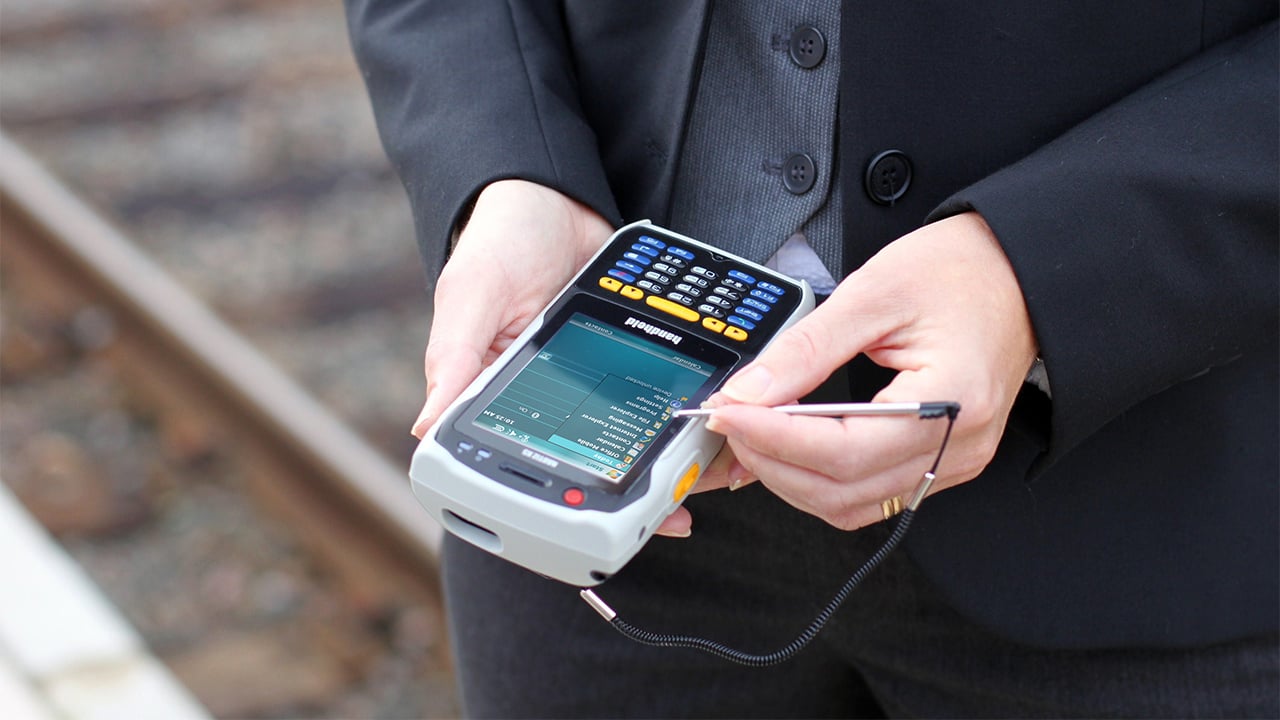 Upgrading an outdated system
Before upgrading its technology, HSL used an older PDA that was nearing end-of-life. Its features were quickly becoming outdated, and it lacked efficiency when it came to transferring, sorting and storing data. Inspectors had to dock the units after each shift and manually synchronize them with computers.
Enfo Oyj, a Nordic IT service provider, and Fara Finland Oy, a public-transport ticketing and information-systems provider, worked together to develop a new, updated software system for HSL. They also provided the hardware — the Nautiz eTicket Pro from Handheld, an intuitive, accessible device that would be able to handle HSL's current and anticipated needs without a steep learning curve for inspectors.
The Nautiz eTicket Pro is a complete e-ticketing solution for the public transportation sector. It's fast and powerful, with an 806 MHz Xscale processor and 256 MB of RAM. It's also highly usable — it features a daylight-readable touchscreen, a built-in smart-card reader, a 3-megapixel autofocus camera and a 2-D imager.
A rugged classification and IP65-rating mean the Nautiz eTicket Pro is impervious to dust and highly water-resistant, and it can withstand drops and operate in a wide range of temperatures — perfect for the challenging work environment and the fluctuating indoor and outdoor temperatures inspectors encounter. It's light and fits comfortably in one hand, and the battery lasts a full workday on one charge.
"The battery duration is worlds better than with the old units. The device is also much faster and more reliable," says Jari Kujanpää, a supervisor in HSL's inspection department. "When we have an issue or request, the software can be updated and customized based on what we want to see. And a lot of unnecessary data-entry work has been eliminated because everything is totally automated."
Using the new system, inspectors can clock in for their shifts, read travel cards with RFID-chip content and scan 2-D barcodes on train tickets by performing quick, easy actions on the Nautiz eTicket Pro units. Along with information about ticket validity, simple scans provide HSL with a wealth of statistical data, including the type of ticket held, the classification (adult/child) of a passenger, the time of day, and the route and transport method.
Issuing fines with the Nautiz eTicket Pro is extremely efficient: When an invalid ticket is scanned, inspectors write and issue a fine and scan a barcode with the fine's reference number. The fine information is sent via GPRS to the HSL office for monitoring.
Improved enforcement earns results
Since March 2012, HSL has acquired 138 Nautiz eTicket Pro units. Using the new system and hiring additional inspectors allowed the department to increase the number of ticket inspections it performed by more than 20 percent in 2012, with each inspector increasing inspections by more than 10 percent.
Fees totaled 5.6 million euros in 2012, an increase of 800,000 euros. The more effective ticket-inspection system has also reduced the number of fare dodgers: In 2012, 11 percent fewer passengers were found traveling without a ticket.
Choosing an up-to-date, easy-to-use solution has allowed HSL to improve service to travelers, recover revenue lost to nonpaying passengers and position itself to keep up with changes in transit technology. In the future, HSL may even take advantage of the Nautiz eTicket Pro's ability to sell journeys and load them onto travel cards during the inspection.
Risto Vaattovaara, group manager at HSL, says it best: "We've increased the number of inspection fees we collect, data transactions to the back-end system are faster and more secure and our inspectors are much more comfortable working with the Nautiz eTicket Pro than they were with the older, less reliable equipment. Efficiency has improved substantially."