Surveying coastal storm impact with ALGIZ 8X
University researchers collect topographic profiles in North Carolina
Perform surveys of coastal topography as part of a university teaching program to measure the effects of winds, waves and nearshore currents.
Collect and map GNSS data using Handheld's ALGIZ 8X rugged tablet.
Accurate profiles that provide insight into changing coastal environments, before and after tropical storms and over months and years.
The ALGIZ 8X field tablet is powerful enough for university oceanography research, and intuitive and rugged enough for student use.
Researchers at the University of North Carolina Wilmington's Coastal Hazards Lab are using the Algiz 8X ultra-rugged field tablet to perform topographic surveys of coastline environments. These researchers do important environmental work — such as analyzing coastal change after 2018's Hurricane Florence — as they teach and mentor UNCW students.
The Algiz 8X is an ideal research and teaching assistant: Its combination of speed, features and communication options make it well-suited to professional scientific data capture, while its intuitive design and ruggedness are perfect for new users and tough environments.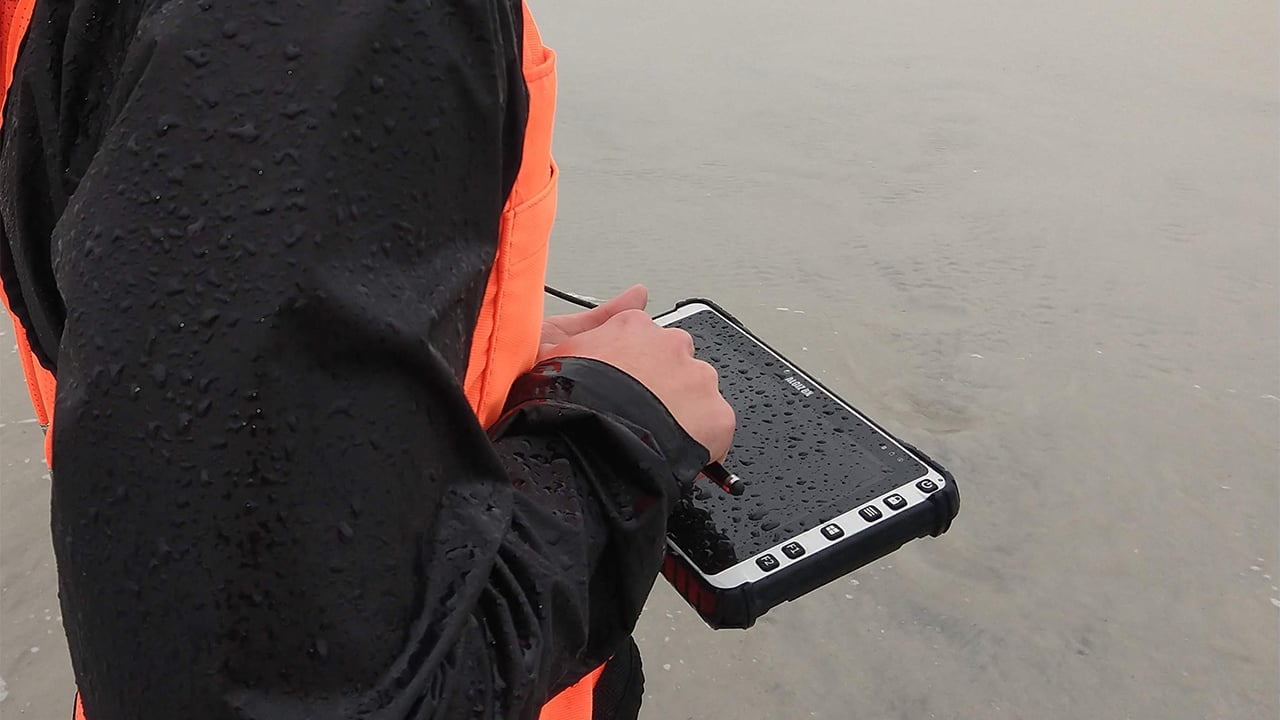 Teaching technology, outside the classroom
Dr. Joseph Long is an Assistant Professor in the Department of Earth and Ocean Sciences. He uses the Algiz 8X along with an external high-accuracy BT GNSS receiver as he teaches undergraduate classes in oceanography, mentors graduate students and heads up a National Science Foundation-funded research project focused on the impacts of Hurricane Florence on North Carolina's coastal topography. His research also includes studies of normal coastal change processes over time.
UNCW places a strong emphasis on applied learning: giving students the opportunity to step outside the classroom, observe the natural processes they are learning about and collect and analyze GPS surveying data in the field using state-of-the-art instruments.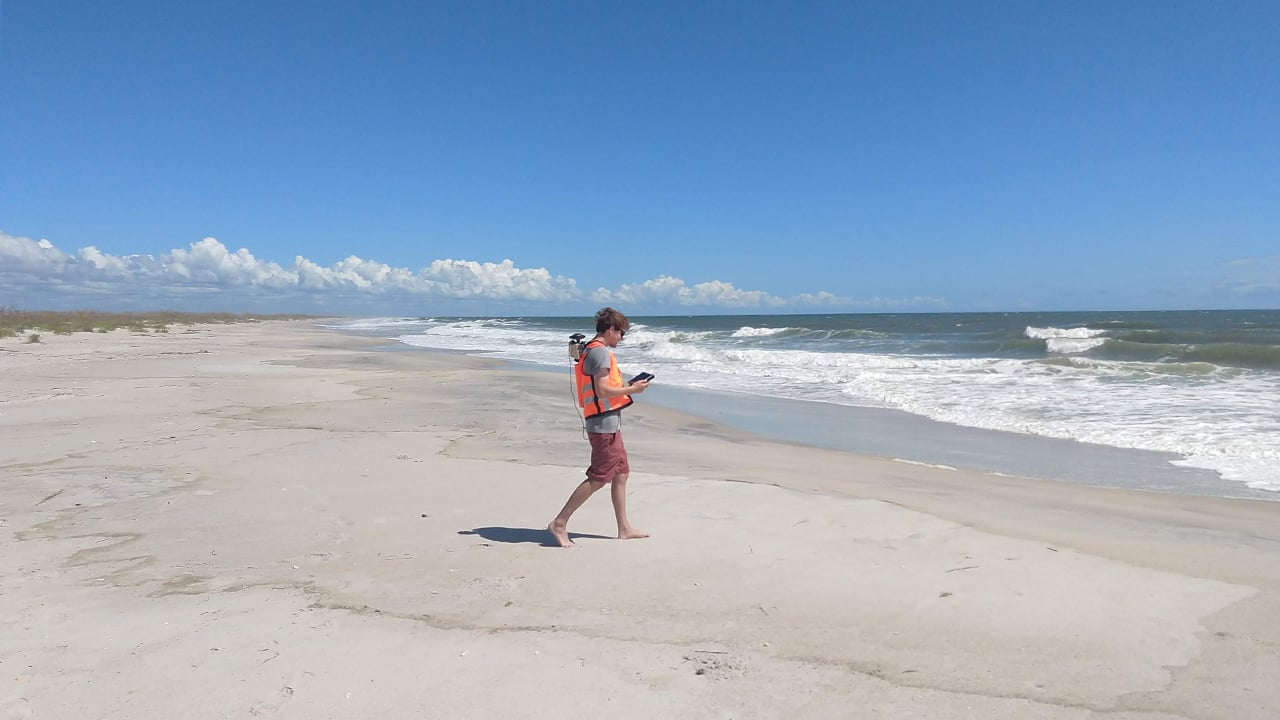 "We conduct topographic surveys of coastal areas and study how beaches, dunes and barrier islands evolve due to winds, waves and nearshore currents," Long explains. "Repeat topographic surveys help us to better understand the impacts of storm events and the role that natural recovery has in the resiliency of our nation's coastline."
Not just a walk along the beach
Taking research technology to the beach could be a recipe for disaster: "There is potential for the unit to be exposed to saltwater, blowing sand, or high temperatures," Long says. But the Algiz 8X was built exactly for applications like this one.
It's IP65-rated and meets U.S. military standard STD-810-G for protection against water, small particles of dust and dirt, varying temperatures and repeated drops. Even if it gets covered in sand or immersed in water, users can wipe it off and keep working uninterrupted. It's compact enough to carry, and still has the screen space for viewing and manipulating maps, charts and other visuals, along with features that support operation in bright sunlight and any other weather condition.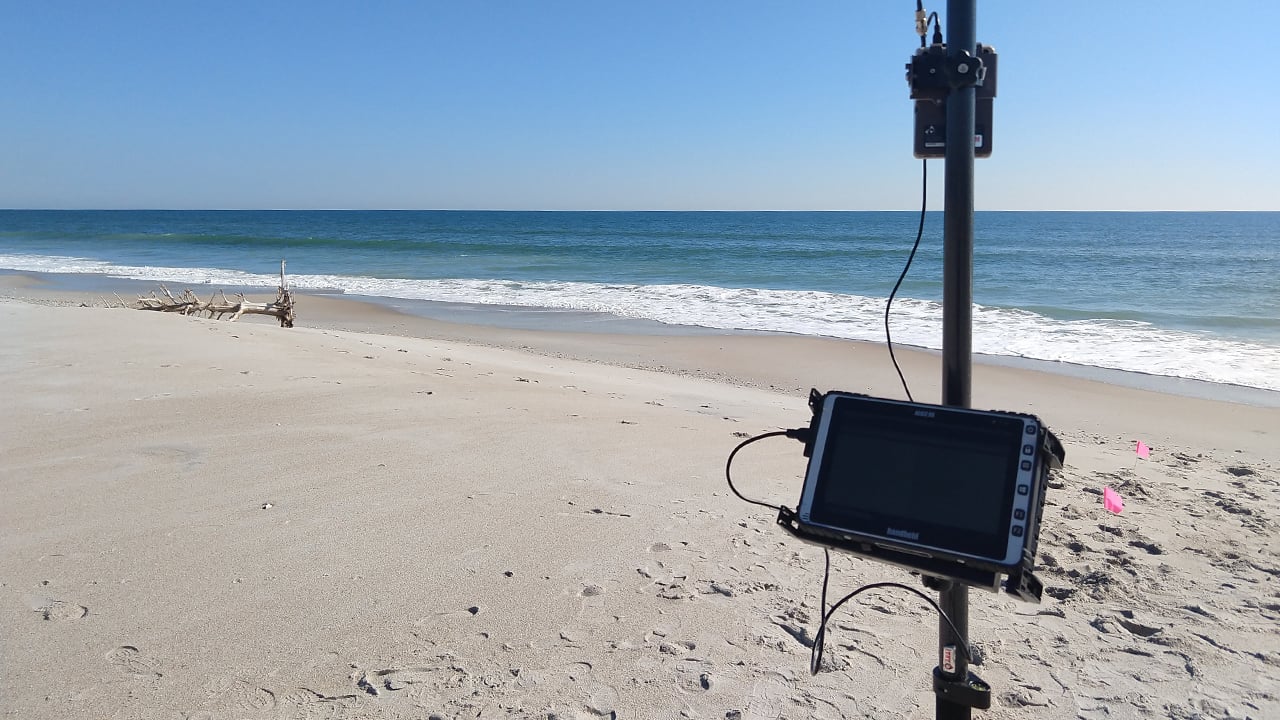 Long and his students pair the Algiz 8X with an Eos Arrow Gold RTK GNSS receiver provided by Anatum GeoMobile Solutions, a Handheld reseller. The tablet and the receiver sync over BT, and the Algiz 8X's wireless cellular functionality lets users pull in position data from the North Carolina GNSS Real Time Network (RTN) for increased survey accuracy.
"The tablet connects via BT to the GPS antenna and is either mounted on a survey pole to measure the elevation of individual points, or held by someone wearing the antenna for walking surveys where we 'mow the lawn' up and down the beach to get a 3D map of the coastal area," Long explains.
Flexible, customizable surveying
Long uses a few different software products to interface with the receiver, and says the Microsoft store and the Algiz 8X's communication capabilities are an added benefit:
"I can load whatever software I need to program and deploy tools, or to retrieve and plot data, directly in the field and without a bulky rugged laptop."
Mixing and matching technologies can provide better customization than standard GPS surveying packages that bundle a data receiver, software and GPS antenna. "The combination of a bring-your-own-device GPS antenna and the rugged Handheld tablet was cost effective and allows us to use the survey collection software of our choosing," Long says.
Suitable for both the most experienced professional researchers and students brand-new to surveying, the Algiz 8X rugged tablet is a reliable, powerful rugged computer that provides flexibility and value.