Solving crimes, without cracking cases
ALGIZ ultra-rugged tablets improve the efficiency of digital forensics
Track down a mobile technology tool for forensic data collection that works just as well in the field as it does in the office.
Strengthen investigations with the Oxygen Forensic Kit, a data-analysis package from Oxygen Software that runs on Handheld's rugged Algiz 7 tablet.
A technology solution that can tackle tricky analysis in tough environments, minimizing repair costs and maximizing investigators' time.
A solid piece of evidence can be the difference between freedom and time behind bars for a person charged with a crime — and a just verdict often depends on the field workers and analysts who uncover that evidence.
New technologies make it possible to not only track and store important data electronically on users' devices, but also for analysts to extract that evidence from mobile units. Seized devices, especially cell phones, often hold a huge amount of data — including conversations, contacts, photos and locations — that can be used to either incriminate or vindicate the accused.
But gathering this data and interpreting it correctly can present a challenge: Data-extraction methods sometimes require several types of software, multiple computers and inconvenient setup, which is a lot to contend with when timeliness is critical and worksite environments are anything but gentle. Even though engineers have made huge improvements in technology's ability to extract data, few tools are able to apply these advanced collection capabilities out in the field.
Uncovering clues in tough environments
Because of the variety of environments detectives and analysts encounter, fast and reliable forensic data collection requires robust, durable and portable technology solutions. The team at Data Duplication Limited, a United Kingdom-based supplier of digital forensic hardware and software, often hears requests from its customers to provide solutions that meet these needs.
Data Duplication's clients consist of law enforcement organizations, digital forensic service providers, forensic consultants and forensic analysts. These professionals encounter a wide variety of working conditions and environments in their work outside the office — including fluctuating temperatures, rain, wind and dust. The mobile technology they use in their investigations has to be able to hold up to tough conditions, and it also needs to be accurate, efficient and easy to use.
"We used to offer non-rugged tablet options to our clients," says Andy Ridgway, Sales Engineer at Data Duplication. "Those tablets were unreliable so a rugged option was needed." A durable mobile solution that could handle rugged environments while still supplying the sophisticated technology capabilities their customers needed out in the field was required.
Oxygen Software soon chose the Algiz 7 rugged tablet from Handheld in order to create a field-ready version of its Oxygen Forensic Kit, a package that combines hardware and forensic analysis software from Oxygen Software. Oxygen Software is a developer of advanced forensic data examination tools for mobile and smartphone devices. Its Oxygen Forensic Suite is designed to extract and examine the maximum amount of data from mobile phones — including data deleted by the user.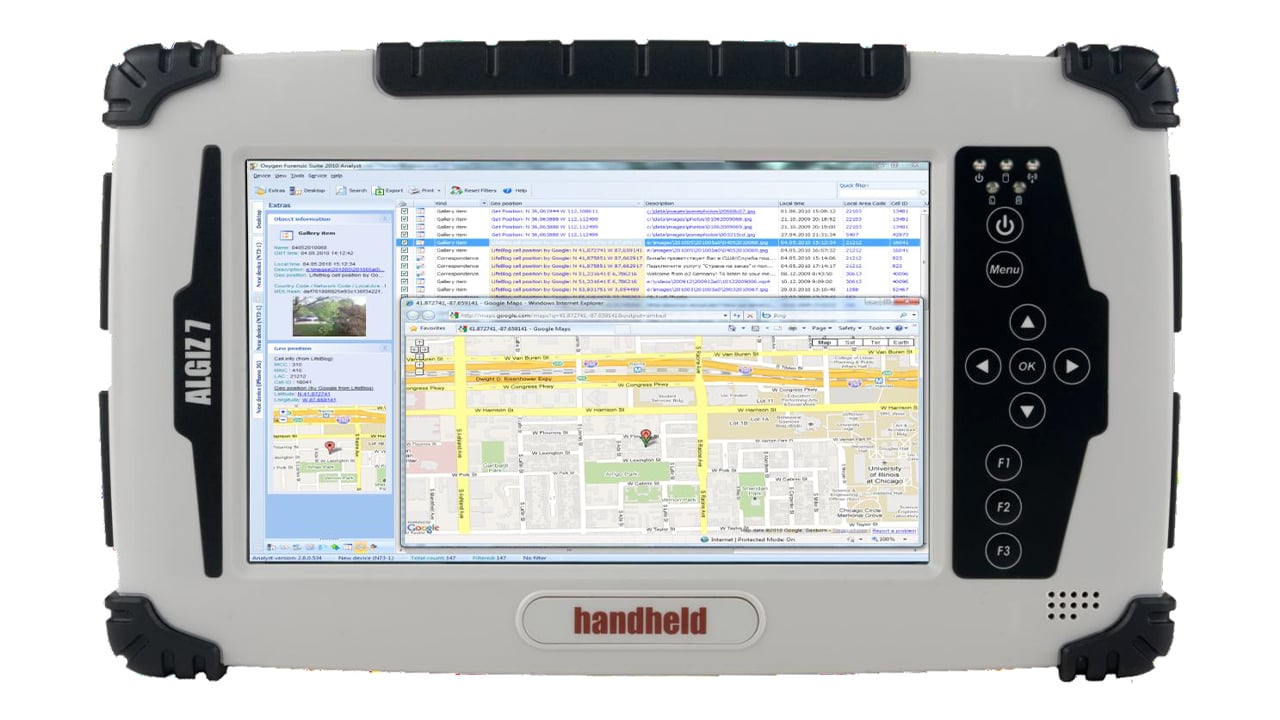 "The analysis can include anything from basic phone data such as contacts, calls and SMS messages to geo positioning information that shows where the phone has been located. Deleted data is also extracted along with data from pre-installed and third party applications. Additionally a Communication Statistics section allows an examiner to easily find out who the owner has called the most and if more than one phone is being analyzed, the software can help find possible connections between them," Ridgway says.
Oxygen Forensic Kit Rugged is the only complete solution available on the market that allows not only extraction, but also analysis of the extracted data in the field. The solution is also expandable with any Windows software, thanks to the Algiz7 Tablet PC running Windows 7.
Handheld's Algiz 7 is a brawny rugged tablet with a brilliant 7-inch widescreen touch display. It's compact, weighing only 2.42 pounds (1.1 kilograms) and measuring just 5.56 x 9.5 x 1.57 inches (144 x 242 x 40 millimeters), yet it features some impressive rugged specifications: It's IP65 rated and it meets MIL-STD-810G military testing standards, which means it can withstand any harsh environmental condition, from drops, extreme temperatures and vibrations to humidity, dust and water.
But besides needing to be rugged, a complete, field-ready solution also must be convenient. The Oxygen Forensic Kit comes with Windows 7 Ultimate, Oxygen Forensic Suite and BT drivers installed and configured. It requires no other forensic hardware and no additional settings or installations to operate, and it allows not only data extraction but also viewing and analysis right at the worksite. The only cables required are the included set of phone connector cables.
"Our customers often ask us to recommend a solution that can be used in the field to extract and analyze important information. They work in offices and out in the field, where all types of conditions are possible — rain, dust, temperature shifts, drops," Ridgway says. "This kit is a complete and effective solution that meets all these needs."
Uncompromised reliability and convenience
The Oxygen Forensic Kit is a straightforward, durable and capable mobile solution for field data analysis. Using the kit is easy, right from the box: The customer connects a mobile phone to the Algiz 7 unit with a cable or BT, chooses which data to view, and waits for the unit to extract it. Once extracted, the selected information can be analyzed, either immediately on the mobile unit or later in a lab. The user can view contacts, messages, photos, applications, geo-positioning information, Web browsing history and more from the phone, including deleted information — exactly the types of evidence that may be needed to help crack a case.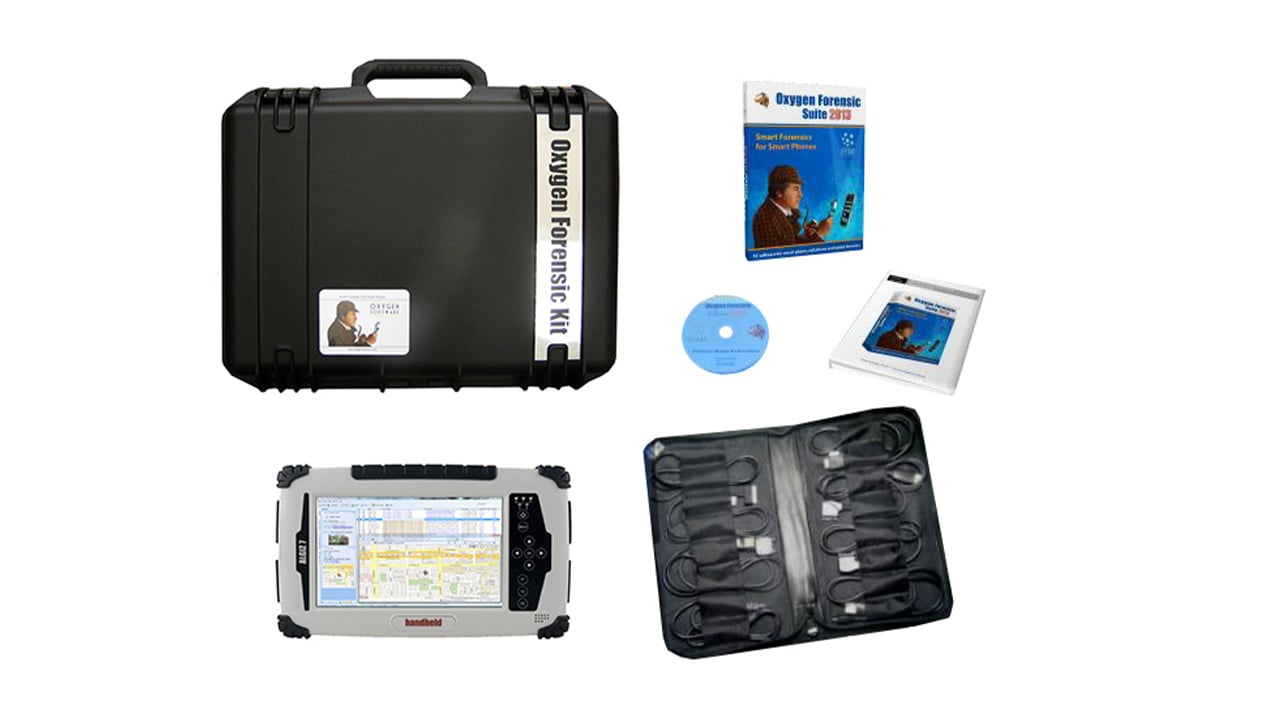 But with help from the ultra-rugged Algiz 7, solving crimes is the only type of case-cracking Data Duplication's customers will be experiencing from now on. This sturdy mobile solution eliminates costs associated with broken units, such as downtime and repair expenses.
"Our customers say they can spend more time working, instead of making the tool work," Ridgway says. "The Oxygen software turns the Algiz 7 into an all-in-one rugged forensic extraction and examination tool, with the durability and reliability the customers requested."