Safe and sturdy highway constructions
Safer highway constructions with rugged mobile computers
Reliably and safely monitor soil movement at a freeway construction site in tough outdoor conditions.
Use geotechnical instruments built on rugged mobile computers to take measurements and read data on site.
Ensure a safe and sturdy construction with tools that can handle temperature changes and weather elements.
Being able to gather and store geotechnical data quickly and securely enables safer roadway construction and makes sure projects are done right the first time. This vastly improves engineering efficiency and saves time and money by preventing costly, time-consuming repairs.
Inventory workers at Carlton Plants, a 1,750-acre nursery in Dayton, Oregon, USA, are using Handheld's Algiz 7 rugged tablet to manage plant counts in challenging outdoor conditions. Before the nursery employed this rugged data collection tablet, two workers took turns using pencil and paper to record information about plants' health, including hand-drawn depictions. Now they enter data directly into the rugged tablet as they survey plants in the field, saving enormous amounts of time and improving their inventory's accuracy.
More efficient jobs with rugged computers
At the site of a 67-mile interstate freeway expansion in southwestern Indiana, USA, construction fieldworkers are using a bundled geotechnical solution built on the Nautiz X7 rugged field PC from Handheld — and they've discovered how much simpler, safer and more efficient their jobs can be with rugged mobile computers.
Geotechnical engineers work in tough environments. These civil engineers monitor soil and rock conditions at construction sites to ensure a sturdy build, and they're exposed to a wide range of weather conditions and temperatures at all hours of the day and night. The Indiana worksite is near both low-lying marshlands and forested uplands, creating a variety of soil conditions and challenging slopes.
"There's a 75- to 80-foot embankment going over very soft material 80 feet deep," says Wendell Solomon, project engineer with Indianapolis-based CTL Engineering. "It's a muddy mess out there, and you don't get to skip the bad spots."
In this type of environment, putting in a full and productive workday depends on having a rugged mobile computer that's both portable and reliable in a range of weather conditions.
Faced with these challenges, the CTL Engineering team led by Solomon began looking for a rugged field PC that met all the necessary parameters for performing job duties, while also holding up to tough conditions and lightening the load for engineers.
Solomon turned to Geokon, CTL Engineering's trusted geotechnical instrument provider, to ask about a fully rugged, portable solution that would optimize workers' time and provide the most accurate data possible.
Geokon is known for its world-class vibrating wire technology. Vibrating wire sensors can be likened to a guitar string that vibrates at a specific frequency when plucked. Instead of a finger, engineers "pluck" the wire electronically and correlate variations in the frequency of the wire vibrations to soil and water pressures.
"Geokon's vibrating wire sensors can transmit signals over long cables without degradation," says Martin Gradijan, a sales associate for Geokon, "and inclinometers can provide useful information to indicate potential slope failure."
Gradijan recommended two readouts for use at the site: The GK-405 vibrating wire readout system and the GK-604 inclinometer readout system, both of which are designed around the Nautiz X7 rugged field PC with performance, portability and ruggedness as top priorities.
Handheld's Nautiz X7 rugged field PC is IP67-rated, which means it's completely dust-tight and protected against water immersion. It also meets stringent MIL-STD-810G U.S. military standards for holding up to drops, vibrations and extreme temperatures.
Despite its rugged build, the Nautiz X7 is completely portable and operable with one hand. It includes a 3.5-inch sunlight-readable VGA touchscreen display, and weighs only 17 ounces. This rugged mobile computer offers all the performance necessary for geotechnical engineering field tasks and its battery can last 12 hours on one charge.
Solomon and Jessica Lundin, a geotechnical engineer with contractor Cardno ATC, found the solutions — and the Nautiz X7 in particular — very easy to learn and employ.
Engineers use the GK-405 system to read vibrating wire sensors that measure the worksite's soil conditions. The readout box communicates information directly to the Nautiz X7 via BT, providing baseline readings the engineers can reference during continuous monitoring.
The GK-604 is used along with inclinometer probes that are lowered into special casings in the ground along the interstate. Engineers record measurements of soil movement at various depths as they survey the casings with the inclinometer probes, and the system wirelessly stores and displays this data on the Nautiz X7.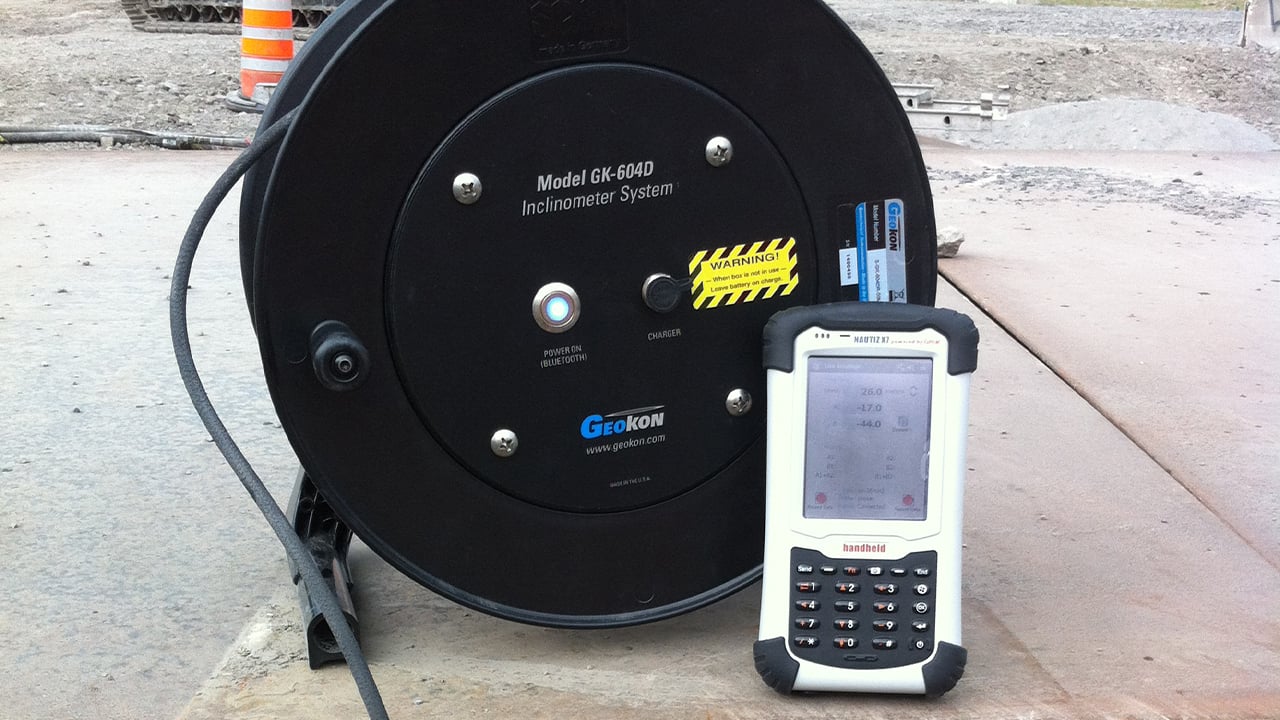 Sturdier, simpler, better
Fieldworkers are currently using two GK-604 units to read 17 inclinometers along the interstate extension. They've found that the technology saves them time because it's simple to operate, portable, and well-suited for use in tough conditions.
"The Nautiz X7-based readouts provide a common platform for our vibrating wire sensors and our inclinometer probes," says Gradijan. "Not only are the rugged field PC readouts smaller than older readouts, which were designed in the '80s, but the memory capacity is also far greater."
So far, these lightweight, reliable systems have worked at the site throughout a harsh winter and a hot summer.
"Being able to record data easily is a necessity because of the scale of the project," Lundin says. "Recording my manual measurements in the handheld computer rather than writing them down saves time with data transfer and makes it possible to work in the rain."
Being able to gather and store geotechnical data quickly and securely enables safer roadway construction and makes sure projects are done right the first time. This vastly improves engineering efficiency and saves time and money by preventing costly, time-consuming repairs.
This large interstate worksite has been a real challenge — Solomon calls it "a geotechnical engineer's Fantasyland." But smart solutions from Geokon and Handheld have made the task more manageable, proving once again that rugged mobile computers are an ideal solution when the rubber meets the road.
For more information about wire sensors, inclinometer probes and readouts from Geokon, please visit www.geokon.com