Rugged tablets improve data collection
ALGIZ 7 tablet record data to save time and money
Replace a plant nursery's pencil-and-paper inventory management system with a data collection tablet that works in all weather conditions.
Track plant counts in the field with Handheld's Algiz 7, an easy-to-use rugged tablet PC.
A durable inventory management solution that minimizes time spent on data entry while improving recordkeeping accuracy.
The Algiz 7 has eliminated countless worker hours dedicated to data entry, allowing those workers to spend extra time on other projects. It has also saved resources such as paper and ink, and improved the reliability of the nursery's recordkeeping. 
Inventory workers at Carlton Plants, a 1,750-acre nursery in Dayton, Oregon, USA, are using Handheld's Algiz 7 rugged tablet to manage plant counts in challenging outdoor conditions. Before the nursery employed this rugged data collection tablet, two workers took turns using pencil and paper to record information about plants' health, including hand-drawn depictions. Now they enter data directly into the rugged tablet as they survey plants in the field, saving enormous amounts of time and improving their inventory's accuracy.
Carlton Plants is located in Oregon's Willamette Valley, which is famous for its vineyards and other agricultural enterprises. The cool, wet weather conditions that make the valley a superb growing climate also create a difficult work environment for employees who count and inspect the nursery's trees, shrubs and rootstock.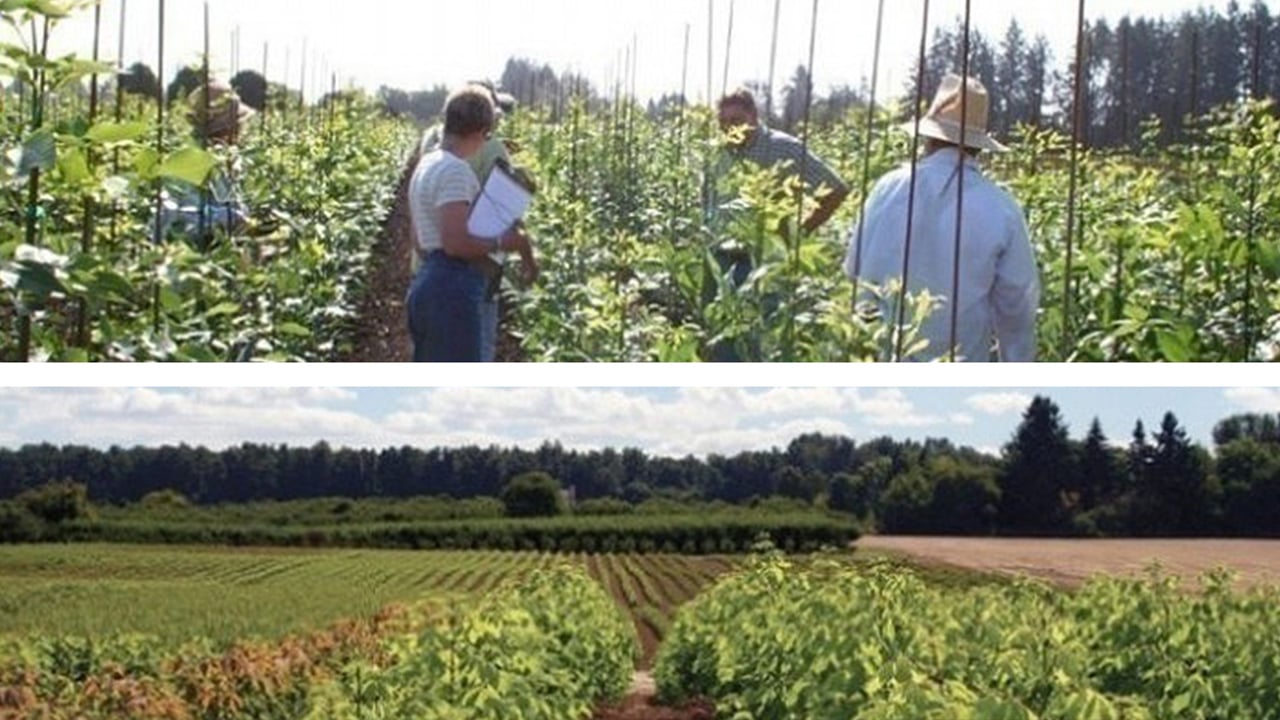 "On most days, our outdoor inventory workers trudge through mud and water from 7 a.m. to 4 p.m.," says Esteban Herrera, inventory and quality control manager at Carlton Plants. "Paper records would get wet and muddy, and we were forced to redo work if we couldn't make out the information."
Damaging or misplacing paper records sometimes meant recollecting data for entire fields, with as many as 165,000 plants per field. When papers did make it back to the office unscathed, the handwritten data still had to be manually entered into a computer spreadsheet and then turned over to another worker for entry into the main computer system — a process that took hours.
"I spent my days hand-calculating and fishing through papers to find information. It was incredibly time-consuming," Herrera says. "That was time I could have spent on other projects to benefit the company."
Manual data collection was not only highly inefficient; it also compromised the inventory's accuracy. Between interpreting someone else's handwritten notes from damaged reports and then transferring those notes from papers to digital spreadsheets, the likelihood of human error had become uncomfortably high.
It was clear to Herrera that Carlton Plants needed to replace its pencil-and-paper system with a more reliable data collection tool. But he also knew that rain and mud don't mesh well with consumer electronics.
He began researching rugged data collection tablets that can operate all day in wet conditions, and his search led him to Handheld US, based in Corvallis, Oregon. Handheld provided an Algiz 7 unit for Carlton Plants to test, and Herrera quickly found that this rugged tablet met all the nursery's requirements — and then some.
The Algiz 7 is a fully portable, fully rugged data collection tablet with long-lasting, hot-swappable batteries. Programmable hotkey buttons and 4+1 navigational keys plus an on-screen soft keyboard make the unit extremely easy to use — even for workers at Carlton Plants who had no previous computer experience.
Now inventory workers enter data directly into the Algiz 7 using simple push buttons and the QWERTY keyboard, and, instead of drawing pictures, can easily snap high-quality photographs of plants in the field using the rugged tablet's built-in 5-megapixel camera.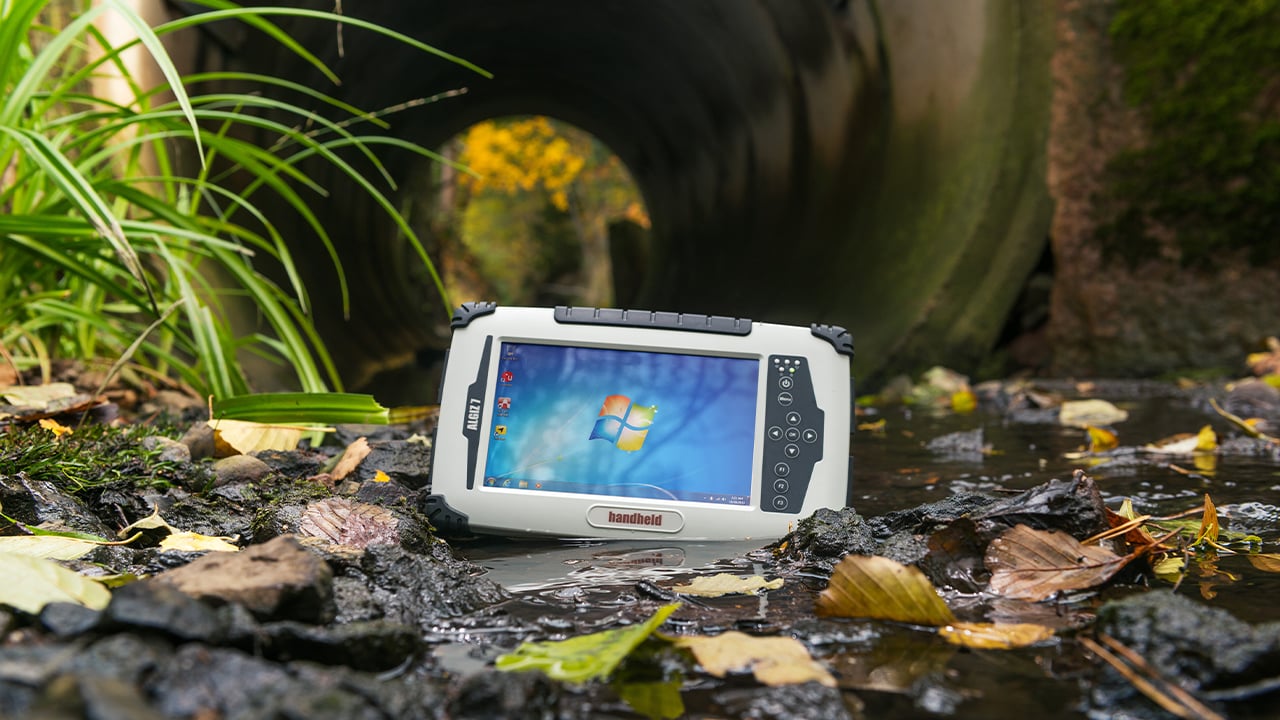 The Algiz 7 runs Windows 7 Ultimate, which allowed Herrera to create a custom Microsoft Access database right on the rugged tablet that stores information securely and integrates seamlessly with desktop PC software. He uses the database to generate instant reports, aggregate inventory numbers based on plant variety codes, and filter data according to special notes. He can also set parameters that will alert workers if entered data may be incorrect, based on deviations from year-over-year comparisons.
After a count, workers can send spreadsheet data instantly and directly from the data collection tablet to an office computer via WiFi or USB — with no more time wasted entering data manually, transferring information, hand-calculating inventory totals, creating reports or finding specific data. When questions arise about charting and notes, all the count information is close at hand and easy to filter within the database.
"In one database on a rugged tablet, I can manage information that used to be kept on hundreds of pieces of paper," Herrera says. "All the information is in one spot."
The Algiz 7 has eliminated countless worker hours dedicated to data entry, allowing those workers to spend extra time on other, more enjoyable projects. It has also saved resources such as paper and ink, and improved the reliability of the nursery's recordkeeping. Another unexpected benefit? "Our workers have grown in confidence, since they have seen they can use the data collection tablet without any computer training. It opens the door for more possibilities," Herrera says.
So far, the Algiz 7 has survived Oregon spring, summer and fall weather conditions ranging from muddy and soaking wet to dusty and 95 degrees. Carlton Plants has no problems to report.
Introducing a rugged data collection tablet was a natural next step for Carlton Plants, and adding up the benefits couldn't be simpler: Millions of plants, plus one rugged tablet computer, has led to enormous time and cost savings for Herrera and his team.