Rugged tablets assists glacier researchers
Rugged ALGIZ tablets assist glacier researchers studying climate change.
Measure glacier profile data in remote locations with minimal impact to environments studied.
Use rugged Algiz 7 and Algiz 10X tablets with the portable IceRadar solution from Blue System Integrations to take ground-penetrating radar measurements on foot.
Collect brand-new data about glacier flow patterns in order to help environmental scientists make better predictions about climate change.
Environmental scientists use Algiz 7 and Algiz 10X rugged tablets to take radar profile measurements of glacier depth and flow.
Handheld's Algiz 7 and Algiz 10X rugged tablet computers, in conjunction with IceRadar, an ice-penetrating radar system from Blue System Integrations (BSI) in Vancouver, B.C., Canada, are helping scientists add valuable information to the growing body of knowledge about climate change. Algiz data collection tablets and IceRadar allow environmental researchers to carry a single lightweight system and perform radar surveys on foot in some of the coldest and most remote locations in the world.
The land of the midnight sun
In July 2015, a small team of researchers journeyed to northwestern Canada's Yukon Territory to collect data on Kaskawulsh Glacier. Kaskawulsh spans 25,000 square kilometers and is classified as a retreating glacier, meaning it's slowly losing mass over time.
The team of researchers used IceRadar with a data collection tablet to profile the glacier's depth in order to understand its flow regimes, or movement patterns. Over the course of one week, they performed roving ground surveys to take radar measurements over large areas of the glacier's surface. Then they left an observation station in place to collect a series of measurements in one location over a span of several weeks.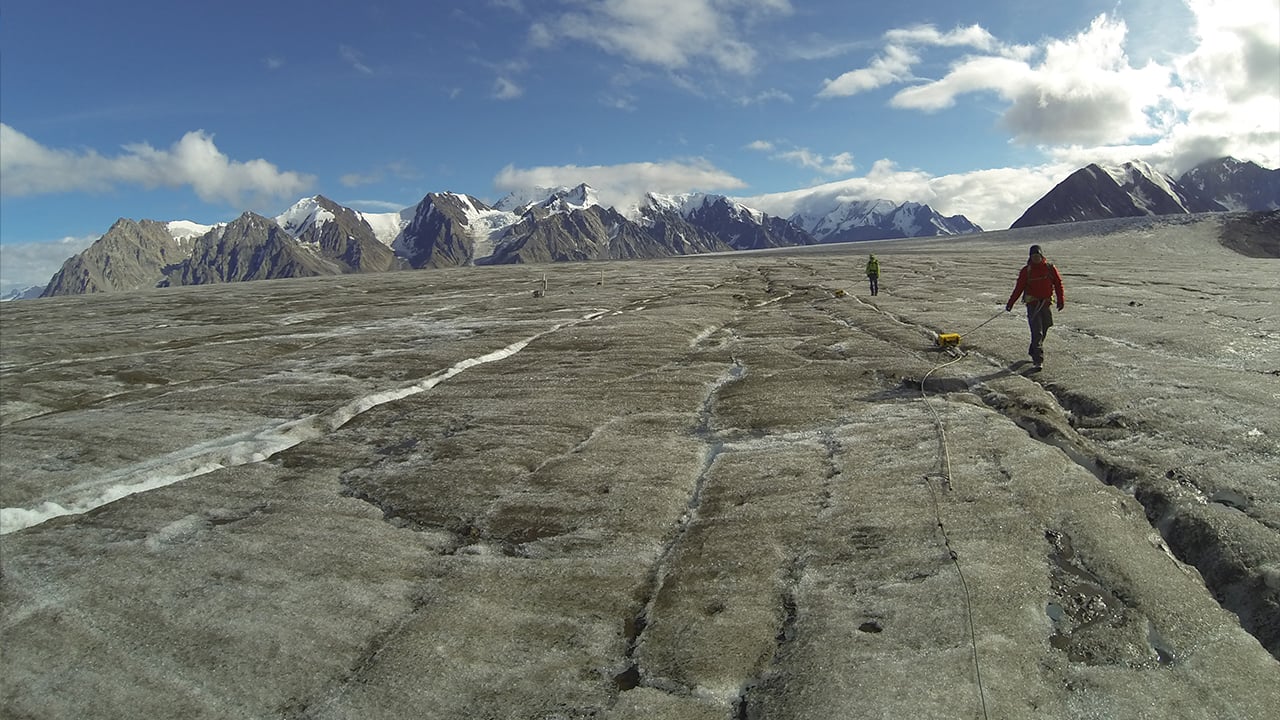 The team was transported in and out via helicopter and traveled on the glacier without motorized vehicles — so all their equipment had to be light and compact enough to carry, tow and pack in and out of camp.
It also had to be durable enough to handle the high-alpine environment reliably. Researchers in remote ice-covered areas must be prepared to face harsh weather conditions, including extreme temperatures, winter storms and strong winds. And they regularly perform their work surrounded by land features that pose a risk to ordinary technology, such as hard ice, slippery surfaces and bodies of water.
Versatile, rugged, reliable
The Algiz 7 and 10X are part of Handheld's Algiz line of portable rugged data collection tablets and notebook computers. Both tablets are IP65-rated, which means they're protected against dust and water, and both meet stringent MIL-STD-810G U.S. military standards for withstanding extreme temperatures, humidity, vibrations, drops and varying altitudes.
The Algiz 7's 7-inch screen and the Algiz 10X's 10-inch screen are backlit, with ambient light sensors that automatically detect environmental changes for readability both indoors and in bright sunlight. Resistive touchscreen displays with 4+1 directional keypads make navigation and data entry possible even in wet conditions and while wearing gloves.
The IceRadar solution itself is also rugged. A sturdy hard-shell case includes data collection electronics and radar transmission digitization equipment, as well as all necessary antennas and connector cables.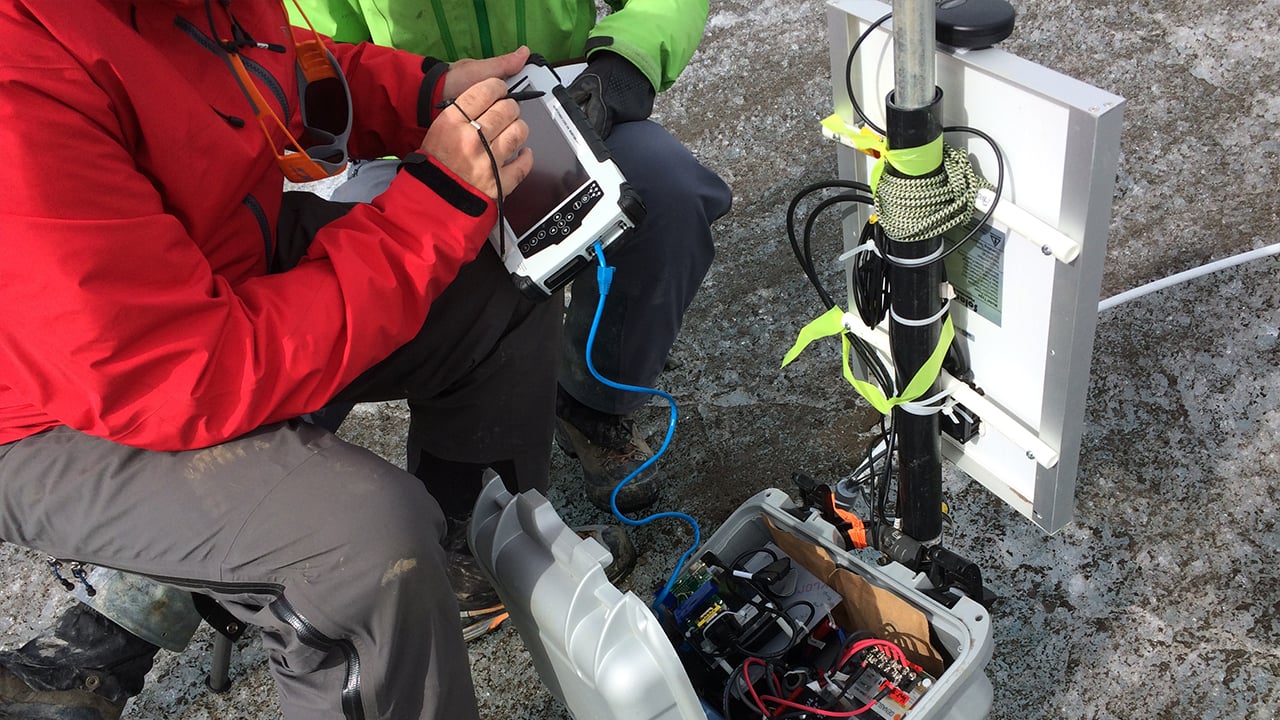 IceRadar can be purchased in two forms: a turnkey system that includes hardware and towing materials for teams that require an all-in-one solution; or a kit system that provides a modular choice for teams with existing rigs and sledding setups.
Turnkey system users operate Algiz rugged tablets as remote controllers and field computers for setup and network-testing tasks, while the kit system uses an Algiz loaded with IceRadar and IceRadarAnalyzer software to acquire, view, analyze and export all radar data.
"We've been involved with glaciology research groups since 2008 to assist them in developing and testing ice-penetrating radar systems," says Laurent Mingo, BSI owner and IceRadar developer. "Currently we offer a portable system that has been developed to allow for foot or ski surveys in a mountain environment. IceRadar has applications ranging from ice-depth sounding to mapping the internal stratigraphy of ice sheets to inferring englacial and subglacial conditions."
Mobile surveying with rugged tablets
At Kaskawulsh Glacier, researchers connected the Algiz 7 to the team's stationary radar system to establish network connectivity and check operations.
"We first set up a peer-to-peer network connection with the radar computer, and then established a VNC connection with it to take control. Via this connection we controlled the radar computer with the Algiz 7, programming all necessary settings and uploading required files," Mingo says.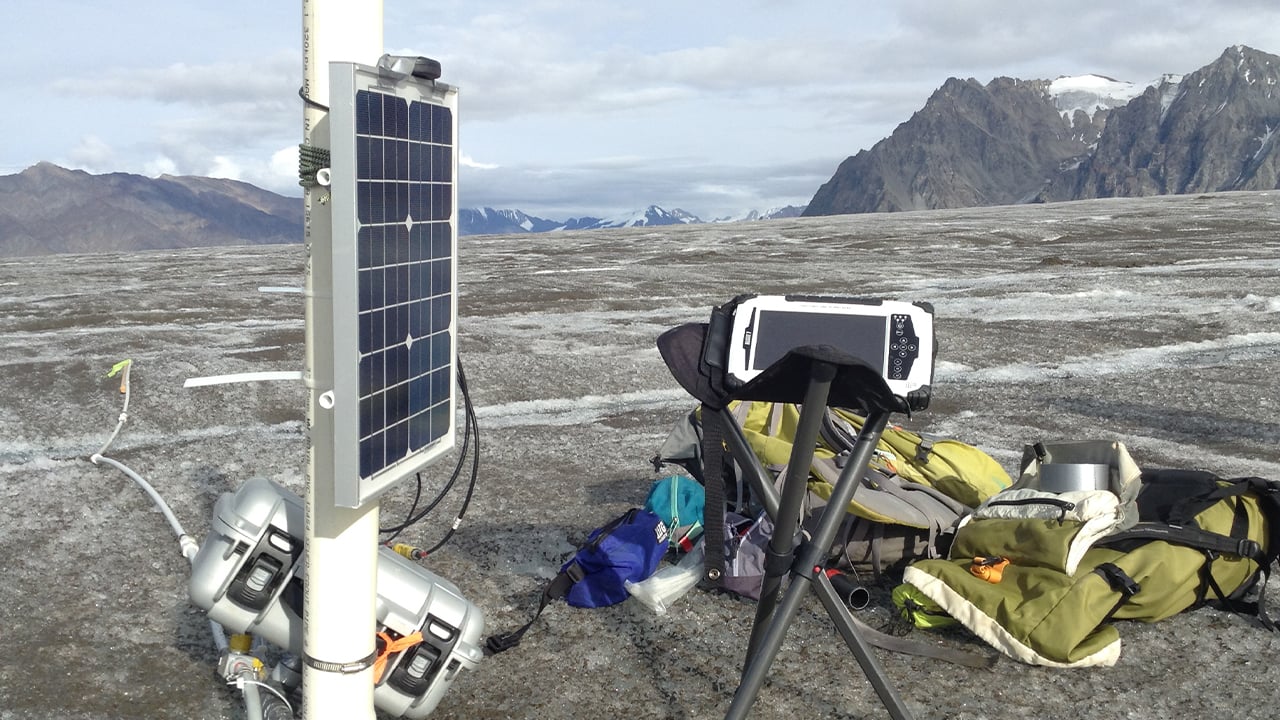 For roving ground surveys, the entire IceRadar system is towed over the area being studied. It sends radar pulses into the ground and collects profile data at regular intervals. The data collection tablet runs constantly, storing and analyzing data and displaying a real-time profile on the tablet's screen — making battery life and ease of charging and changing batteries top priorities for researchers.
Handheld Algiz tablets feature hot-swappable, extended-life battery packs — so spare batteries can be charged and installed without powering the unit down, allowing work and data collection to continue seamlessly.
GPS capability is also critical. The data collection tablets meet this need with integrated u-blox GPS receivers that accurately and automatically store the locations of data acquisition points along a survey path.
Small computers – big discoveries
The Algiz 7 and Algiz 10X have proved to be impressive field computers and excellent complements to the IceRadar system. Not only are Algiz tablets powerful enough to facilitate IceRadar's data acquisition tasks, but they also have all the necessary features to perform a variety of field and setup duties — even in harsh, remote environments where a project's success depends on reliable technology.
"The small size of Handheld's Algiz computers, their ruggedness and their tablet form factor are very helpful in getting the work done," Mingo says.
With just a small amount of equipment, scientists can collect large amounts of sophisticated facts and figures, providing unprecedented access to remote locations where new environmental data waits to be discovered. Their impact on the environments they study is minimal — but their impact on environmental science is enormous.