Rugged PDAs, tablets simplify survey tasks
Affordable, user-friendly GPS surveying solutions
Perform necessary GPS surveying tasks without paying for contractors or heavy-use systems meant for large companies.
Use Surveyour's GPS Pro kit, a GPS rover built on ultra-rugged Handheld PDAs and tablets.
On-demand surveying capability with no formal training, resulting in significant time and cost savings.
The Nautiz X8 and Algiz 10X paired with GPS technology provide flexible, affordable GPS surveying solutions for small businesses.
GPS surveying tools for small businesses
Accessible GPS surveying solutions — defined by affordability as well as ease of use — are a top priority for Alex Groenendaal, founder and owner of Belgian GPS solutions provider Surveyour. Groenendaal's desire to find excellent affordable, user-friendly options led him to pair GPS technology with the ultra-rugged Nautiz X8 PDA and Algiz 10X tablet from Handheld.
Founded in October 2016 as a brand under Greenvalley Construct BVBA, Surveyour is a unique provider within a market dominated by a small number of big-name companies. Its aim is to provide high-quality, reliable, low-cost GPS surveying tools for small businesses.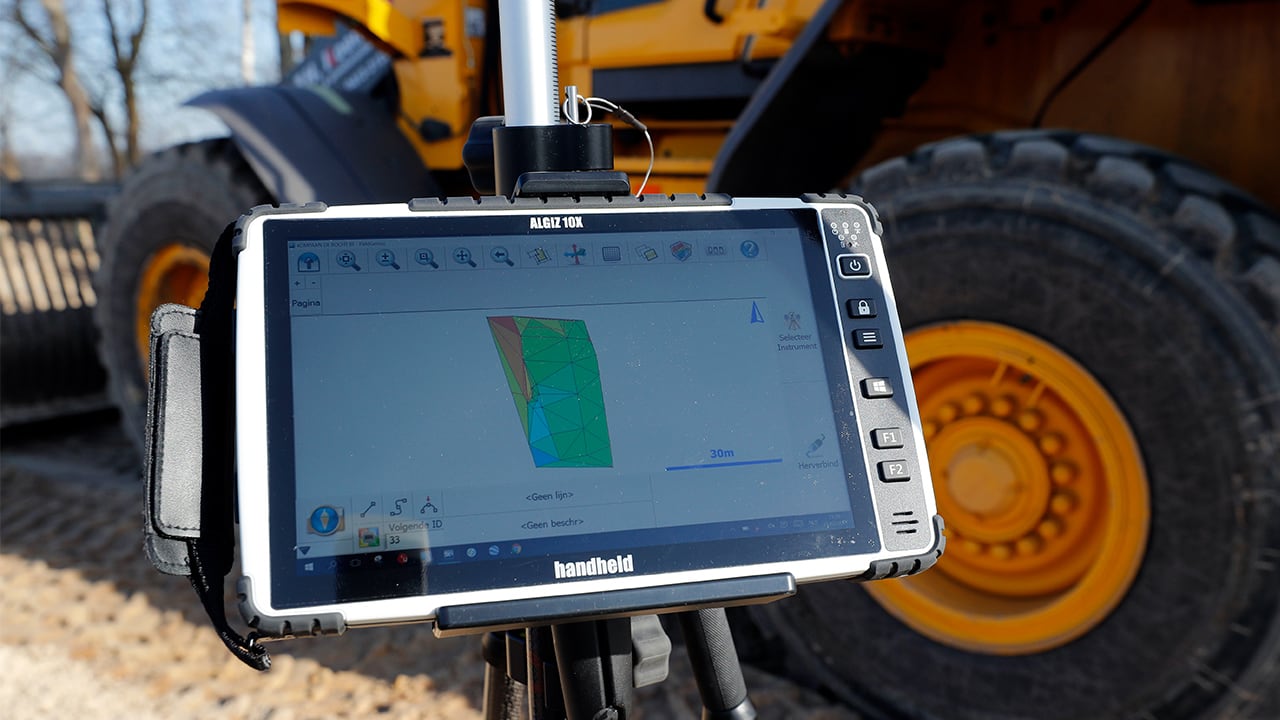 Prior to establishing Surveyour, Groenendaal worked as a service engineer at a GPS equipment importer and manufacturer, gaining expertise in GPS surveying equipment as well as 3-D machine control. During that time he realized quality GPS equipment was hard to come by for small- and medium-sized companies.
"It was unattainable, both financially and technologically," he says. He decided to develop solutions that use affordable, easy-to-use tools, and found a winning combination with rugged computers from Handheld Group and GPS technology from CHC Navigation.
Many fieldworkers who use GPS have no formal training in surveying. That was the case for Surveyour's client H. Koenen, a Netherlands-based earth moving and excavation business owned by Erik Koenen. Koenen worked with an agency to perform surveying tasks, but wanted greater flexibility and cost savings. Now, his business uses a excavator with a 3-D control system.
"When I started shopping around for a GPS rover, I was a little horrified by the amount of the investment," says Koenen. "It was too high for our estimated once-per-week use. Our surveying agency recommended Surveyour to help us find a more affordable light-use system."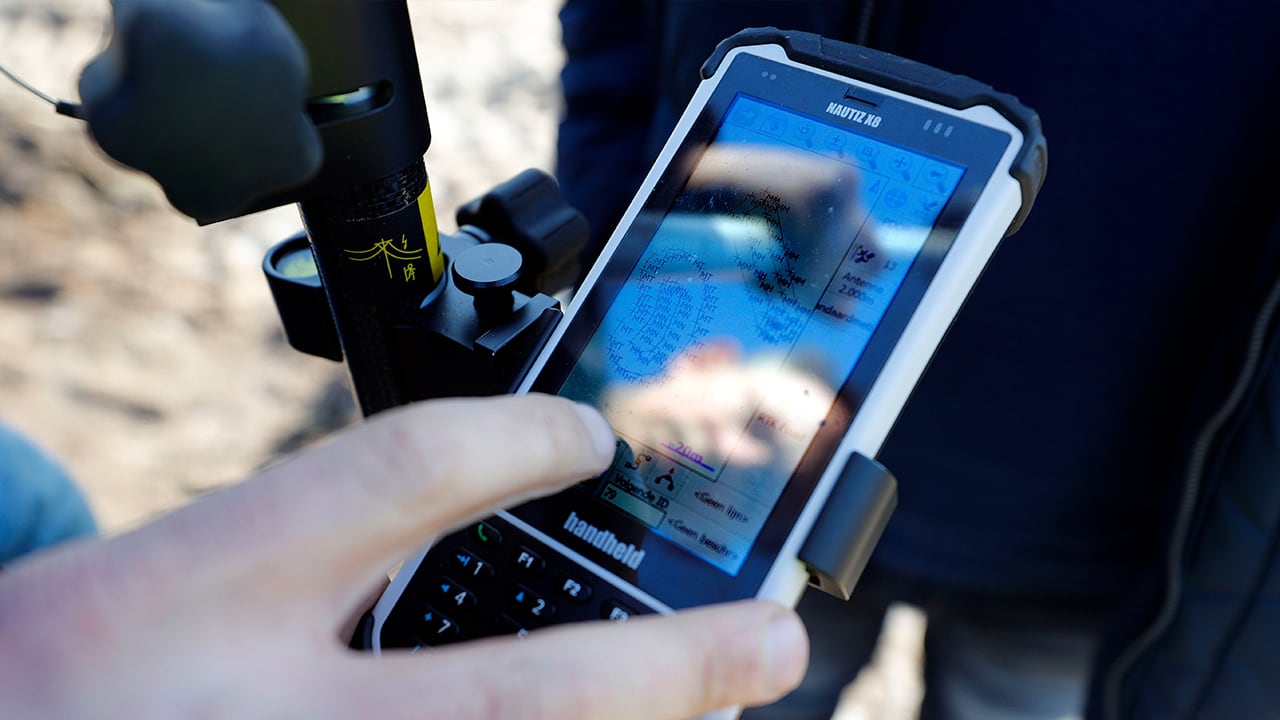 Rugged computers completes the solution
With Groenendaal's help, Koenen selected Surveyour's GPS Pro kit, which combines an ultra-rugged lightweight GPS receiver with the Nautiz X8 4.7-inch rugged PDA from Handheld. It is an excellent solution for surveying and GPS-related tasks that don't require the expertise of a professional, licensed surveyor.
The Nautiz X8 is an ultra-rugged, IP67-rated device that meets stringent U.S. military standards for ruggedness. It's impervious to dust and water and can survive rough handling and challenging outdoor and industrial environments, from extreme temperatures to continuous strong vibrations. And its large capacitive touchscreen and numeric keypad make navigation and data entry simple.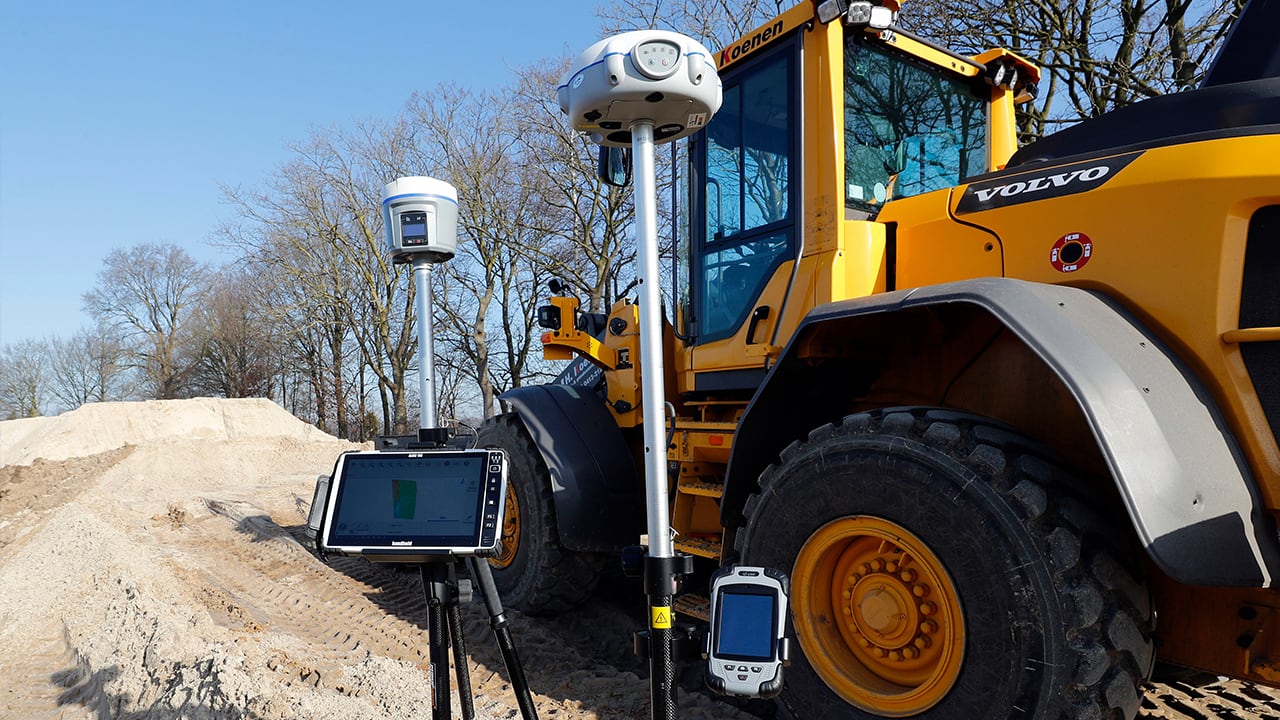 Surveyour also offers starter kits, as well as an enhanced rover kit that includes Handheld's ultra-rugged 10.1-inch Algiz 10X Windows 10 tablet.
Owning a GPS rover gives Koenen increased flexibility to respond to the demands of his everyday projects. "We can plan everything ourselves instead of relying on an agency, and our own specialist can quickly get to the right spot to take important measurements."
When it comes to support, Koenen says Groenendaal speaks the customer's language.
"Surveyour's equipment is solid, and their start-up support and guidance is excellent," he says. "Alex explained the system and technique in a way that made sense even for less skilled staff. We hit snags in the beginning that were handled perfectly, and there were no unexpected costs. It's a great value for your money," Koenen says.
A version of this article titled "GPS apparatuur hoeft niet duur te zijn" originally appeared on pages 58-60 of the March 24, 2017 (No. 3) issue of BouwMachines.