Rugged notebook: Hitting the mark
Durable computer units optimize coaching and save time
Find a computer that can track real-time data reliably in all weather conditions, so Swedish Biathlon Team coaches can focus on their athletes.
Introduce the fully rugged, lightweight Algiz XRW rugged notebook from Handheld.
Precise data collection and durable computer units optimize coaching and save time when every second counts.
Handheld rugged notebooks enhance data collection for training and coaching for the Swedish Biathlon Team.
Their skis slice powerfully through snow and ice as they approach the shooting range with one goal in mind: to send bullets flying cleanly through a series of small targets 50 meters away. These masters of precision and speed are biathletes — athletes who compete in the skiing-and-rifle-shooting races known as biathlon.
Hunting on skis is nothing new. According to the Biathlon World Cup Organizing Committee, rock paintings depicting ski-clad huntsmen have been found that date back to 3000 B.C. But 5,000 years ago, no one needed or cared to track exact speed and accuracy statistics during the hunt, or to transfer this data across icy miles in real time. Participants hunted for survival, not sport.
For today's competitive biathletes, every second counts and every millimeter matters. That's why the coaches for the Swedish Biathlon Team set out to find a data collection technology solution that could stand up to the variety of weather conditions and the rough handling they encounter during training and competition. They discovered that qualities such as power, accuracy and the ability to perform under all kinds of environmental pressures aren't only essential for their athletes — they must also distinguish the technology that assists their team to victory.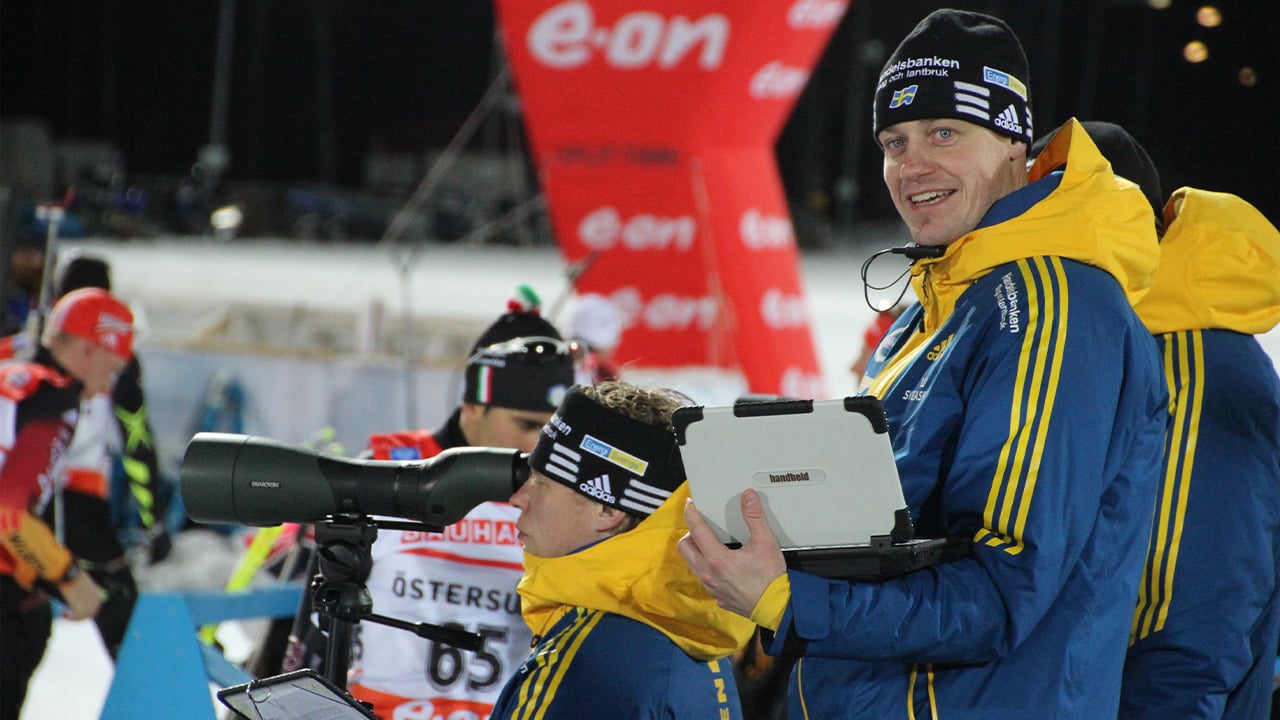 During competition, biathlon coaches take to the course with their athletes. They can often be seen trotting along the ski trail and observing the shooting range performing data collection about the skiers' performances and convey it back to them as they race.
The coaches use computers to collect time data before official times are released, and more specific data collection than what is made official. They also record details about the biathletes' shooting accuracy, which they display by placing magnets on boards designed to look like the targets. Biathletes view the target boards and time data as they ski by.
As an outdoor event that takes place in all kinds of weather, biathlon presents some challenges for the computers that track all these important details. Rain, snow and all forms of wintry precipitation in -between riddle the courses during competition season, but warmer conditions are normal during offseason training. Add the bright sunlight of the alpine settings, which makes reading a computer screen a challenge, plus temperature shifts from going inside and outside throughout a race day, and you have a recipe for disaster for most devices.
"I was using my regular computer. That didn't go so well when it rained," says Johan Hagström, manager for the Men's First Class Team. "I've broken a number of computers through the years."
Hagström and the team resorted to desperate measures to protect their devices: "To avoid rain, snow and low temperatures, the coaches ran around using jackets and cardboard boxes to cover up the computers — at the same time they were supposed to communicate with the skiers, show the shooting board and think about not breaking the computers," he recalls.
After a while they tried consumer tablets, thinking they'd be easier to carry, but they weren't able to get the same amount of data they could with a notebook or laptop computer. They went back to their laptops, but the same problems remained.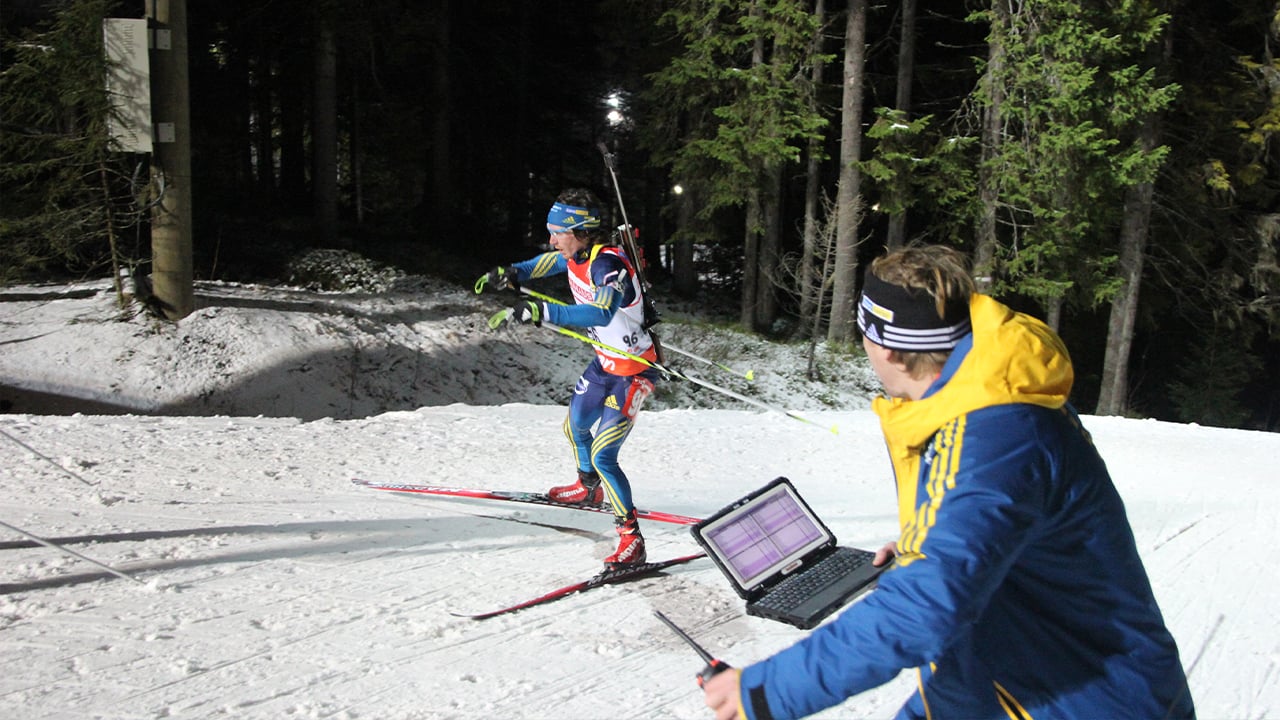 An all-weather technology solution
It wasn't long before the team started looking for a more long-term answer — one that would free coaches to focus on their athletes instead of on damage control. Their search led them to the Algiz XRW, a rugged notebook computer from Handheld, which they implemented at the start of the 2012 winter season.
Just like biathlon, the Algiz XRW rugged notebook has its roots in survival, with hallmarks of speed and precision. This slim, compact notebook is fully rugged, meaning it's built to endure all kinds of environmental challenges, from extreme temperatures to drops to water and dust exposure. It features a 10.1-inch touchscreen display that can be viewed just as easily in direct sunlight as indoors. It's light enough to carry at just 3.5 pounds (1.6 kilo), and it features the fast processing speed and Wi-Fi connectivity the team needed to collect and transmit data.
Using the Handheld Algiz XRW rugged notebook and Microsoft Silverlight — a cloud-based application that collects and displays real-time race results — the coaches are able to give their athletes the information they need to assess their progress and plan their strategies in competition.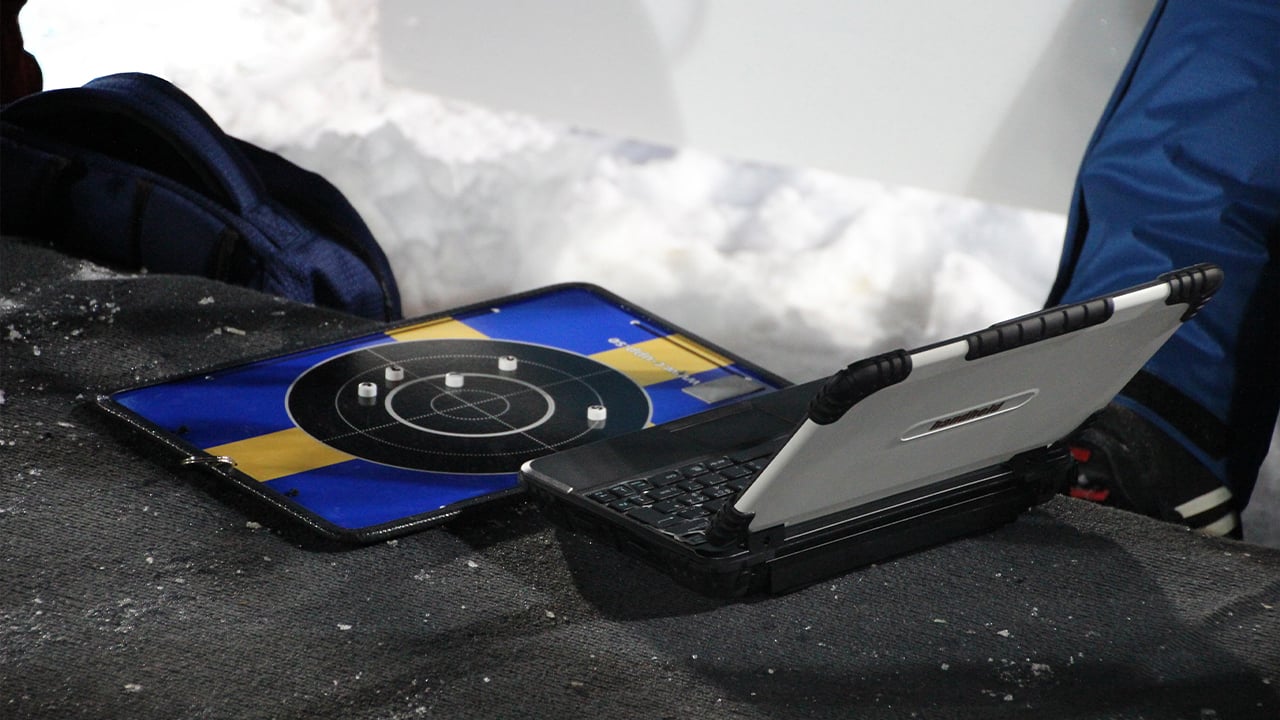 Rugged computing improves competition coaching
During competition, typically three coaching stations are set up along the ski trail. Each station has a wireless Internet connection, enabling it to send performance data to coaches from around the course. The coaches use this data collection to communicate progress to skiers. But that's not all the Algiz XRW rugged notebook can do.
"From the beginning, I thought, 'We can use this device for competitions — that's great.' But we soon realized that we could use it for more purposes, such as in training," Hagström explains.
Now, during training sessions, a coach can install a measuring device on a biathlete's rifle trigger. This device senses "force curve" — a measure of the speed and precision with which the biathlete hits the trigger — and sends the data to the computer over Wi-Fi. This helps coaches identify problem areas and work on training extremely specific skills.
Despite all kinds of weather challenges, the Handheld Algiz XRW has performed flawlessly — no cardboard boxes needed.
"This notebook is rugged enough to be used in any kind of environment, and it has the capacity to get all the data and information coaches need out on the trail," Hagström says. "We've been able to use it in several areas of training and competition to optimize and improve efficiency."
In other words? He's glad they pulled the trigger.