Precision agriculture made simple
Precisely planted – what does that mean?
Deciding the best layout for large-scale agriculture is complex and can take hours.
The ARVAplant Mobile is light and mobile consisting of Handheld's Algiz 8X rugged tablet, and a RTK GNSS receiver with a pole-antenna kit.
ARVAplant Mobile manages large plantings and on slope changes, where hours and hours of work are solved in a few moments— perfect precision agriculture.
A rugged tablet with RTK GPS minimizes labor, designs the plant layout and calculates required materials.
ARVAplant Mobile is smart and efficient GNSS staking system for professionals in the planting of orchards, olive groves, vineyards and poplar groves. ARVAplant Mobile was invented by Handheld partner ARVAtec, an Italian Agriculture technology specialist based right outside of Milan, Italy.
Visitors and tourists driving past acres of rolling fruit trees or vineyards might admire the straight rows and precisely plotted plants—but they likely don't spend much time wondering how the best symmetry for that acreage was determined. The calculations are specific for each field and each kind of planting, and dependent on the intersection of slope, boundary shape and size configurations. The best decision can take hours to determine.
Enter ARVAtec, an Italian company whose goal is to create, market and disseminate innovative technologies for agriculture. Back in 2002, ARVAtec innovated agricultural decisions using electronics and information technology, proudly introducing "Precision Agriculture" to Italy. More than 20 years later, the company continues to look ahead, proposing the most advanced technologies "to improve the quality of agriculture and, therefore, of everyone's life."
Centimeter-level accuracy
Handheld's Algiz 8X is the high-performance tablet that ARVAtec uses to achieve its precision in determining the lay of the land and best planting options. The rugged tablet has a large 8-inch capacitive display. Powerful and effective, it is ideal for developing vineyard and orchard projects, even complex ones, directly in the field and then going to stake out: thanks to the ARVAplant software, the operator is guided with precision to each stakeout point.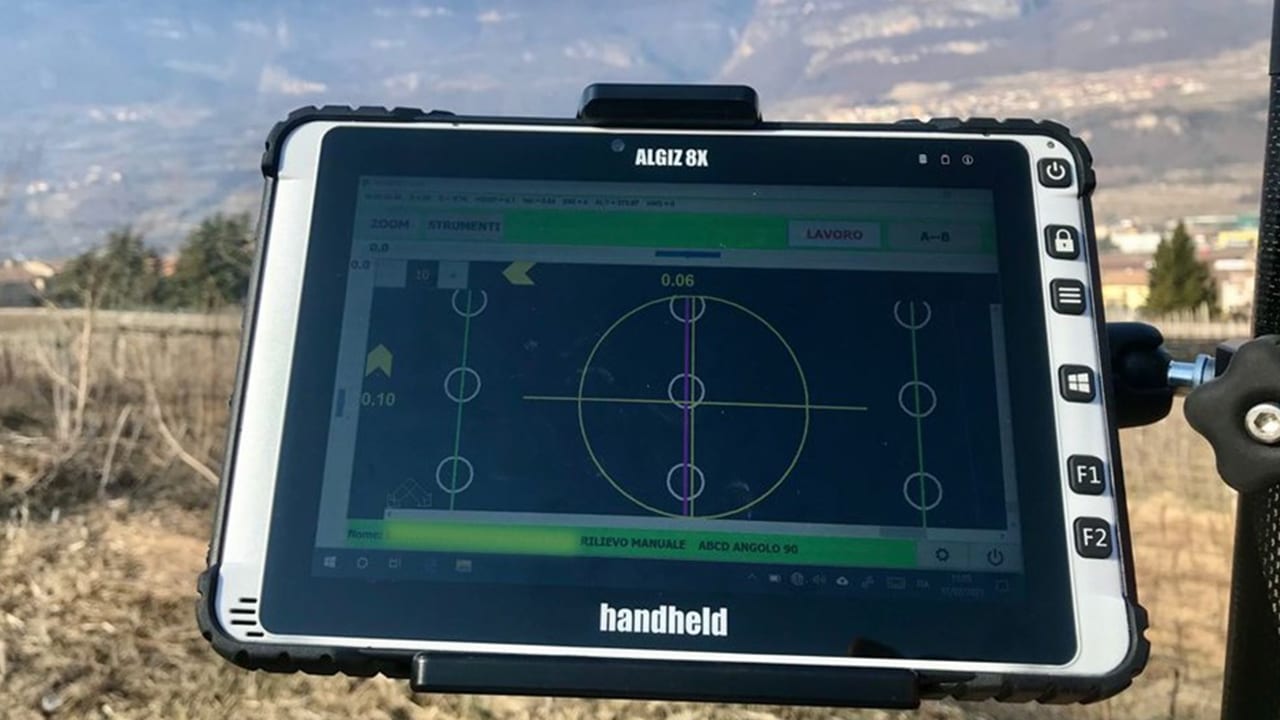 The Algiz 8X is paired with a GNSS receiver with dual frequency L1 + L2 and its multi-constellation (GPS + GLONASS + GALILEO + BEIDOU) allows work with centimeter-level accuracy—even in very rugged areas, such as those near woods or mountains. It can work both with NTRIP connection for receiving the RTK differential correction, or with a radio module for the areas more difficult to reach from the GSM network.
And finally, the pole-antenna kit is light and manageable, thanks to the integration of the GNSS receiver directly into the tablet and a light pole with self-verticalization via gyroscope. This makes the ARVAplant Mobile system easy to use in the field.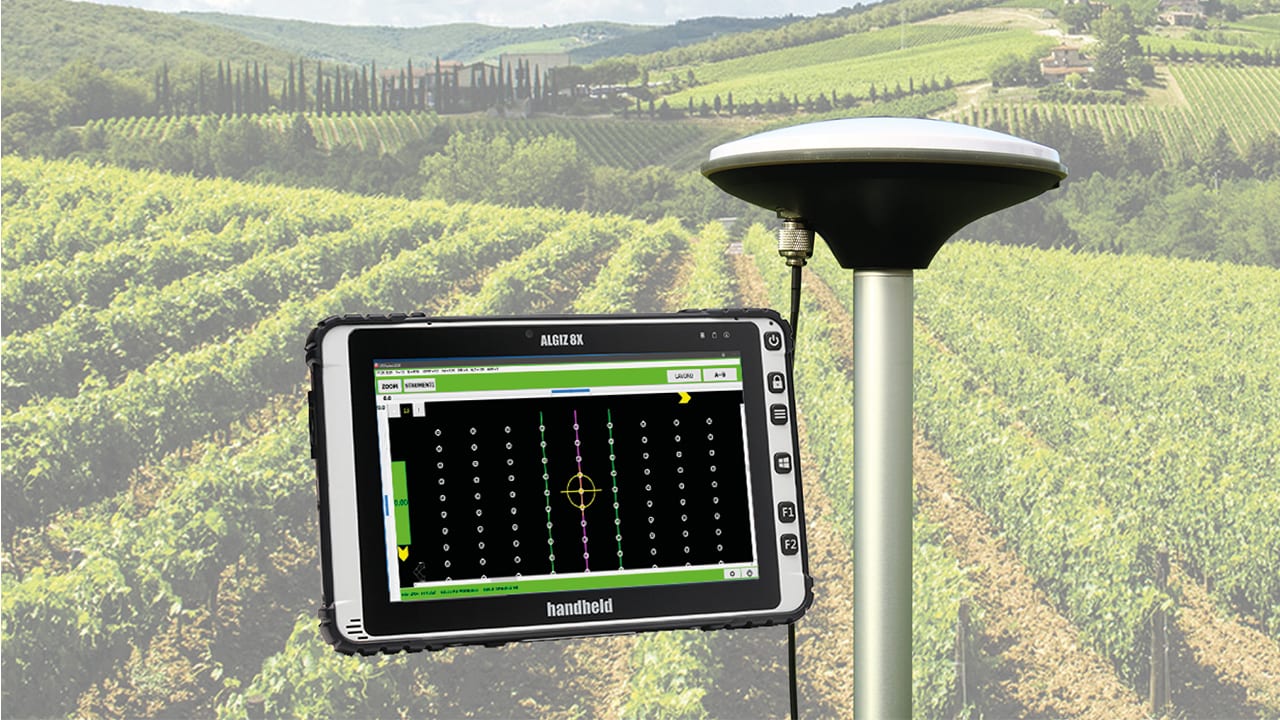 A simple and efficient GNSS staking system
ARVAtec's Dr. Agr. Raffaele Sigon says, "ARVAplant Mobile is a simple and efficient GNSS staking system for professionals in the planting of olive groves, orchards and vineyards. ARVAplant Mobile's performance is especially obvious when used on large acreage and slope changes."
The main advantages of RTK
The ARVAplant Mobile GNSS system that consists of a high-performance tablet and an integrated multi-constellation RTK GNSS receiver minimizes the number of workers, reduces tracking times, designs the entire planting in the field, precisely determines the quantities of material needed before starting, streamlines operations and decreases waste through many production factors, thereby reducing environmental impact.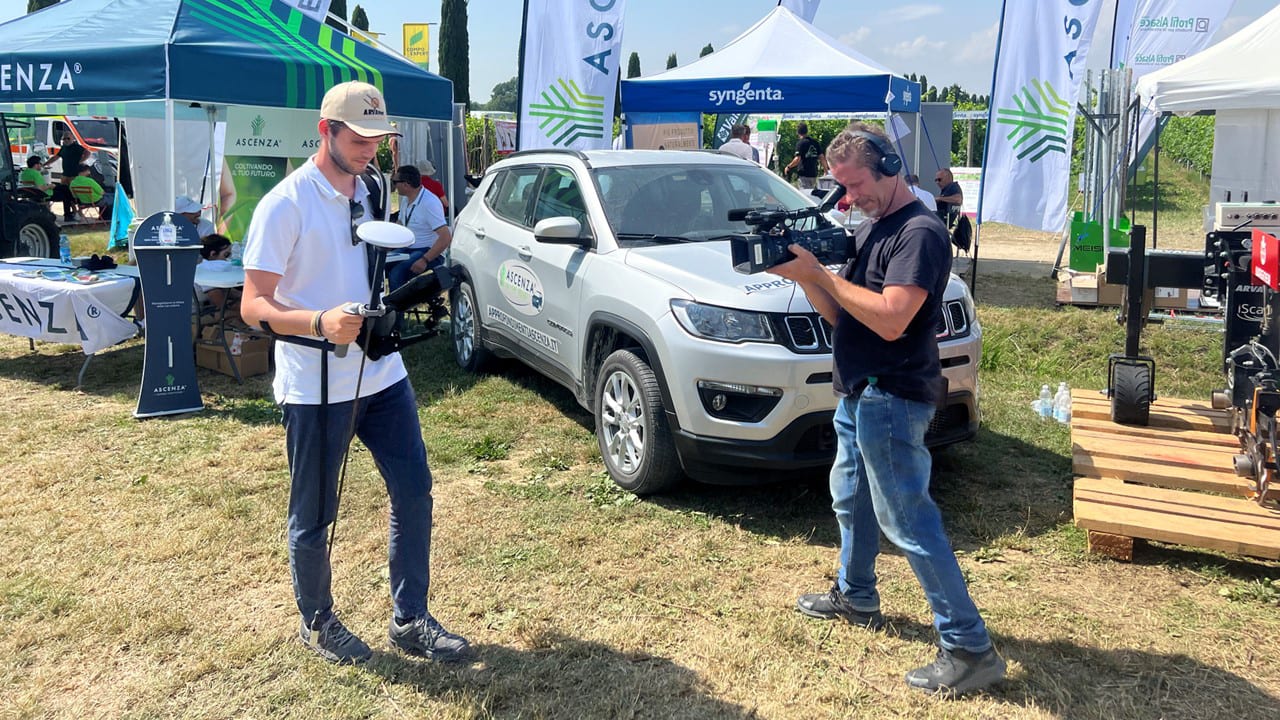 One of ARVAtec's foundational values is innovation. ARVAtec is constantly working to identify new solutions that allow their customers to increase profitability, improve working conditions and improve the quality of the environment. And they meet this objective easily with the ARVAplant Mobile system, which recently got an awarded as NEW TECHNOLOGY at the Enovitis in Campo 2022 Innovation Challenge.