NAUTIZ X8 aids honey producers
Beekeepers track hive health + output
Track and trace honey production from pot to hive in New Zealand's remote Taranaki region.
Develop a custom software solution using ultra-rugged Nautiz X8 PDAs and RFID technology.
"Pot to hive" traceability for Hivetech, plus a first-of-its-kind reporting solution the beekeeping industry.
Beekeepers find sweet success with Hivetech and Rugged PDAs. The Nautiz X8 and custom software provide hive management, honey traceability and robust reporting.
"

Pot to hive

"

traceability
Peek into a beehive, and you'll see a colony humming with mystifying complexity. The secrets of bee life are fascinating to scientists — but customers peering into jars of premium honey aren't as interested in mysteries. They want to know exactly where their honey comes from.
This transparency is possible with brand-new RFID beekeeping technology from New Zealand's Hivetech, using Handheld Nautiz X8 ultra-rugged PDAs.
Just type the Traceability Number from a jar of NAKI Manuka Honey, Hivetech's own honey label, into NAKI's website, and you'll discover the precise origin of that jar, back to an exact hive deep in the remote bush lands of the Taranaki region of New Zealand's North Island.
Brett Mascull of New Plymouth, Taranaki, founded NAKI and Hivetech after becoming intrigued by the benefits and the investment potential of manuka honey, a honey with well-established medicinal value that uses nectar from the manuka plant native to his area. He purchased land in the Taranaki backcountry where manuka grows wild, hired beekeepers to manage hives on the property, and built a state-of-the-art extraction plant to process honey locally. But he wasn't impressed with the available technology for beekeepers.
"Manuka honey is the most expensive honey in the world," Mascull says. "It contains a naturally occurring compound called methyl glyoxal (MGO), which is scientifically proven to be antiseptic and antibacterial. A lot of honey on the market is diluted with less potent products, which makes verifying source and authenticity extremely important to the customer paying a premium for real manuka."
A cutting-edge data collection tool
Mascull started looking for better solutions to track and trace his hives, and began collaborating with New Zealand mobile technology supplier Pocket Solutions.
"We needed something that could handle the rigors of what we're doing — including operating the unit with large beekeeping gloves, bouncing around in the vehicles, working around wax and honey, and navigating extremely remote areas in variable weather," he says. "Pocket Solutions was a partner in developing our beekeeping technology. They came out to the field with us to help arrive at a solution that would be easy to use as well as robust enough for the environment."
Together, they visited the site where the data collectors would be used — arid, rugged bush country far out of cell range — and developed a custom hardware solution built on Handheld's Nautiz X8 ultra-rugged PDA.
Customized rugged tech for rugged terrain
The Nautiz X8 is a compact rugged handheld data collector with an IP67 ruggedness rating that makes it impervious to dust and water and able to survive repeated drops, strong vibrations and extreme operating temperatures. It has a large, 4.7-inch high-brightness capacitive touchscreen with glove mode. And it accommodates an optional empty expansion cap that allows developers to customize the device.
To track individual hives and honey supers — slim trays that are removed from hives for honey extraction — Hivetech would need to use a tagging system, and they decided radio frequency identification (RFID) would provide the most flexible and durable solution. They integrated an RFID reader into the Nautiz X8 expansion cap, tagged supers with RFID chips, and then began exploring the capabilities of this new system.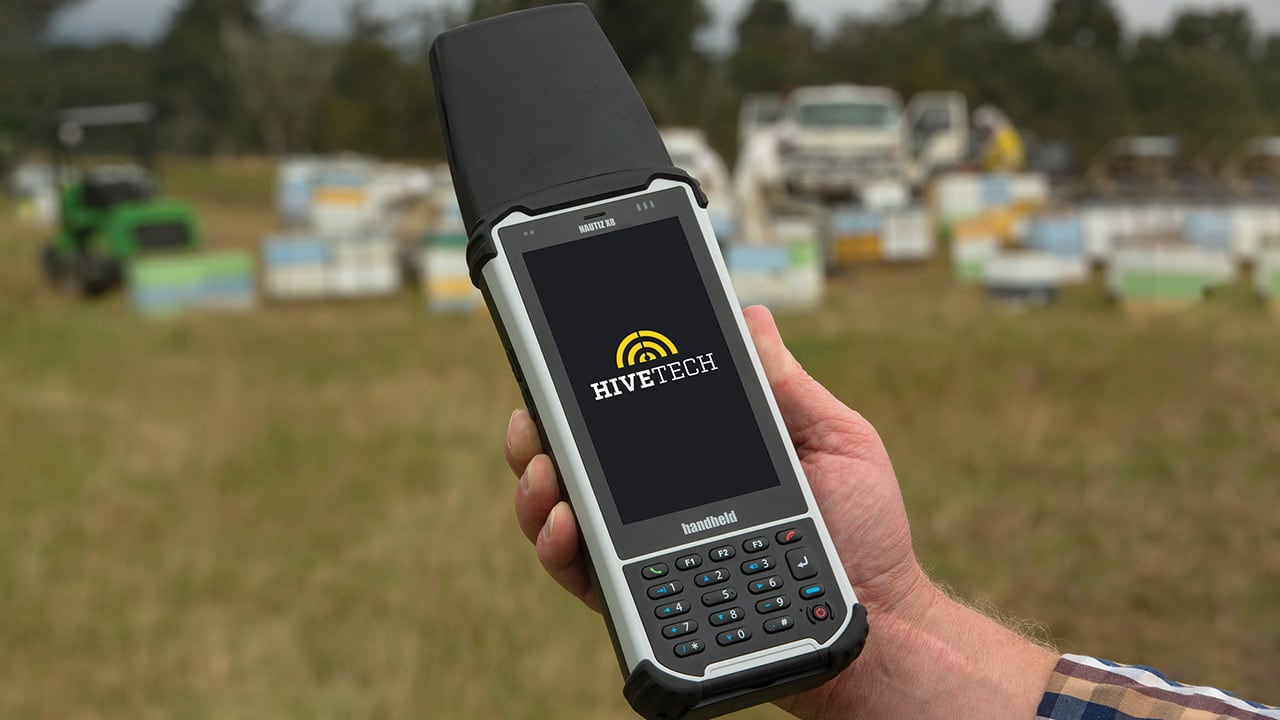 Track, trace and report with beekeeping software
Hivetech has developed three unique software solutions for beekeeping: Hivetrace uses RFID technology to provide precise traceability from a honey jar to the hive it came from. Hivetrack tracks the honey production of each hive and offers insights and tools that increase honey yield and improve productivity and profits for commercial beekeepers. Hivehealth allows beekeepers to easily identify concerns such as disease and pests, and monitor them at a hive level.
"We've created a system that can track and trace honey back to apiary sites with full reporting," Mascull says. "And we've also gone a step farther and developed a system that associates honey supers with hives in order to run reports on hive performance and disease."
When a beekeeper arrives at an apiary, he scans the box's RFID tag and the Handheld automatically pulls up a list of jobs to perform. Within these jobs, all tasks and data input options appear as simple menu items.
"It has to be really quick and simple for the beekeeper. He's busy. He's got gloves on. He needs big buttons and menu options he can just hit," Mascull says.
Back at the NAKI extraction plant, honey supers are scanned, then weighed before and after extraction. Batch labels are generated from scan data, with information such as the date, the beekeeper's ID and GPS coordinates of the hive. Labels are affixed to large honey drums, and each drum is divided into jars bearing the same data. The signature NAKI Traceability Label allows customers to trace the origin of their honey, as well as view harvest summary reports online.
"We get full visibility into where the honey is coming from," Mascull says. "We're extremely excited about this brand-new technology, because no other system can do this. I think what we've got is very unique."
Beyond NAKI – moving the honey industry forward
What began as a way to improve its own honey management has become an additional business opportunity for Hivetech: Several other commercial beekeeping companies are currently trialing Hivetech software for their own endeavors, and Mascull hopes for widespread adoption across the industry.
He's not the only one. According to Mascull, government officials who regulate honey export have also been searching for a better reporting solution. New Zealand's required honey export forms are paper only, and most beekeepers use paper-based systems, if anything at all, to track their production.
"The solution needs to come from inside the industry, and we think we've got that solution," Mascull explains. Hivetech software has the built-in capacity to produce comprehensive reports that satisfy export requirements. It also recently added a feature that allows workers to comply with New Zealand's Health and Safety at Work Act, using the handheld scanner to easily record and report workplace risks and threats.
Smart beekeeping in any environment
This solution from Hivetech and Handheld exemplifies the advantages of rugged PDAs. When the right tools make a prohibitive environment not so prohibitive, businesses thrive: Software developers can create innovative new programs, fieldworkers can perform complex tasks simply and quickly, and business owners can spend their time not with tedious data organization, but working with that data to solve problems in unique ways.
Of course, this is only true if a field computer works like it should. Mascull's verdict is in: "The units come back from the field pretty grubby, and they just get a wet cloth wipe-down. We've really not had any issues — the Nautiz X8 has been absolutely fine."