NAUTIZ X7 increase productivity
Mobile data collection is taking Hope Mills by storm
Improve efficiency and accuracy for a two-person stormwater department in charge of inspecting and maintaining 2,500 stormwater assets.
Employ the ultra-rugged and compact Nautiz X7 computer from Handheld to gather data using customizable electronic forms, GPS and a built-in camera.
The Nautiz X7 has allowed the department to increase productivity 700 percent, enhance data accuracy and improve employees' personal safety in hazardous worksite environments.
The Nautiz rugged handhelds have allowed a North Carolina Public Works department to increase productivity 700 percent, enhance data accuracy and improve employees' personal safety in hazardous worksite environments.
For small towns with limited resources, efficiency is important. But when your entire stormwater department, responsible for inspecting and reporting on 2,500 stormwater assets within the town's limits, consists of only two people? Well, then efficiency is essential.
The municipal separate storm sewer system in Hope Mills, North Carolina, a 6.2-square-mile (16 square-kilometer) town with slightly more than 15,000 residents, has to be monitored regularly as part of the town's National Pollutant Discharge Elimination System EPA permit. Late last year, when Hope Mills started checking water inlets in addition to the outfalls it was already inspecting, it became obvious that its pen-and-paper system needed to be replaced with a better, more efficient method.
The town partnered with Logic Concepts, a Greenville, South Carolina-based technology company that specializes in data collection systems, to choose and implement a new system using mobile computers and customized software. Now, technicians can complete many times more inspections in a day, while staying safer in treacherous environments and collecting more accurate data.
Through hell and high water
Monitoring assets is no walk in the park. Getting to inspection sites can mean tromping through remote wooded areas and waterways while wearing personal safety gear such as snake boots and chaps, waders, machetes, heavy coats or gloves. Inspectors always wear safety vests and carry animal-deterrent spray and batons for protection from wildlife. Before the technology overhaul, technicians also carried two-page paper inspection forms and digital cameras for data collection.
"My pockets were filled, items were hanging off my belt, and I had the camera around my neck," says Elisabeth Brown, a stormwater technician and one half of the duo that monitors and maintains assets for Hope Mills.
Juggling gear wasn't just an inconvenience for Brown; it was also a safety concern. "With my hands full, it was hard to navigate some of the terrain, so I was constantly worried about dropping the camera in the water or losing gear. And I was afraid of not being able to protect myself against animals," she says.
If the forms got wet, they had to be redone. And after a long day of inspections, Brown's job still wasn't finished — back in the office, she had to start the tedious process of logging reports onto spreadsheets, scanning them into the computer and labeling images. Brown was lucky if she inspected and logged 35 sites per day.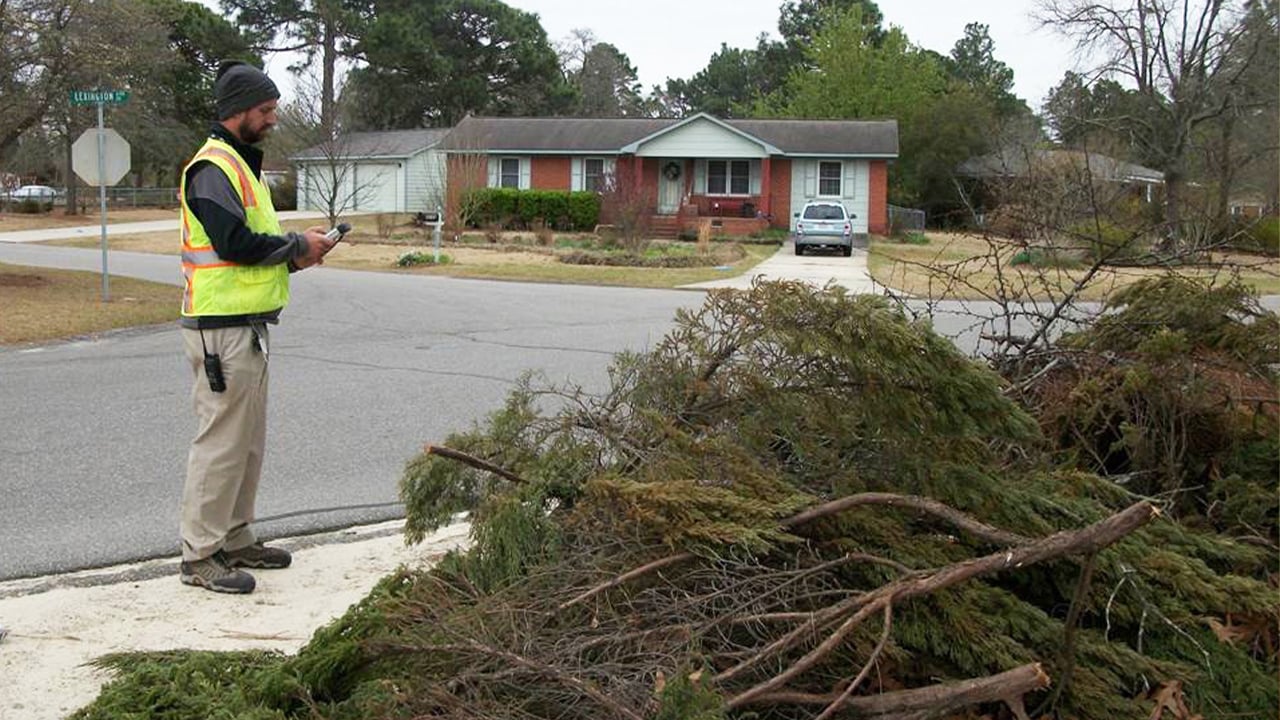 Finding the path of least resistance
When the stormwater and public works departments had had enough, they began asking around about ways to streamline inspections using mobile computers. They knew that any device they chose needed to be able to withstand drops onto ground or into water, while being light enough to carry easily on a belt along with other supplies, and small enough to fit comfortably in one hand.
Their search led them to Logic Concepts, who helped them choose a hardware and software package that would fit their needs. They decided on the small-but-powerful Nautiz X7 unit from Handheld, paired with Logic Concepts' customizable Atlas360 software program.
The Nautiz X7 meets U.S. military standards for withstanding drops, and it's totally sealed against dust and water. It includes an advanced GPS system, lasts more than a full workday on a single charge, and features a built-in camera with autofocus and an LED flash. Despite its tough exterior, this handheld weighs in at just 17 ounces (490 g), and it's compact enough to hold and use with one hand.
The Atlas360 program lets inspectors use customized electronic data-collection forms. "The software fit was based on the fact that they could create inspection forms in Atlas360, then use those forms in the field," says Taji Richardson, product development director at Logic Concepts.
To complete an inspection, Brown uses one set of characteristic traits to identify problematic outfalls, and a separate set of traits for inlet maintenance. Using Atlas360, she was able to create electronic versions of her paper forms and load them into the Nautiz X7 unit.
"Now when she goes out to inspect assets, she can use the forms she created to quickly enter the inspection information," Richardson says.
While familiarizing themselves with a brand-new technology wasn't entirely without hiccups, Hope Mills' transition to the Nautiz X7 has been an overwhelmingly positive change. Data stays safe until it can be synchronized, and there are no handwriting, weather or manual-data-entry issues to overcome, which improves accuracy immensely. Embedded GPS information tells the department exactly when and where the inspections took place, so no guesswork or tedious location recording is needed. And the Nautiz X7 units have held up to every challenge, with no breaks or issues to report.
But the real proof is in the numbers: Where using pen and paper allowed a maximum of 35 inspections per day, the new system allows 21 in one hour. Over a full workday, that's a whopping 700 percent increase in production.
"A complete inspection with pictures takes less than two minutes. All the information collected in the field is uploaded from the handheld in less than a minute, and it's ready to print or email within minutes as well," Brown says.
So what is Hope Mills doing with all this extra time? They've already started using the new system in their waste management and streets departments to log hazards and violations more quickly, and they're busy dreaming up even more uses.
"Everything we need is in that one piece of equipment," Brown says.