NAUTIZ X4 manages cargo monitoring
Cargo truck drivers improve efficiency with vehicle-docked rugged handhelds
Coordinate and manage freight transportation logistics in challenging environments, including outdoors, refrigeration trucks and vehicle cabins.
Install the Nautiz X4 in work trucks and use Nextlog software to manage every aspect of transport and delivery.
Saved time, improved efficiency, increased cargo-monitoring accuracy and better customer service.
Cargo truck drivers manage logistics and communication and improve efficiency with vehicle-docked rugged handhelds.
Cargo truck operators are using Nautiz X4 rugged PDAs from Handheld Group to save time, increase efficiency and improve cargo monitoring. The Nautiz X4 rugged handheld assists drivers from job assignment to cargo delivery, providing logistical management, full communication capabilities and real-time monitoring in every environmental condition it encounters.
Life isn't easy for a computer docked within a cargo truck. When the truck is on route, road vibrations rattle every tiny piece of hardware inside the handheld for hours on end; and when the truck is parked, fluctuating hot and cold cabin temperatures expand and contract computer parts and introduce condensation, which quickly causes damage to conventional equipment.
In vehicles operated by Scandic Trans, a transport provider based in Turku, Finland, computers face another set of challenges. These include exposure to cold and humidity inside refrigeration trucks, and the requirement to serve as the freight transfer's logistics and communications hub, processing large amounts of data quickly and reliably.
A rugged mobile control center
When Scandic Trans receives a new customer order, a transport coordinator assigns the shipment to a driver. The transport coordinator then communicates with this driver from departure to delivery about important information such as the number of packages to transport, their weight and volume, and any special instructions, including transport temperature or loading time requirements.
Docked in drivers' trucks are Nautiz X4 rugged handheld units running mobile applications from Nextlog, a hardware reseller and software provider based in Vaasa, Finland. Together LogiControl, Nextlog's transport planning and management application, and MobilePro, its communications software, provide order processing, logistics and communication tools that allow the team to plan and execute an uncompromised on-time delivery.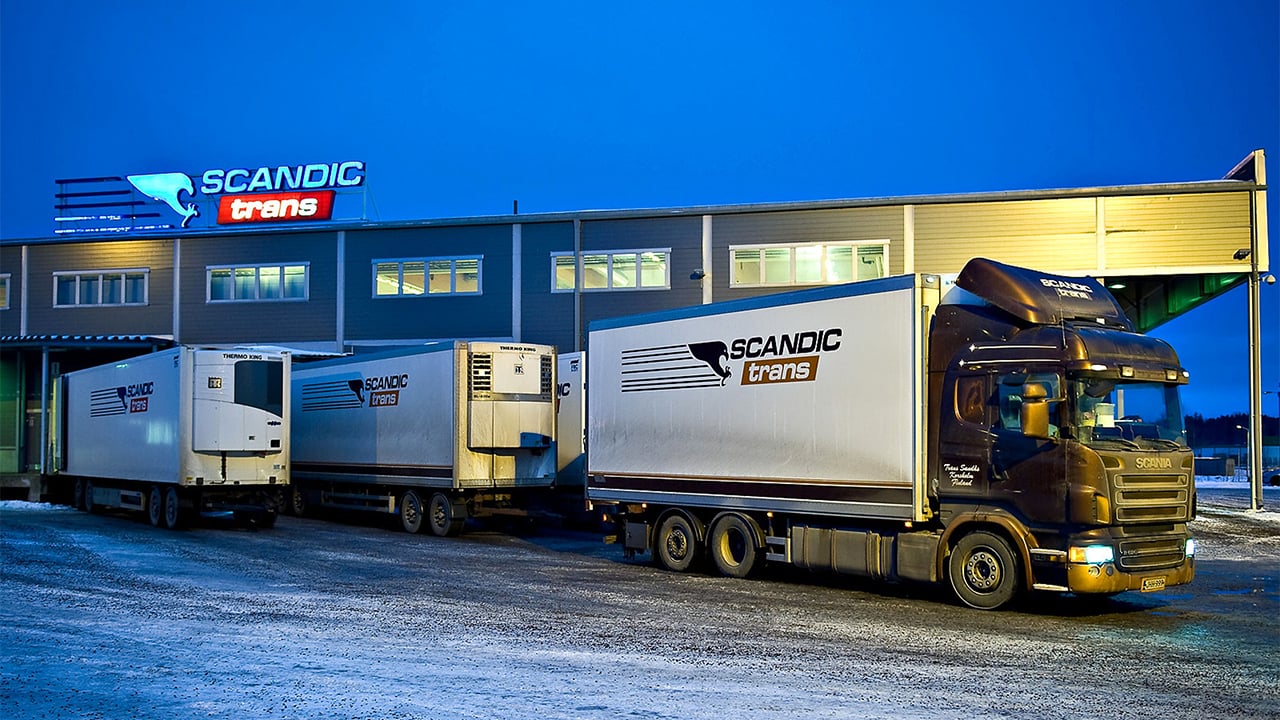 With the Nautiz X4, drivers complete tasks such as planning terminal loading times, booking ferries and subcontractors, gathering freight agreements and monitoring payments, all through a simple user interface with one-click menu options. The rugged handheld can also generate comprehensive reports with data such as working time, costs, fuel consumption and vehicle condition.
"Only a few touches on the rugged PDA's screen are needed for the driver to take in consignment information and send acknowledgements about loadings and unloadings to the dispatcher," says Mikael Löfqvist, CEO of Scandic Trans. "The driver can also report loaded amounts when acknowledging a loading or unloading as complete. These quantities can then be used for load planning or synced directly with invoicing tools."
Fully reliable in tough conditions
Since these rugged mobile PDAs are exposed to road vibrations, outdoor conditions and varying temperatures, reliability in harsh environments is an absolute necessity.
Handheld's Nautiz X4 is rugged from the inside out. Purpose-built to handle the toughest conditions in the world, the X4 is IP65-rated and meets stringent MIL-STD-810G U.S. military test standards for withstanding dust, sand, humidity, drops, vibrations and extreme temperatures.
The Nautiz X4 is truly portable, weighing just 330 grams (11.6 ounces). It features a high-brightness resistive touchscreen, a built-in 5-megapixel camera and the customer's choice of a laser scanner or 2D imager for fast and easy data collection.
Refrigerated shipments make up a significant portion of Scandic Trans' business, and the Nautiz X4 rugged PDA doesn't skip a beat within the cold-storage environment. Scandic Trans is even using the Nautiz X4 to create a new temperature-monitoring system in cooperation with RTPro Oy, a manufacturer of fleet-tracking systems in Jyväskylä, Finland.
"We're developing a system to suit our own purposes, so most of the ideas are coming directly from us," says Riku Pöyhtäri, ICT manager for Scandic Trans. "RTPro is implementing these ideas to create a new product that allows a driver to monitor truck load temperatures in real time, anywhere and anytime using the Nautiz X4 rugged PDA. We're testing prototypes now, and everything looks promising."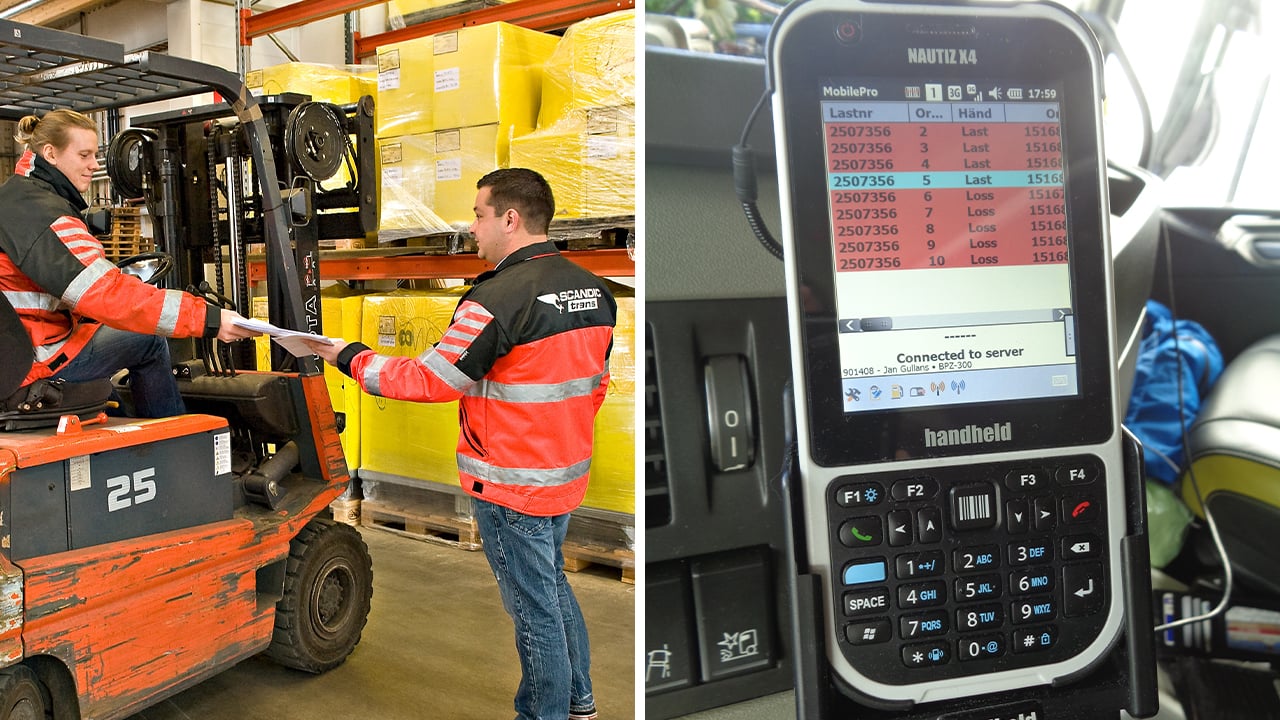 Thanks to the Nautiz X4's built-in GPS receiver, transport coordinators can plan routes based on precise location data and view units' positions in real time from their office computers, which helps to optimize routes, reducing expenses and worker hours.
Plus, installing the handheld inside a vehicle is simple and straightforward — a major selling point for Scandic Trans.
"Installing the Nautiz X4 is easy and fast compared to previous devices we tried. There's no need to book several hours and hire an expensive mechanic to do the job. This saves money and time," Pöyhtäri says.
From delivery assignment to completion, the Nautiz X4 rugged PDA serves as a lifeline for Scandic Trans drivers — getting them from point A to point B, facilitating communication along the route, and making complicated logistical arrangements as easy as a couple of quick screen taps.
Scandic Trans specializes in delivery — and so does the Nautiz X4. Improved data accuracy, increased efficiency and speed, and a simplified transport process add up to better customer service and better use of company resources, so business can keep moving forward.