More affordable industrial maintenance
Rugged tablets lower costs and creates a safer industrial work environment
Create a safer, more cost-effective predictive maintenance solution that survives in challenging industrial environments.
Build a modular, BT-enabled system using data acquisition hardware and rugged data collection tablets.
A more sustainable instrument that lowers costs for customers while improving safety for workers.
Rugged Algiz tablets offer safer, more cost-effective, predictive maintenance solution for industrial environments.
With the help of Handheld's Algiz 7 and Algiz 10X rugged tablets, Azima DLI, a Massachusetts, U.S.-based predictive maintenance provider, is offering a new type of data collection product for its clients — a rugged, mobile solution that's safer to use, more reliable in tough environments and easier to update when new technologies emerge.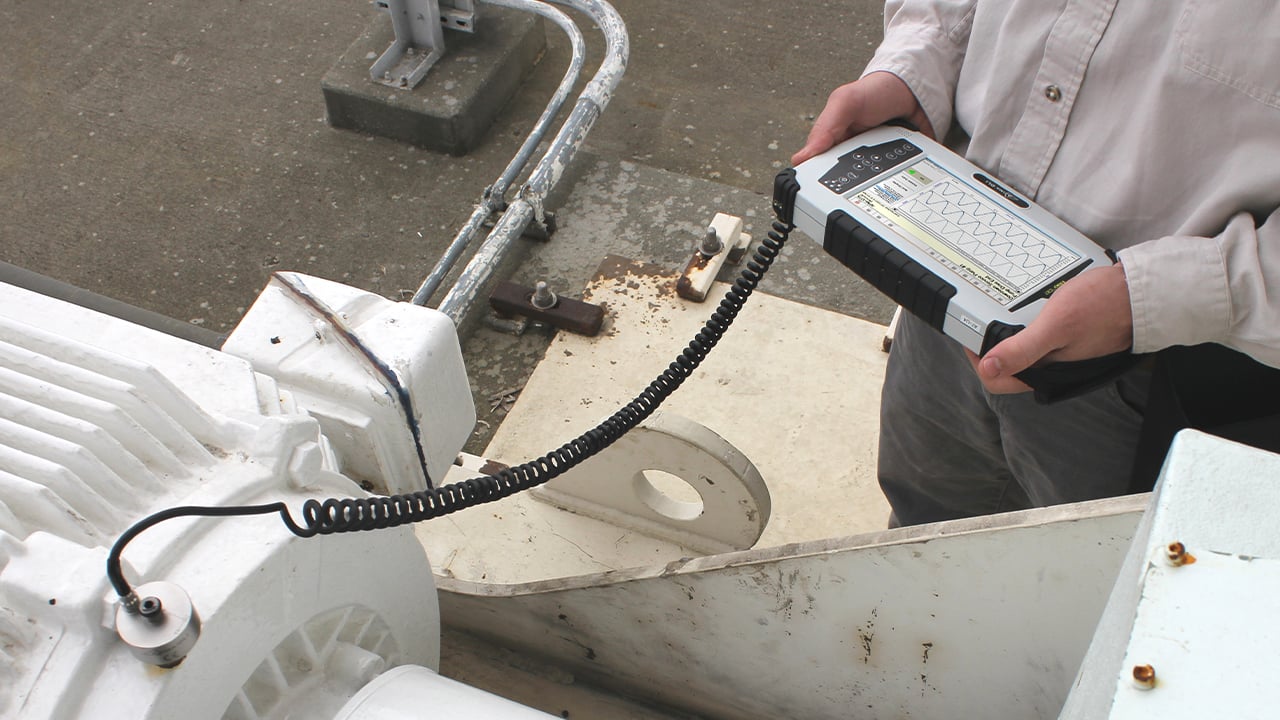 Its innovative solution, the TRIO series of portable data collectors built on the Algiz 7 and Algiz 10X ultra-rugged tablets, has dramatically improved clients' safety and lowered the total cost of owning a predictive maintenance system.
Predicting machine failure with rugged handhelds
Most rotating-machine components give warning signs before they malfunction. Predictive maintenance programs make it possible to detect some of these early signs and fix or replace machine parts, avoiding expensive and time-consuming catastrophic failure events.
But even though traditional monitoring technologies have the potential to save companies enormous amounts of time and money, they also have shortcomings: They can be dangerous to operate, they can be too fragile for tough industrial environments, and they can require expensive total replacements of hardware when computing technologies become outdated.
Azima DLI is the leader and premier provider of predictive maintenance analytical services and products that align with customers' high standards for reliability, availability and uptime. Its customers work in a wide range of industries, including chemical processing, industrial manufacturing, naval and marine, oil and gas, pharmaceutical and biotech, power generation, and pulp and paper.
"In these environments, high temperatures, excessive dirt and dust, and bumps or drops are not unusual," says Michael DeMaria, director of product management at Azima DLI.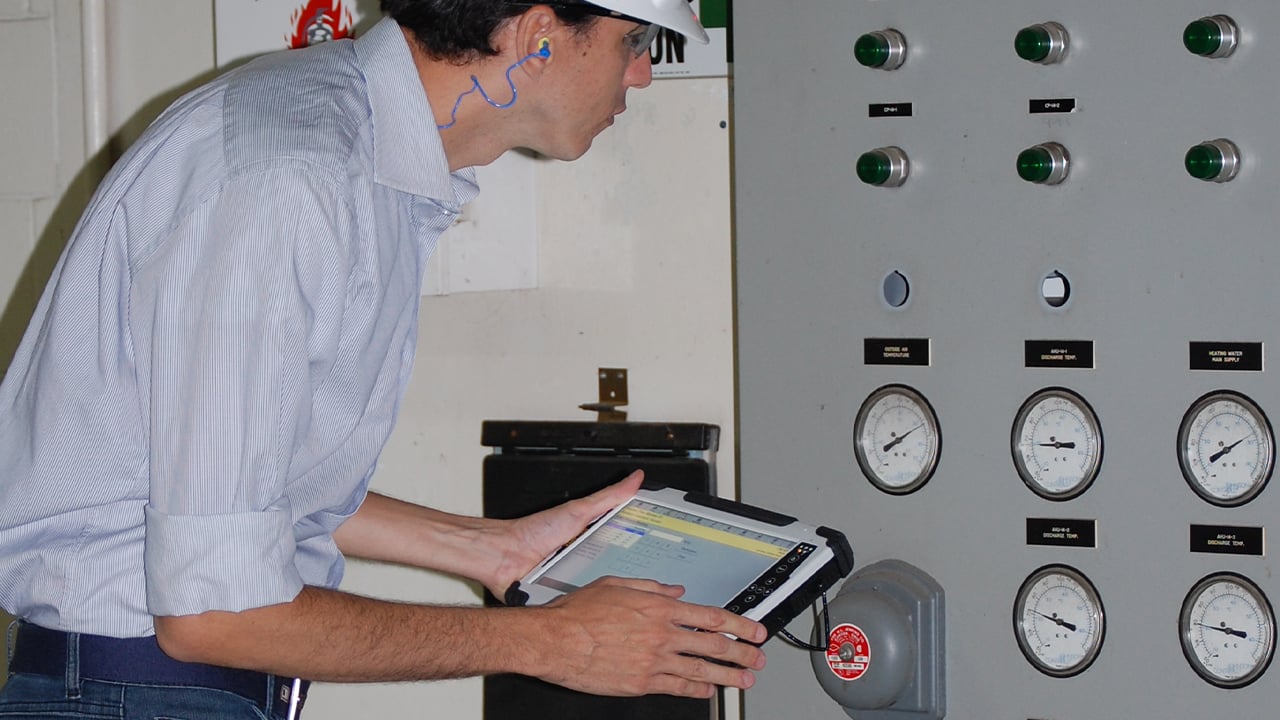 DeMaria knew that finding a more sustainable solution to offer clients could lower their total cost of ownership by anticipating both environmental challenges to equipment and the need to upgrade technology as new platforms emerge. So he and his team began brainstorming a new approach using rugged data collection tablets.
The solution they envisioned was a modular system that would use a BT-enabled data acquisition device to send information to a rugged, fully portable tablet computer. Wireless communication between a separate data acquisition device and data collection tablet would be safer — creating more distance between workers and equipment — and would also allow computer hardware to be upgraded without replacing the entire system.
With these two challenges addressed, only one remained: Which rugged tablet would be the best fit for their clients' harsh industrial environments?
"There was an extensive search for a data collection tablet that met our criteria for BT communication and ruggedness for the field," DeMaria says. "Handheld became the forerunner platform."
Azima DLI decided to offer customers multiple tablet options, allowing them to customize their own data collection systems. Within the modular TRIO series, the TRIO CX7 would come with Handheld's Algiz 7 ultra-rugged tablet computer, and the CX10 would feature the Algiz 10X rugged tablet.
The Algiz 7 and Algiz 10X data collection tablets bring powerful computing capabilities to any industrial fieldwork environment. They're IP65-rated and MIL-STD-810G tested for protection against dust, water, vibrations, drops, extreme temperatures and varying altitudes. They offer multiple connectivity options including BT 4.0, operate on super-fast dual-core Intel Atom processors, and run Windows 7 Ultimate, seamlessly integrating into Microsoft environments.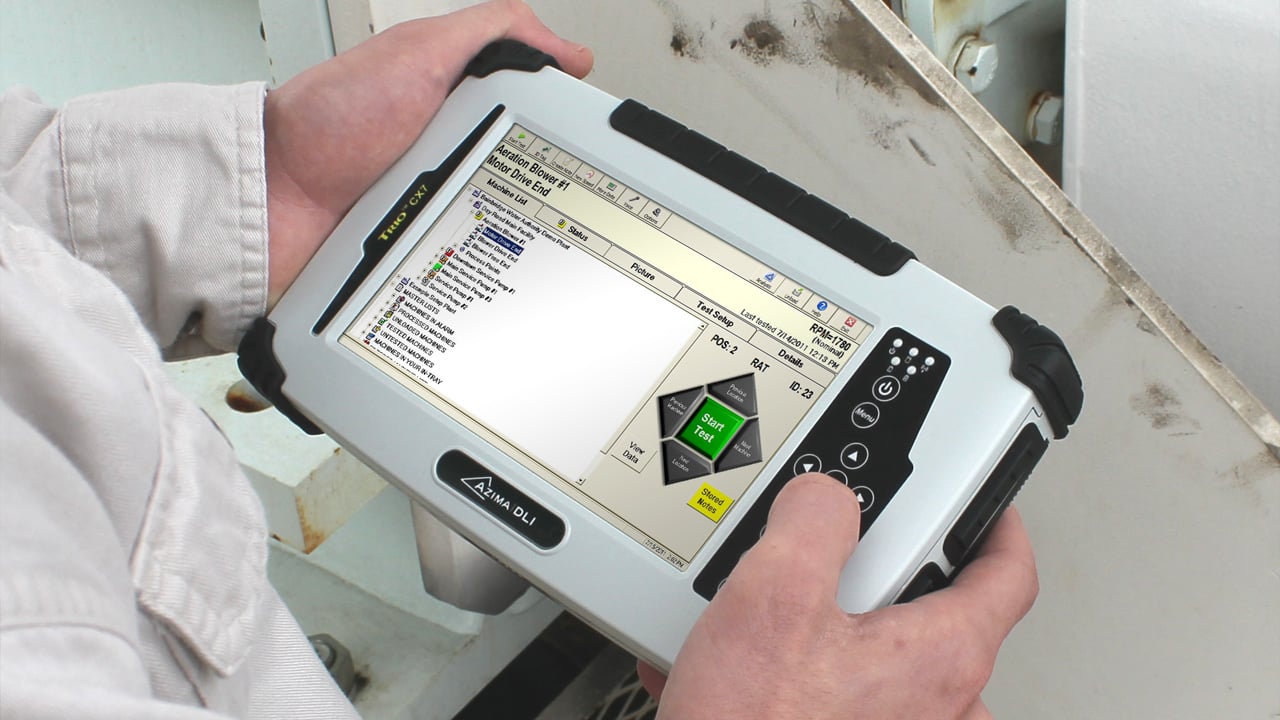 Both handhelds offer brilliant resistive touchscreen displays using the latest MaxView technology. The Algiz 7 features a 7-inch sunlight-readable screen, and the Algiz 10X features a 10.1-inch screen with an ambient-light sensor that adjusts backlighting automatically.
These rugged tablets are also light and portable. The Algiz 7 weighs only 2.42 pounds (1.1 kilograms) and the Algiz 10X weighs just 2.9 pounds (1.3 kilograms).
Safer workers and lowered costs
To use the TRIO system, workers attach vibration-measuring sensors to the bearing housings of rotating machinery such as motors, pumps and compressors. The acquisition device collects data and wirelessly transmits it to the data collection tablet, and then software on the tablet interprets the readings. Based on this information, TRIO's ExpertALERT software informs users of problems that may arise.
According to DeMaria, Azima DLI has seen a significant increase in the percentage of customers who are embracing this modular, upgradable platform. Compared to the traditional data collection instrument Azima DLI has sold for years, the TRIO platform built on the Algiz 7 and Algiz 10X has seen twice the number of customers who are purchasing extended support agreements.
"TRIO allows customers to upgrade their tablet independent of the data acquisition hardware at a fraction of the cost, and they're extending their support agreements to be eligible to do this," DeMaria says. "Handheld is constantly improving its rugged tablets, and this modular approach enables us to deliver cutting-edge technology to our customers as it becomes available, without needing to replace the entire system."
Coupling this approach with Handheld's various rugged tablet platforms not only results in an attractive, long-term upgrade path, but also gives customers flexibility in their choices.
"Many customers prefer the portability of the 7-inch Algiz 7X, which can be worn on the hip. Others like the 10-inch viewing area of the Algiz 10X," DeMaria says. "Because of Azima DLI's partnership with Handheld, we can scale to our customer's needs, upgrade their systems simply and lower their overall cost of ownership."