Measuring trees with rugged computers
Faster and more accurate data collection for tree growers
Increase measurement speed and accuracy for tree nurseries that set pricing based on trunk circumference.
Develop a complete digital measurement and data collection solution with software, measurement tools, and Handheld ultra-rugged mobile computers.
Digital measurement tools significantly speed up the measurement process while decreasing paid worker hours and improving data accuracy and security.
Tree nursery data collection is faster and more accurate with a new one-handed digital measurement tool built on Algiz 8X and Nautiz X9 rugged computers
September can be a stressful, costly month for Holland's tree growers as they prepare for the beginning of their sales season on October 1. Nurseries price trees based on trunk circumference — and since crops keep growing throughout the season, growers prefer to measure and assign prices as close to sale as possible to maximize their profits.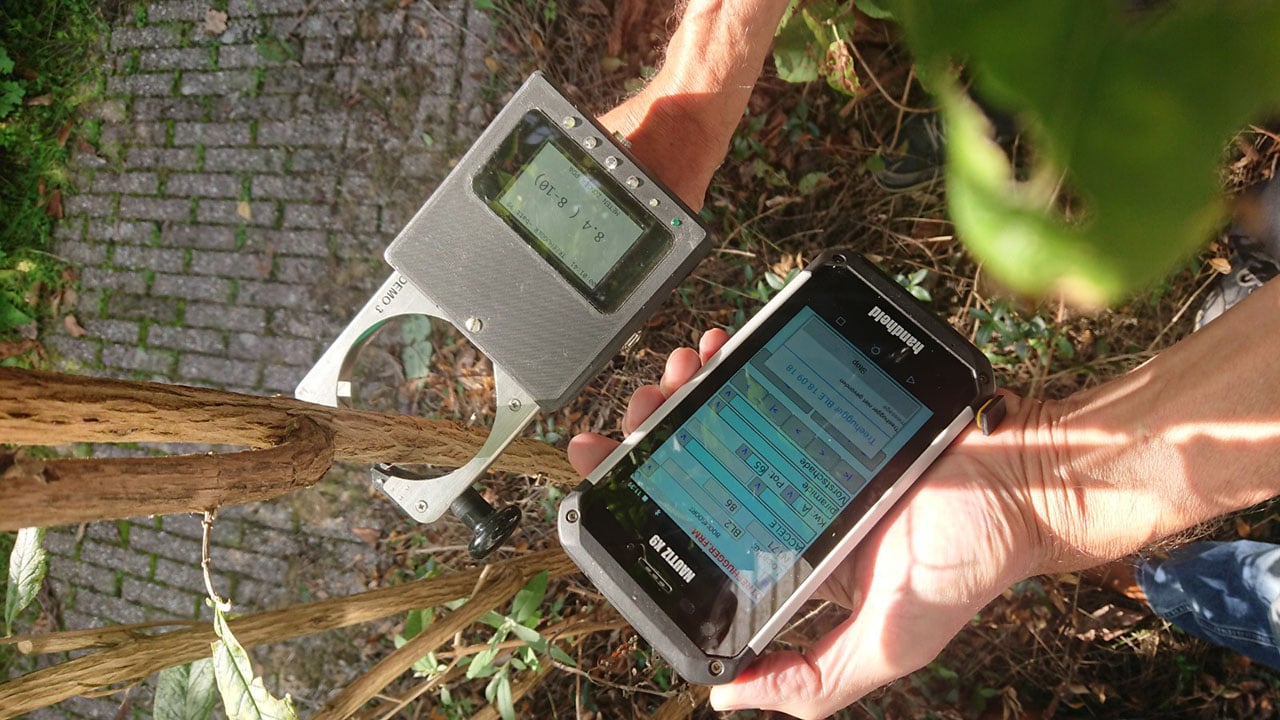 A new digital measurement solution using Handheld's Algiz 8X and Nautiz X9 rugged computers allows tree nurseries in Holland to speed up their end-of-summer data collection while improving accuracy — bringing both improved inventory data and a less stressful season within easier reach.
Pitfalls of manual data collection
Nursery trees are not perfectly circular or elliptic, but somewhere in-between — so their trunk circumference has always been measured by hand, using a measuring tape, usually with a second fieldworker nearby recording data. The workers later re-enter this data into an office database.
Even when taking representative measurements instead of sizing every single tree in a stand, the measuring process produces a huge amount of data, as up to 13,000 nursery trees are planted per hectare. Measuring manually is not only incredibly inefficient and time-consuming, but it also comes with abundant opportunities for error.
Tree trunk circumference might be measured incorrectly, recorded incorrectly in the field, or entered incorrectly back at the office. And since fieldworkers take measurements outdoors, around watering equipment, dirt, and in all kinds of unpredictable weather conditions, even accurate data is vulnerable to damage and destruction before it ends up safely stored in an office database.
Developing a digital tree measurement solution
In 2010, a joint research project from Holland's Wageningen University and the Tree Centre Opheusden (TCO) — an association of active tree growers located around Opheusden, Netherlands — established the need for digital measuring equipment to transform the circumference measurement and pricing process.
But early efforts to find a solution were unsuccessful:
"Initiatives from several companies to develop these instruments failed," says Stijn Raaijmakers, owner of Netherlands-based LINX mobile solutions. "TCO presented the need to the market again in 2014. LINX and our instrument suppliers jumped on the project and started developing a solution, including software, electronic hardware and measurement instruments."
From the development of this new category of tree nursery technology solutions, TreeHug BV was born. Marketed as a developer of electronic inspection and measurement tools for tree nurseries, TreeHug is a partnership between LINX mobile solutions and measurement instrument suppliers Wageningen Instruments and ENRIN Environmental Research Instruments.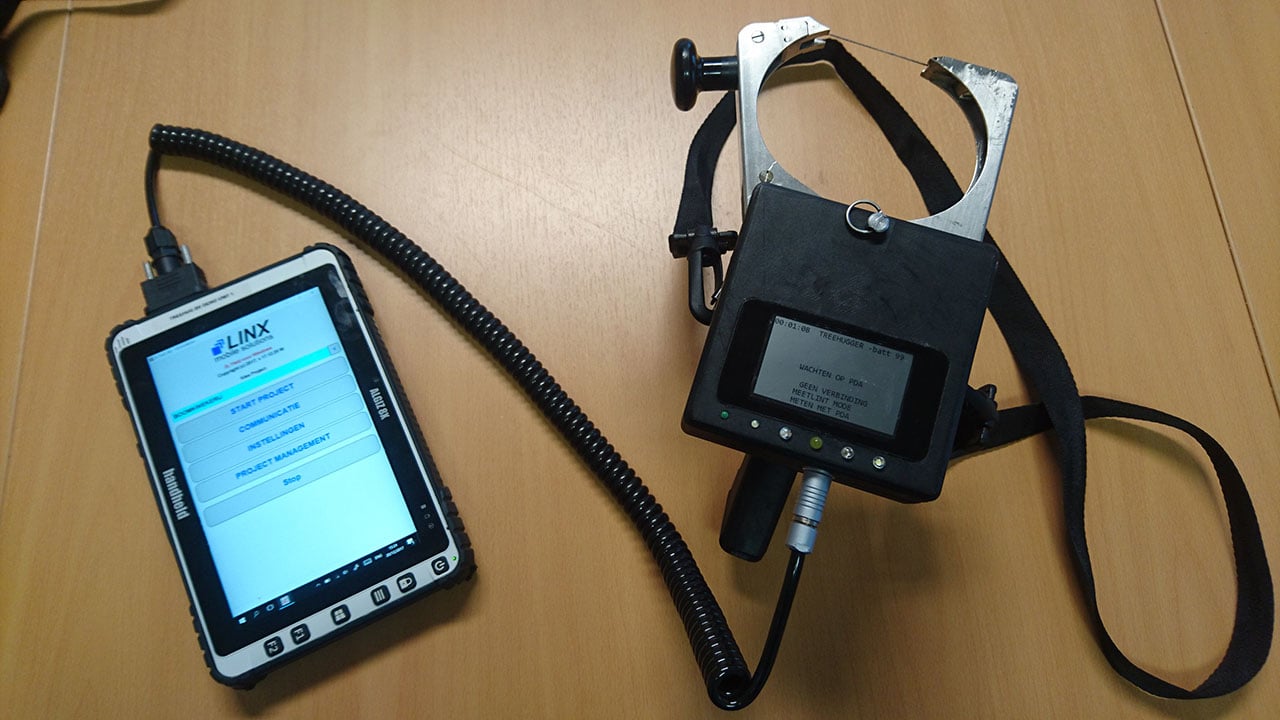 TreeHug has now developed a full suite of products for tree nurseries and growers in the Netherlands and beyond. These include TreeHugger, a high-precision circumference measuring device; TreeVoice, a voice input system for measurement data; TreeID, which codes tree locations using barcode and RFID scanning; TreeMap, which provides GPS and GNSS location tracking; and TreeLink, a specialized interface that connects your mobile computer to a specific back office system. Upcoming products will allow growers to take one-handed measurements of tree height, as well as the trunk circumference of larger trees.
For the mobile devices that run all of its software programs and interact with digital measuring tools, TreeHug selected Handheld's Algiz 8X rugged tablet and Nautiz X9 ultra-rugged PDA for their robustness, serial port availability and long battery life.
The Algiz 8X is a compact tablet ideal for customers who require Windows 10 and a cabled connection to TreeHugger hardware, and the Nautiz X9 is a rugged PDA that provides an Android operating system, a wireless BT connection and additional device portability in a small form factor.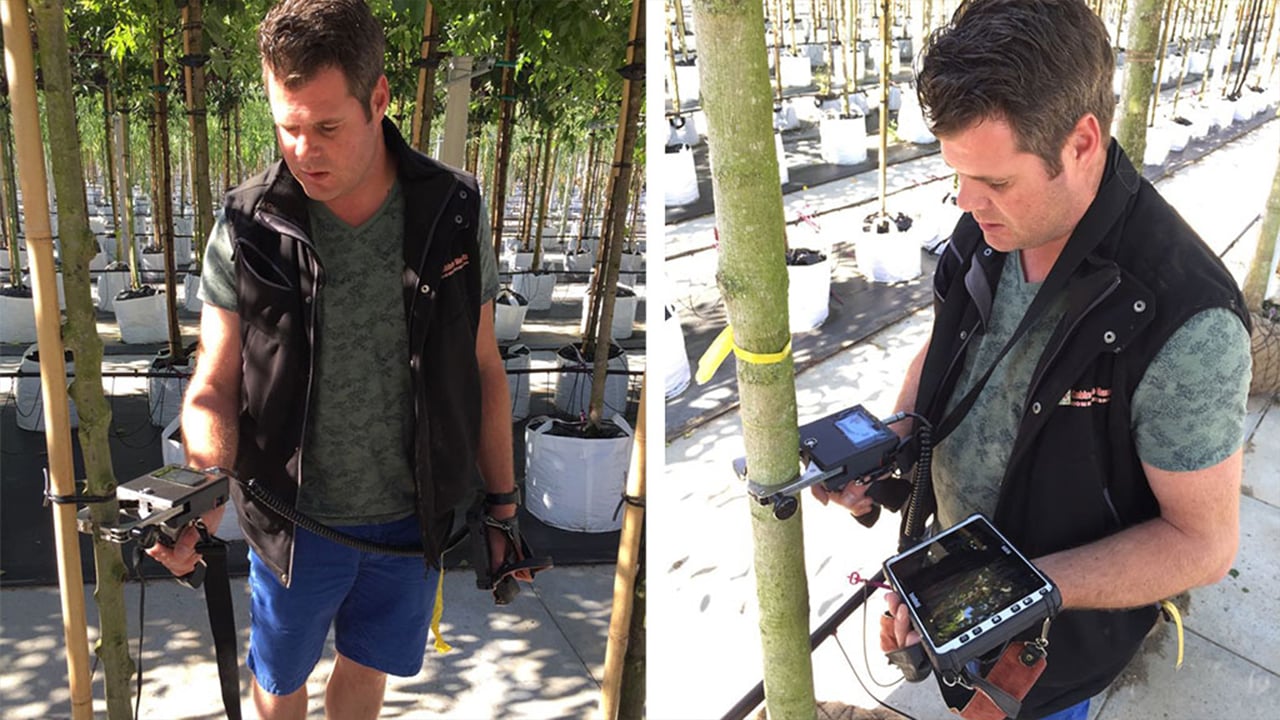 Both devices feature capacitive touchscreens that can be viewed in direct sunlight and operated in heavy rain. Ultra-rugged specifications make these computers impervious to dust, water, repeated drops, strong vibrations and extreme temperatures. They feature several ports — including the Algiz 8X's docking pins and a "backpack" for adding custom extensions. Their batteries last a full workday and are also hot-swappable, so work can always continue uninterrupted.
Testing measurement tools
After developing several product prototypes, TreeHug began to build preproduction units for promotion, demonstration and testing. Then TCO monitored extended field tests carried out at a number of local tree nurseries in order to fine-tune equipment and software functionality.
The result? "After an intensive four-year process of design, development, testing and deployment, the system is ready and orders include: measuring unit, Algiz 8X or Nautiz X9, and software," Raaijmakers says.
Thanks to electronic measuring and direct data storage, nurseries have found that one field worker can now complete tasks that previously required two employees. Plus, the need to re-enter measurements is totally eliminated, since data is automatically transferred from the field controller to the office inventory management system.
Money may not grow on trees. But TreeHug's smart data collection solutions for tree growers have the potential to save countless worker hours while improving inventory accuracy and data accessibility — and that's almost as good.