Forwarding logistics with NAUTIZ X2
Mobile app adds efficiency and transparency
Introduce a mobile logistics solution that is accessible to many stakeholders along a supply chain.
The Nautiz X2 ultra-rugged PDA with habblAPP provides a flexible solution for logistics processes, in order to satisfy various clients' needs.
Nautiz X2 units in all of the vehicles on the road for Steelcase — plus trucks operated by Lakner Spedition, a logistics company that shares Steelcase's transport requests. All of the actors in this multi-step, multi-company supply chain can share relevant data in one portal.
Office furniture specialist Steelcase needed a mobile logistics solution.
A complete mobile logistics solution
German freight forwarding and logistics provider Lakner Spedition is using the Nautiz X2 ultra-rugged handheld and industrial scanner along with habblAPP, a customizable Android application from portal developer Eikona Logistics, to add transparency and efficiency for every stakeholder along its supply chain.
Digitizing logistical processes and supply chain management is a proven way to improve speed, profits and customer satisfaction. The type of handheld used — smartphone? tablet? — is one important piece of the puzzle, but companies must also determine the most effective operating system and compatible software for the job.
"Our supply chain includes several data collection points where scanning provides essential information to stakeholders in delivery, transport and receiving," says Rolf Scheifele, CEO of the Lakner Group. "We decided to implement the Nautiz X2 professional scanner from Handheld to manage these events quickly and seamlessly."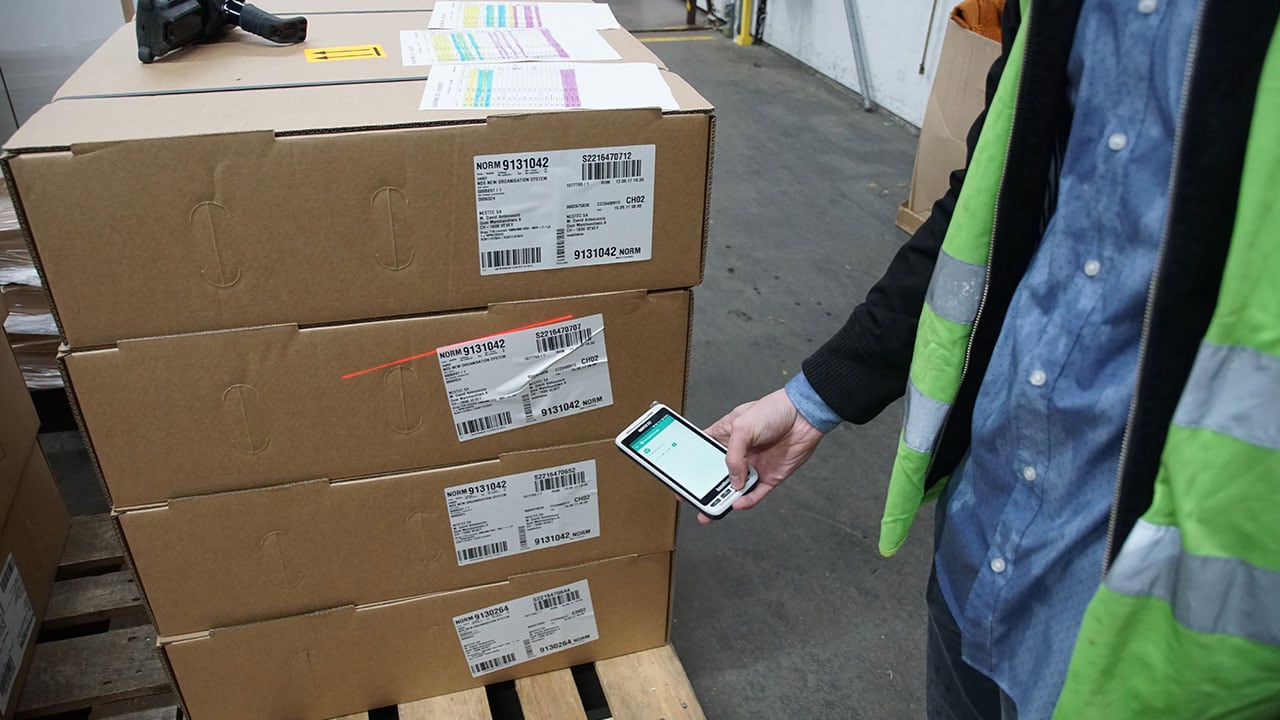 The Nautiz X2 is an ultra-rugged all-in-one handheld that functions as a smartphone, data collector, barcode scanner and field computer. It's built to survive harsh industrial and outdoor environments, including repeated drops and constant vehicle vibrations. It's IP65-rated and meets stringent MIL-STD-810G test standards, and its capacitive multi-touch 4.7-inch screen is made from Gorilla Glass.
The Nautiz X2 rugged scanner is powered by a quad-core processor and Android 6.0 (Marshmallow). Since the Nautiz X2 is GMS-certified, installing habblAPP is simple — just a quick download from the Google Play Store. A range of compatible professional accessories allows for comfortable operation and sturdy vehicle installation.
"All we had to do to make habblAPP operate smoothly on the Nautiz X2 was to integrate the driver for the hardware scanner into the app," says Norbert Greier, sales manager for Eikona Logistics.
Simple adaption to individual processes
habblAPP is nearly as easy to use as it is to install. Without any programming knowledge whatsoever, truck drivers can drag and drop work processes from an available list on the Nautiz X2's screen, effectively customizing habblAPP for a particular service provider. "Available process steps are listed in the app, and all workers have to do is select their relevant processes for display," says Greier.
When participants speak multiple languages, individual process modules only need to be translated once into a table — after that, the information will always be presented to each person in his or her own native language. The app can also display supply chain management data according to individual companies' color schemes and with company logos.
Transparency along the entire value chain
"We've created the whole management system in direct consultation with our drivers," Scheifele explains. "That's because they know the procedures better than anyone." Departure checks, damage documentation or simple tracking and tracing — in habblAPP, everything is connected through the habblPORTAL: a web platform that displays delivery information for the sender, recipient and everyone else along the supply chain, all in one place. This includes graphic data mapping, time slot booking, and arrival monitoring with expected time of delivery, all of which are easily viewable on the Nautiz X2 rugged scanner.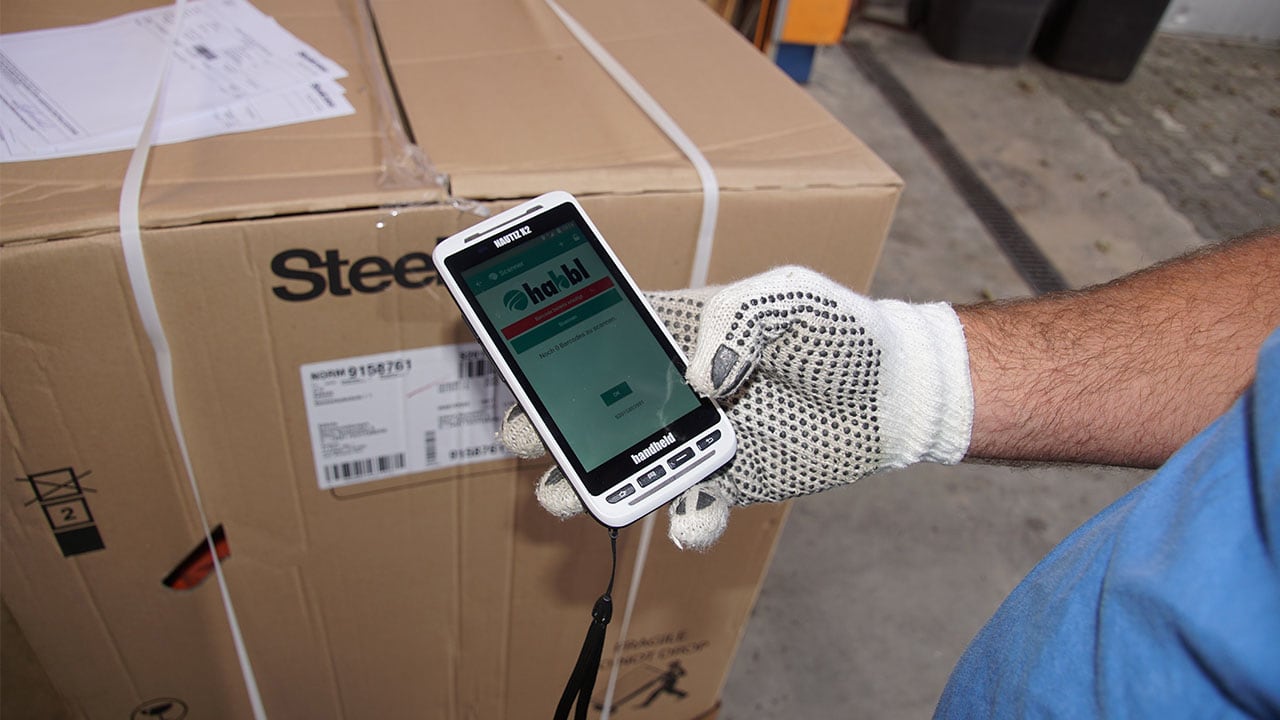 Steelcase is a Lakner client that specializes in innovative office furniture. Steelcase approached Lakner about implementing a mobile logistics solution, and soon afterward Scheifele learned about habblAPP at an Eikona Logistics road show. Working together, the organizations developed a solution for Steelcase in order to offer complete transparency throughout the furniture delivery process — or, more specifically, the exact degree of transparency Lakner desired.
Steelcase: Simplifying 500 deliveries per day
Eikona's logistics solution is accessible through standard interfaces in existing transport management systems or loading systems. But in some cases, these systems display too much data. "The information about Steelcase's individual deliveries is too detailed for what my TMS can use," Scheifele says. At up to 500 deliveries per tour and day, the data flow would be unmanageable. By sending data directly to Steelcase via the habblPORTAL instead of interfacing with Lakner's TMS, participants in the process can choose and view the information that's most relevant to them.
An ideal level of transparency also accounts for privacy and security. habblAPP offers total control over what individual parties can view. For example, a client can choose to only see data related to the vehicle assigned to his or her own delivery. The habblPORTAL can also be configured to exclude most scheduled deliveries. "The only trips that are really important to see are the ones that deviate from the schedule," Scheifele explains. "habblAPP displays these deviations so the right people can deal with them proactively."
Critical documentation made painless
The benefits of a complete IT solution for route planning and tracking may be seen especially in the case of complete and partial loading. "The habbl platform allows us to collect all documentation from a delivery in one place," Scheifele says. "Documenting damaged goods is very simple: High-quality photos can be taken directly on the Nautiz X2 and immediately uploaded to the pertinent file."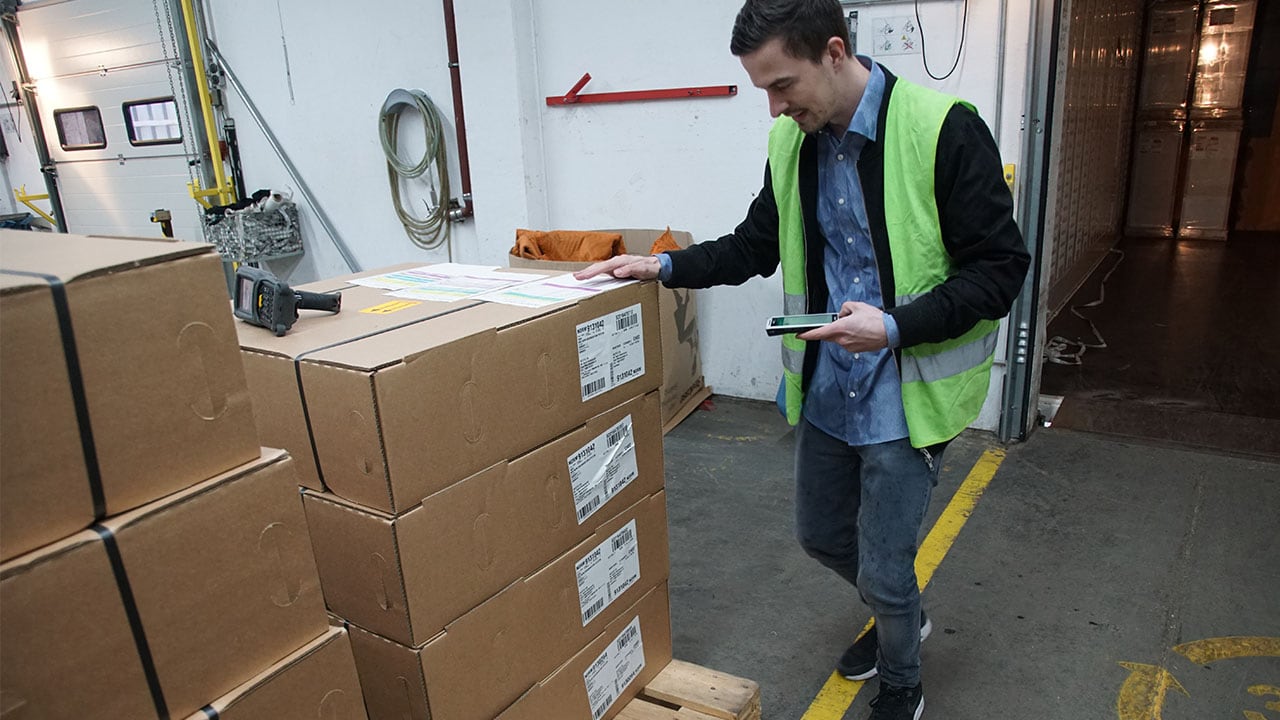 The modularity habblAPP offers is hugely convenient when situations require different types of documentation. For example, drivers can record and archive pre-departure checks in precisely the manner required by the truck in question: "A semi-trailer hauling furniture will have different inputs than a tanker carrying hazardous materials," Greier explains.
Many stakeholders, one solution
Lakner has installed Nautiz X2 units with habblAPP in 35 of its 100 trucks — all of the vehicles on the road for Steelcase — plus trucks operated by Lauer Spedition, a logistics company that shares Steelcase's transport requests. All of the actors in this multi-step, multi-company supply chain can share relevant data in one portal.
According to management, Lakner is already thinking about ways it can implement this solution beyond Steelcase. "habblAPP and the Nautiz X2 rugged PDA have the ability to support us in all of the complex processes we encounter in our daily work," Scheifele says.
Adaptable, customizable and comprehensive, the Nautiz X2 with habblAPP and habblPORTAL responds expertly to the complex, constantly changing demands of supply chain stakeholders, allowing groups of people from different companies — even those who speak different languages — to complete cooperative tasks while enjoying full efficiency, transparency and security.