ALGIZ 10X improves emergency response
Rugged tablet provides instant updates, reliable data
Improve communication during emergency-response calls, so everyone involved has reliable information in real time. 
Two dozen Algiz 10X rugged tablets, dock-mounted in fire engines and ambulances so responders can instantly access information and update situations. 
Time-stamped records of each stage of a response, reduced radio chatter, and reliable shared communication during emergencies.
The rugged Algiz 10X tablet provides go-anywhere, real-time communication functionality to firefighters, EMTs and ambulance drivers, streamlining response protocols. 
In an emergency response situation, time is the most important asset firefighters, EMTs and ambulances have – anything that helps them work faster and more efficiently has a magnified impact on their success. The ability to know the current status of a situation and respond accordingly can literally mean the difference between life and death. 
Icelandic Red Cross and the Capital District Fire and Rescue Service understand the value of timely, reliable communication, and their investment in two dozen Handheld Algiz 10X rugged tablets has allowed them to save precious time and cut emergency response times for fire engines and ambulances. Improved communication, navigation, decision-making and reliability have proved the worth of these devices time and again. 
The right tool in an emergency
Icelandic Red Cross is responsible for all ambulances in the country; Capital District Fire and Rescue oversees firefighters and EMTs in the area of Reykjavik, the national capital. And like emergency responders everywhere, their main concerns are clear communication, efficient response and successful outcomes. 
That starts the minute the nearest 112 centre (the country's emergency phone system – like 911 in the U.S.) gets an emergency call that requires a response from a fire crew or ambulance – the call sets into motion an entire chain of actions. 
In the past these organizations had used off-the-shelf, non-rugged desktop computers with capacitive touch screens. But the harsh environments, extreme need for mobility and the importance of reliability pointed them toward rugged handheld tablets. Their main priorities were integrated features and strong support. After some online searching, local reseller Edico suggested the Handheld Algiz 10X, and they purchased 24 units. 
Olafur Ragnarsson, manager and software developer at Capital District Fire and Rescue, says "The Algiz 10X's available accessories such as the vehicle dock, and the good support Handheld offers in its knowledge base, lead us to an easy decision to choose the Handheld computers." 
Essential communication, instantly
Using custom-configured software on the Algiz 10X, the emergency-response process is streamlined and immediate. A 112 centre call-taker puts out a request for response, which shows up on the screens of all emergency vehicles on duty; each one has an Algiz 10X mounted in a car dock for easy one-finger use. The nearest available vehicle's operator simply presses an onscreen button to accept the call, and immediately gets all the pertinent information on the screen – including real-time navigation to the location using the tablet's built-in GPS. As they drive to the scene, any updated information appears on their screen in real time.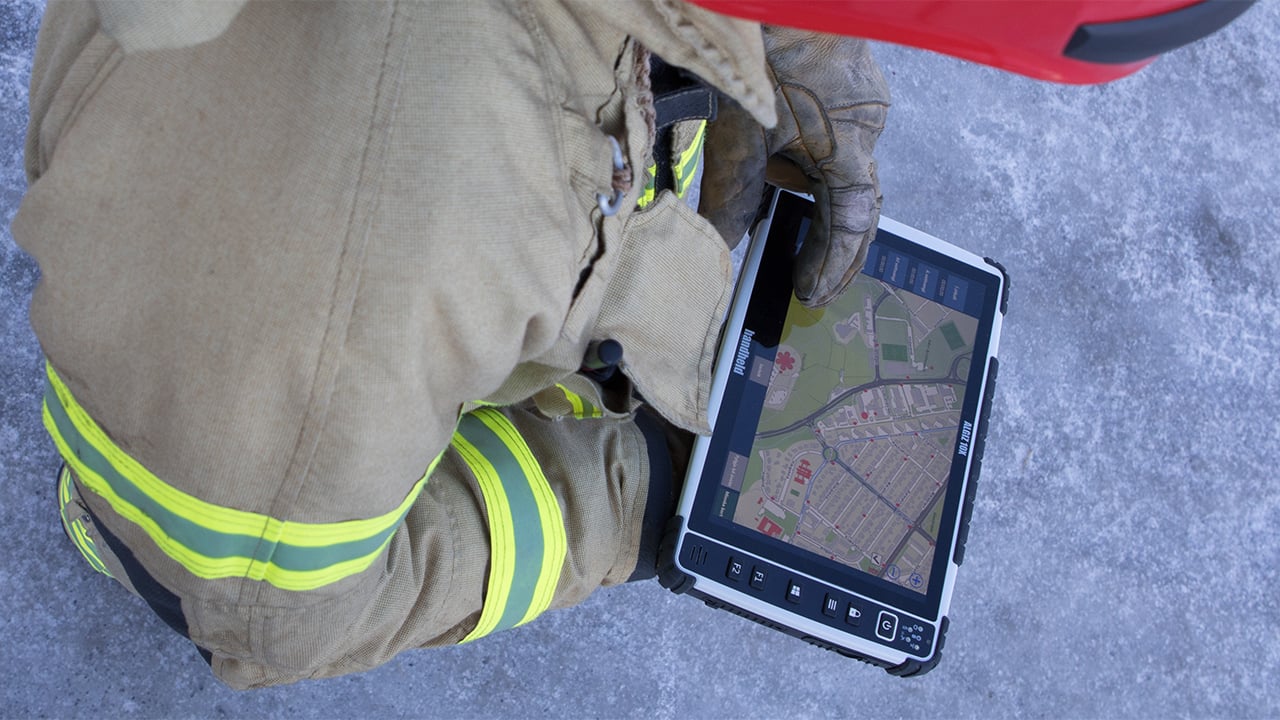 When the emergency responders arrive, they touch another button to show they're "On Scene." Once they've assessed the situation, they communicate their status again, and when they're ready to go on another call, they press "Available" and the cycle begins again. This simple electronic communication avoids misunderstandings and delays, and makes for more efficient communication overall. "Radio voice communication is less busy because a lot of communicating is done with the handhelds," Ragnarsson says. "Firefighters, EMTs and 112 centre call-takers all agree on that." 
Real-time rescue resources
The system lets the rugged tablet communicate as much helpful information as possible. For example, if an ambulance is transporting someone to a hospital, they press "Off Scene" and indicate which medical facility they've selected. They get navigation directions on screen, and call information is relayed to the hospital. If a fire engine is responding to a call, they see a map for navigation as well as nearby buildings, fire hydrants and other data – they can plan their strategy before they arrive at the scene.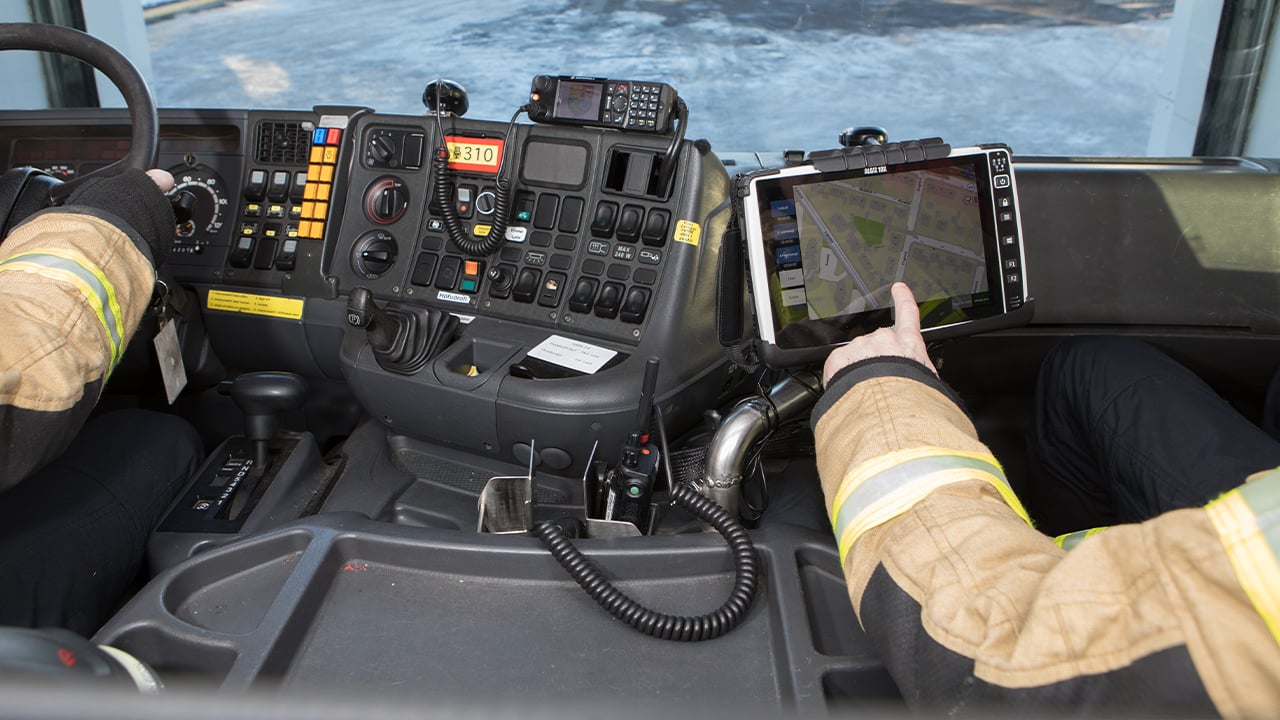 And each time an emergency responder updates status – from accepting a call to being available for the next call – that response is time-stamped so the 112 centre has an accurate record of every step. 
Simple functionality and rugged durability
In an emergency situation, the last thing anyone wants to deal with is complicated or hard-to-use technology. The combination of the software and the Algiz 10X makes the process intuitive. Simple one-button responses are all that's required for most actions, and the tablet's 10-inch, daylight-readable screen displays information clearly in all environments. 
And the switch from off-the-shelf devices to rugged tablets has been a revelation. The Algiz 10X has an IP65 rating and meets stringent military standards for performing in harsh environments; by the very nature of their jobs, emergency responders work in challenging environments. They can take the handheld from its vehicle dock and use it on-scene, not worrying about rain, dust, cold or even accidental drops. 
This ruggedness also leads to greater reliability and durability. 
"After we started to use the Algiz 10X, the need for hardware maintenance has significantly decreased, and is very little now," Ragnarsson notes. 
Innovative capabilities ahead
With all the built-in functionality available, the organizations have bigger plans for their mobile tablets. For example, there are plans to have the Algiz 10X available in the back of ambulances, so medical professionals can communicate in real time with hospitals about patient conditions and treatments while en route. 
And these highly capable rugged computers will deliver a new level of safety for "smokedivers" – firefighters who have to use breathing apparatus to go into burning buildings or heavy smoke. Fellow fire-crew members currently track each smokediver's oxygen usage and length of time in hazardous conditions using a plastic board and a marking pen; soon they will use software on the Algiz 10X to project the oxygen usage rate and track the smokediver's time in the hazardous zone. The site commander will get an automatic notification when a firefighter needs to "come out." The tablet will be mounted on a tripod at the scene so the commander can use it hands-free.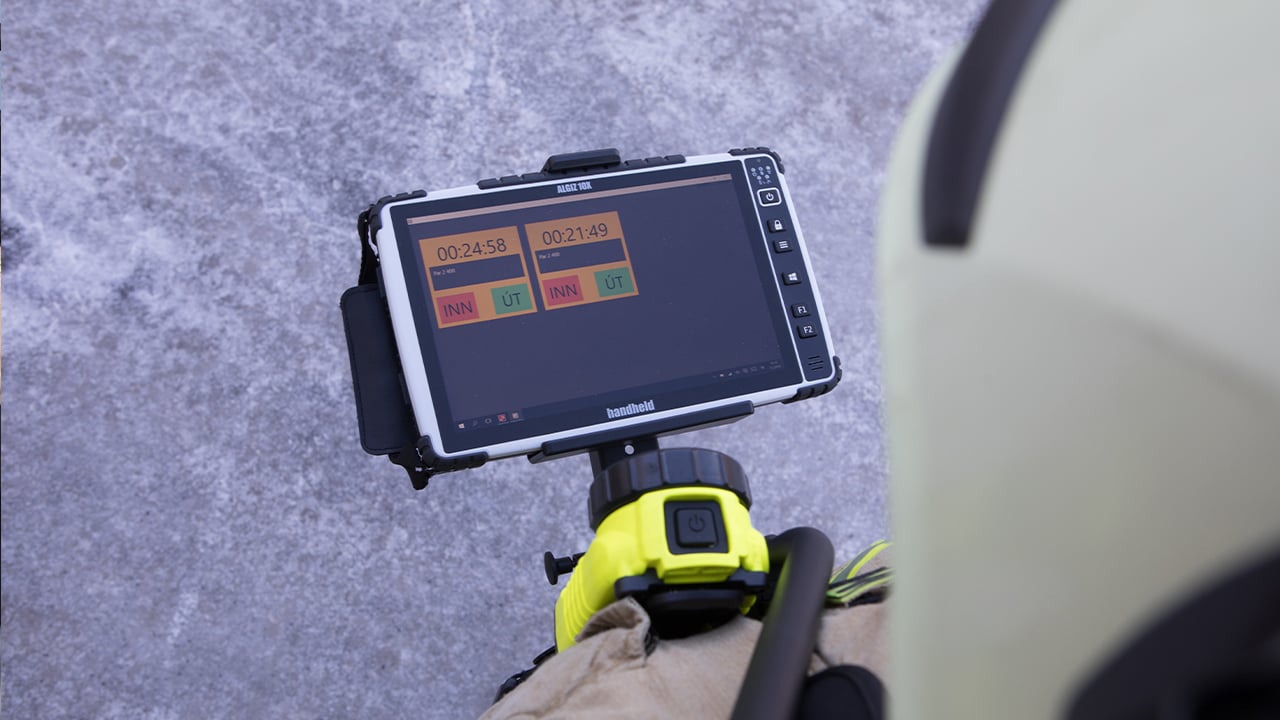 In the chaos and high-stress environment of emergency response, tools that offer simple, reliable efficiency are worth their weight in gold. That may not be literally true for the Algiz 10X, but if you ask a firefighter, EMT, ambulance driver or 112 centre worker, they'll tell you these rugged tablet computers have made a big difference in helping do what they do: save lives.