Summary
To verify if the A8XEXP-CAN module is recognized in the system, open device manager and expand Universal Serial Bus controllers. If you see USB Serial Converter A and USB Serial Converter B, the CAN module is recognized and the driver is loaded successfully. If you don't see the two entries, install the driver.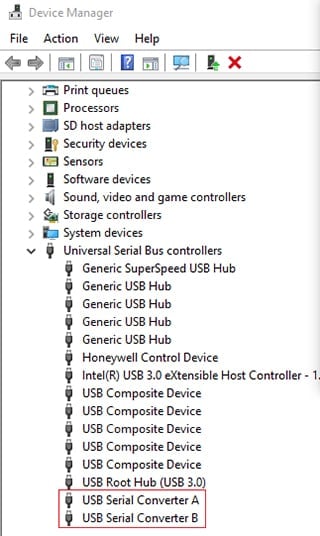 Driver
If you are running Windows OS image 95Z0000002EH or higher, the correct driver is already installed. If not, we recommend that you install the latest OS image on your unit (see this article), or that you download and install the driver manually on the bottom of this page.
CAN bus test software
Download the test software from the bottom of this page.
Extract the zip file on your Algiz unit and run CanbusTestTool.
Highlight Device :0 then select Run
If you see Device : 0 ID :… at Available Canbus Port, the module is available to use.
Now you can connect your external CAN bus equipment and run your software or the test software, to see if the communication is working.