Rugged computers for waste management
People who don't work in the field of waste management can't really understand that what seems like a simple task – pick up, transport, dispose, repeat – is actually quite complex. Managing vehicles, operators, routes and an ever-changing customer base is no easy thing. And that's why waste management systems can see vast improvement by moving from the analog days of paper logbooks and customer-address printouts to using portable, rugged handheld computers.
Any waste management operator – large or small, public works or private company – has similar concerns: efficient operations, cost control and customer service. Being successful means addressing crucial elements of operation like process improvement, route optimization, fleet monitoring and internal communication. And all these facets can be improved with digital technology.
Better tools = better processes
One fact that will not change about waste management: operators work in challenging environments. Rain, snow, sun and wind, they're out there taking care of business. To take technology on this job, it has to be able to work in the same conditions they do. The new generation of ruggedized handhelds delivers. You can mount a vehicle dock – also ruggedized, because it needs to be, too – in the cab, and take a handheld in and out of the vehicle as needed. These devices are built to meet stringent military standards for operating temperature and the ability to withstand drops and heavy vibration, and they're impervious to water and dust.
The range of operations that can be performed using a handheld is nearly limitless. With GPS route-mapping and telematics for instant communication, built-in cameras, and options like barcode and RFID scanners, the devices can be adapted to the needs of the job. Some operators are installing RFID chips in each waste receptacle, to instantly track and report its status. Others use the device's camera to document damaged equipment. And customized software can create programs and processes tailored to the exact specifications of any operation. Say goodbye to tedious logbooks, or riffling through paper lists; you can complete the same tasks with a single, daylight-readable screen.
Route optimization, in advance or in real time
Route planning is central to waste management. Any way to make routing more efficient translates directly to time and cost savings, not to mention keeping more customers happier. Software can analyze traffic patterns and volumes, cross-reference that data with your customer locations and deliver the most efficient route plan for each vehicle and day.
Some waste managers use real-time monitoring to detect when a driver is running late due to a traffic jam or other problem, and then either reroute that driver to get around the problem, or send another vehicle to pick up the slack – in real time. This helps avoid missed or late pickups, and this kind of route optimization saves time, gas, wear and tear, and emissions.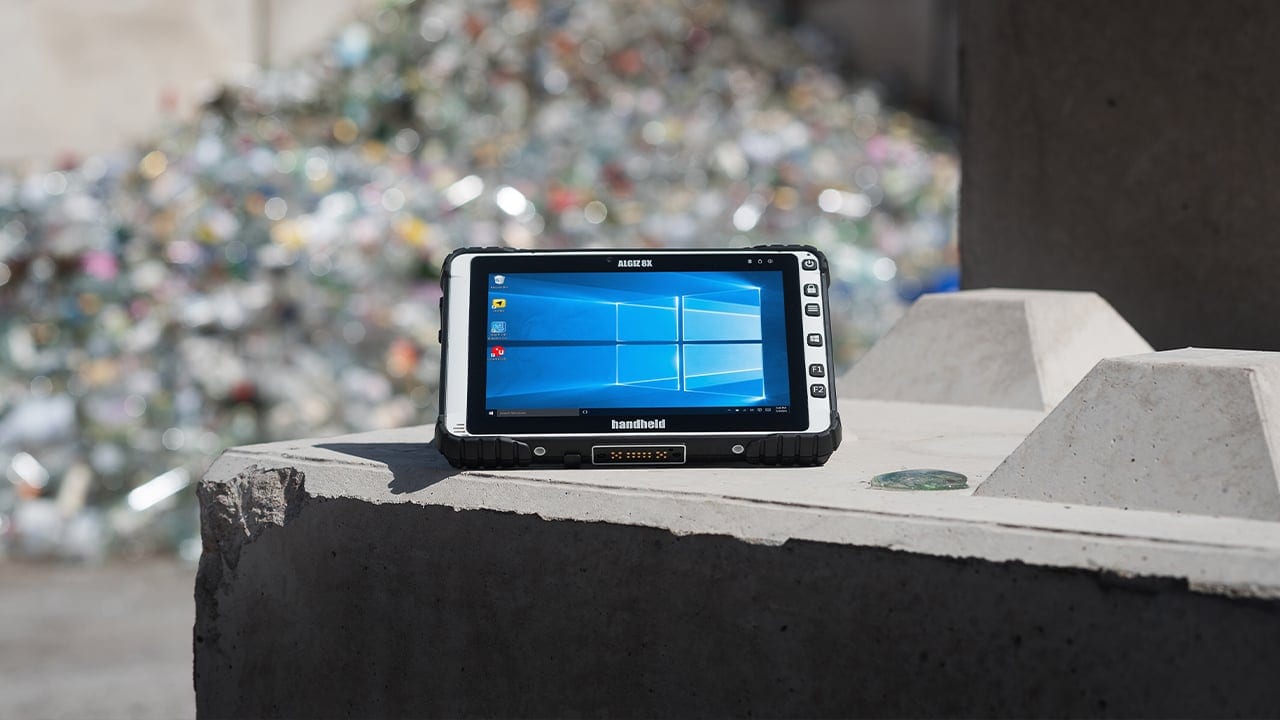 Fleet management, made easier
A waste management operation is essentially a local trucking company. There's a tremendous investment in vehicles and equipment, not to mention the people operating them, so the more accurate and timely data you can get for trucks and drivers, the better. The GPS functionality of handheld computers let you easily track the exact location of every vehicle in real time. Fleet monitoring has multiple benefits; besides letting you know how drivers are doing on their routes each day, it can also give you data on problematic driving behaviors like speeding or over-braking.
Pairing sensors with on-board handhelds lets you monitor vehicles day-to-day, including fuel consumption, oil-pressure and tire-pressure levels, and other diagnostics. The handheld can help with compliance reporting if needed. You can track scheduled maintenance by vehicle mileage or time, and operators can report repairs that are needed. And all this fleet-management data can be collected and reported directly to a designated location, instantly.
Customer service and communication, the modern way
The value of current data and immediate communication can't be underestimated in a customer-service industry like waste management. Today's versatile and portable rugged computers keep everyone in the loop simultaneously, improving efficiency at every point. Knowing vehicle locations, which customers have already been serviced, which customers are delinquent on payments and don't get service, and even to-the-minute material capacity on individual vehicles – all are tremendously helpful in operating efficiently.
And handheld technology can help directly with customer service. If a customer calls in to a dispatcher with an immediate service need, they can immediately respond by directing the right vehicle to the location; the dispatcher can even notify the customer in real time when the service has been completed. If an operator finds access to a house or facility blocked, they can notify the dispatcher, who can contact the owner or resident right away to address the problem. If a customer realizes they forgot to put out their receptacle, they can call in to find out where the driver is and if there's still time to get it out and serviced. And operators can use the handheld's camera to document which addresses have not put out their receptacles – so customers who forgot can't game the system by calling in and claiming the operator skipped them.
See how one waste management organization bought rugged Handheld computers for one purpose – and then discovered many more ways to use them to streamline operations and improve communications.
Read the full customer solution: One-step data collection for cities