Rugged computers for security
Today's security considerations have escalated in tandem with the increasing sophistication of technology. Anyone responsible for security – whether it relates to people, places or products – must have a reliable tool that applies the latest technological advances to the situation, and mobility and versatility are paramount. Rugged handheld devices check all the boxes, with their powerful, all-day-long performance that provides access control, asset tracking and more – in the toughest environments.
Rugged handhelds can be put into duty as access-control devices in a wide variety of ways, protecting both physical and intellectual assets. Using a barcode reader, you can control the flow of traffic into and out of facilities for employees, vendors and others, and even control who can access technology hardware and software.
Barcode scanning can be custom-configured for almost any situation, from crowd control at events to contractor access at construction sites or secure facilities. Use a handheld to scan credentials, tickets or other identifiers; the scanner works in the bright light of outdoors or dim indoor environments, and it can read smartphone screens. If a large number of people need to be accounted for at an event, using a handheld scanner reduces waiting time and provides real-time data on total attendees. And in restricted-access facilities, the handheld can be linked to ID systems so that the screen displays a photo of the person seeking access, targeting card-sharing or card-theft issues. It's an ideal solution for security at transit stations, airports, construction sites and large-scale industrial or commercial sites.
The versatility of a mobile solution comes in handy in countless ways. Handhelds don't need an external power source; many have battery life of 8 hours or more. They can be used to scan credentials of people in vehicles, far more easily than a fixed-position solution. Their mobility allows security personnel to perform random checks anywhere, and you can set up pre-defined zones for where specific personnel classes are allowed to be. Managers and supervisors also have instant access to both project and crew information, and can instantly view worker qualifications to make sure only highly trained personnel perform higher-risk tasks.
In the case of an accident or other incident, mobile handhelds allow you to quickly verify who is allowed on the scene. You can store response protocols, first-aid instructions and workers' emergency medical information so it can be located quickly for faster, more appropriate responses to emergencies.
When crowds gather to watch their favorite musicians perform, the excitement is palpable — but nothing stifles the mood faster than long wait times and inefficient, error-riddled access systems. Finland's largest ticket retailer, Tiketti, is improving access control with the Nautiz X4 rugged handheld and barcode scanner. Inspectors use the ticket scanner in a range of venues, from dark nightclubs to outdoor music festivals, providing smoother ticket inspection and faster event access for customers.
Read the full customer solution: Nautiz X4 streamlines access control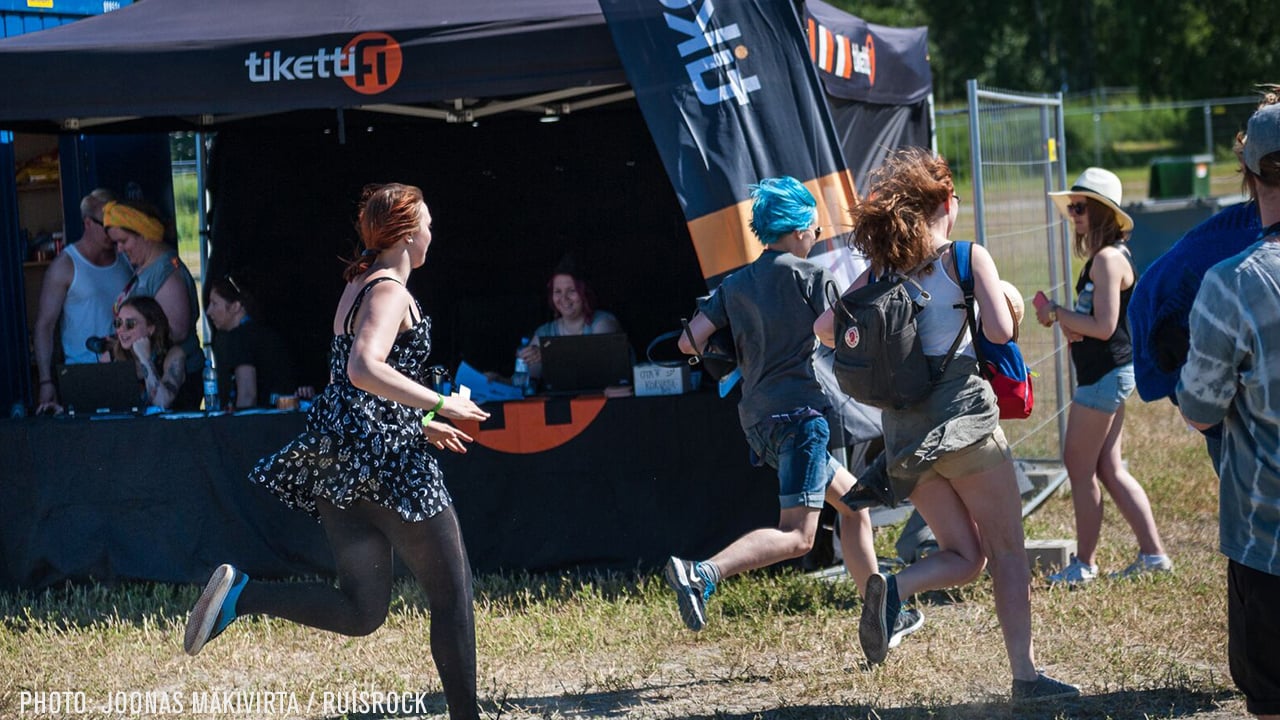 Asset tracking and inventorying used to be a logistical nightmare – but rugged handhelds are making it simpler, faster and more comprehensive. Mobile tools like these go far beyond what choke-point or fixed-position sensors can provide. They can be used for barcode or RFID systems, and they work in virtually any conditions – indoor, outdoor, bad weather, high or low temperatures, bright light or darkness. Handhelds can be mounted in a vehicle dock and taken out for use, or carried by hand.
Tracking and inventory is simple thanks to user-friendly menus, digital forms, barcode scanners and entry options such as touchscreens, physical keypads and programmable buttons. You can instantly confirm incoming or outgoing shipments, tracking individual items or entire containers; rugged handhelds can read RFID data through packaging. Locate assets and transmit their position instantly; GPS capability identifies your exact location in the field. If your assets are mobile, you'll always know exactly where they are. And the GPS lets you track an item as it's being moved – scan it on the way out, track its position in transit, scan it in at the next location, and create a permanent report of the trip.
You can save detailed records and reports on the handheld, and send them in real-time, helping with compliance and reporting requirements. Supervisors walking the floor can scan or take pictures of noncompliant items. More efficient tracking makes it easy to plan tasks such as predictive maintenance and equipment inspection, and can even help you assess your own systems and processes to identify gaps or inefficiencies.
Unmanned systems such as robots are used in many security environments, including military operations. They provide a way to safely undertake hazardous tasks, enhance the capabilities of human operators – simplifying logistics, conserving power and reducing training needs for complex tasks. Rugged mobile devices offer light weight and a long battery life that make them efficient tools for remotely controlled work.
Their capabilities are broad. It can be part of a modular robotic device; you can customize its configuration or programming to meet the needs of the environment. An unmanned robot can use a remote handheld to explore an area before sending in people; you can use its scanning capability for access or asset tracking; and you can deploy its GPS functionality to gather location data and create maps. You can even use a handheld to remotely control a robot such as an autonomous vehicle – or multiple devices at once.
A rugged handheld can not only provide security – it can also analyze security. Instead of hiring an expensive third-party vendor for safety audits, you can program a mobile device to be used to conduct safety inspections internally.
You can customize the handheld's programming to your facilities, assets and personnel, no matter how large or small your operation. Then you can deploy personnel responsible for overseeing safety out in into the field carrying rugged mobile devices to quickly and accurately collect job-site safety data and complete site-inspection checklists. The worker can take photos and tag them with comments or questions, check against specific compliance requirements that have been loaded onto the handheld, and send detailed, accurate reports anywhere instantly.